Company Insights: a New Feature To Help Business Leaders Explore and Analyze Their Data
The dashboard is a great feature supporting executives and business leaders who need to stay on top of their operational performance and easily monitor daily activities. It's a visual instrument panel that produces real-time KPIs, giving actionable details to discern proper data-driven decisions and actually putting you in the driver's seat. But how to see a bigger picture?
This is when our Company Insights come into play. Let us introduce a new built-in RemOnline feature, a versatile interactive tool designed to leverage your data analytics. Explore causes, get actionable insights, and uncover new growth opportunities. Easily drill down, visualize trends, and make truly data-driven decisions every day.
Essential Features and Design of Company Insights
Let's start with how to find this new tool for data analytics in your RemOnline. Check out the "Analytics > Company Insights'' page. Here you can analyze data and easily create interactive visualizations:
Diagrams outline relevant data recordings, providing summary within a selected time range, based on the "Period" settings
Trends highlight the scope of change and its progress over time.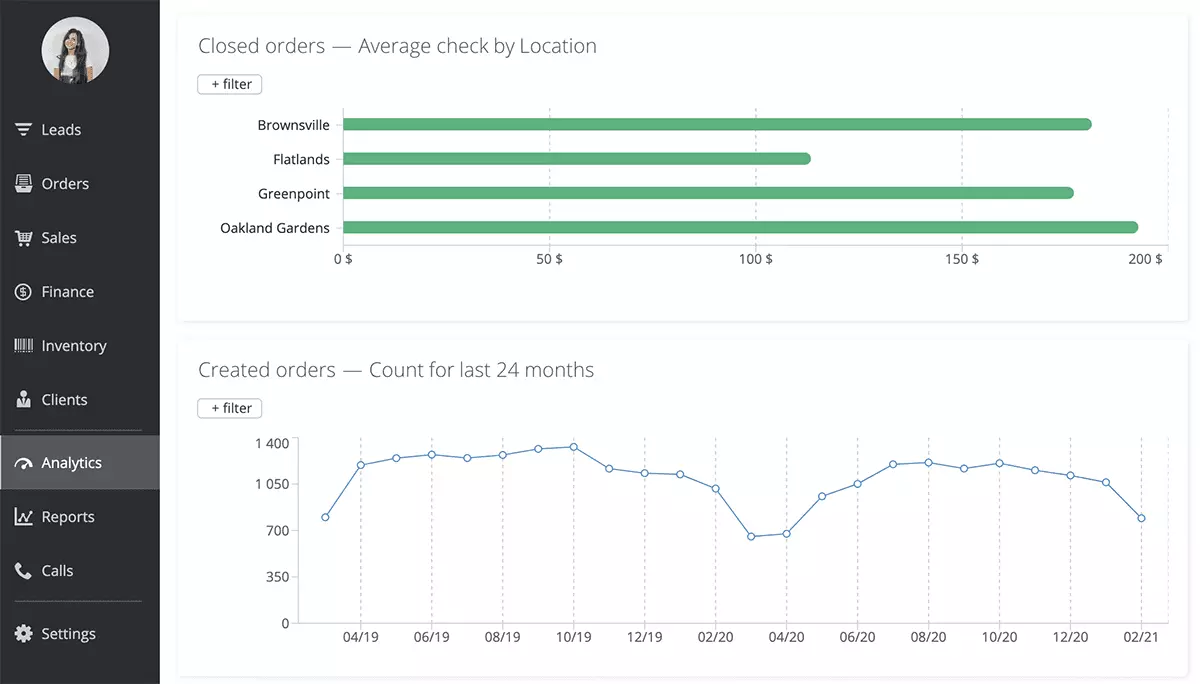 Create new diagrams and trends. Combine, without limit, multiple metrics, layouts, filters, and categories. Change the way they are arranged and displayed. Report on any benchmark parameters and historical periods. Whatever works best for you and your business.
Below let's run through other features and data insights available in the Company Insights you might otherwise miss.
How to Leverage Data Analytics With Diagrams
Before freely exploring data in diagrams, you just need to better understand the way they work. Diagrams, in a nutshell, are revolving around the following five benchmark parameters:
Period can be of any time range you select
Locations represent a list of business locales for you to choose from
Subject currently supports created/closed Leads and Orders, Sales and Payments in line with Calls
Metrics are numerical values that will be prompted by the subject you select (quantity, sum, discount, etc.)
View by is a mode of graph view showing bottom-line results arranged by different criteria, depending on the subject itself, metrics, and sometimes other benchmark parameters (for example, the location(s), month(s), role(s), etc.).

Note: While the period and location may apply to multiple diagrams at once, the other benchmark parameters (subject, metrics, and layout) are set independently.
A list of available metrics is, understandably, prompted by a selected subject(s). The same is true for layout. But we're not going to provide any case examples — simply because there are plenty of different variations, each supported with nearly unlimited customizations. To that point, better give them a try with your own hands.

Additionally, you can expand diagrams. Press the left button down the page to show the table. By default, diagrams are displayed alphabetically. Use table setup to rearrange them by a selected column.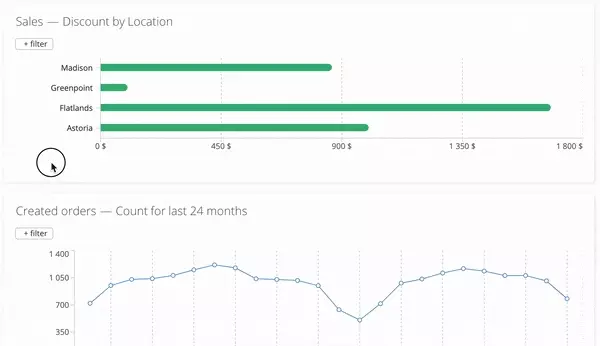 So right now you can already populate different diagrams and graphs. But before you start exploring important business KPI and trends, let's go ahead together and see how deep we can drill using segmentation.

Let's say, we have a diagram with Sales and discounts through January that represents the leading locations by total discount (Union City, followed by Linden Hill). Moving on to the staff level, we see that for Union City John issued $1,600 off-price in total. He is closely followed by Sam from Linden Hill with a $600 discount for the same period.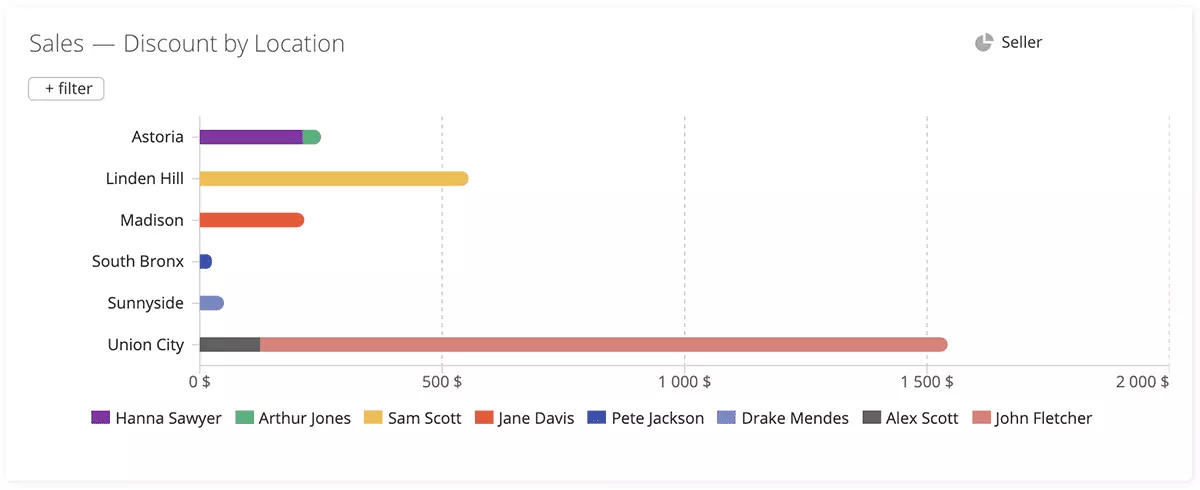 And here comes the question. Why are they cutting prices that much? Does it necessarily mean that they are simply selling more to VIP clients under an exclusive membership discount? What if these guys are just lame and don't sell under the regular price? Meaning your monthly income could be much higher.
This is a very basic example to show how data analytics and segmentation can give a spur to your business. And the last thing wanted to show you is filters.

Use filters to focus on the most critical KPIs you need right here and right now. For example, there are plenty of business locations but only three of them are on the agenda. Click "+ Filter", set Locations = Location 1, Location 2, Location 3. Use the "=" and "≠" symbols in the filtering bar to add or remove metrics from the filter.
Simple steps to create diagrams in Company Insights:
1. Press "Add diagram" down the page to prompt a list of actions, select "+ Another diagram"




2. Set the subject, metrics, and layout.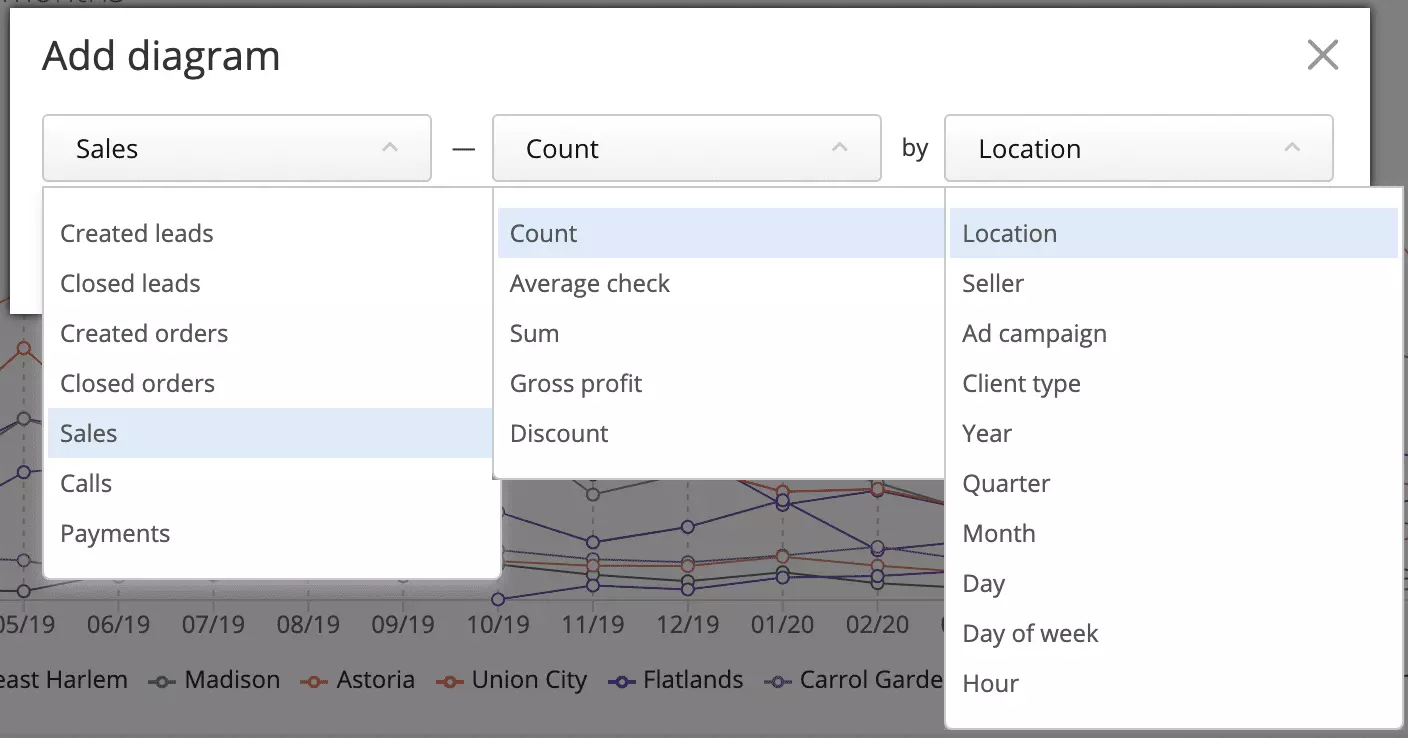 Now, with everything in place with diagrams, let's have a look at trends.
How to Use Analytical Trends
Unlike your diagrams, trends present the scope of change and progress over time.
Trends take on the following:
Location is self-explanatory, just like the one in your diagrams
Subject currently supports active (new) and closed Leads and Orders, Sales and Payments in line with Calls
Metrics are numerical values prompted in the same way as in diagrams
Period can be of 30 calendar days, 24 weeks, and 24 months.
Note: The period is set for trends independently and does not affect the time range in diagrams ?
Trends work with filters and allow for segmentation, just like diagrams. There is nothing more to say.
As for trends and their usage, let's come back to the previous case example with the leading locations and top-performing employees by the total amount of discount. But when it comes to making critical decisions, monthly stats won't do. Let's drill deeper and have a closer look at discounts to see a bigger picture.
Click "Add trend > + Another trend" down the page, then set closed Orders as subject and 24 months as a reporting period.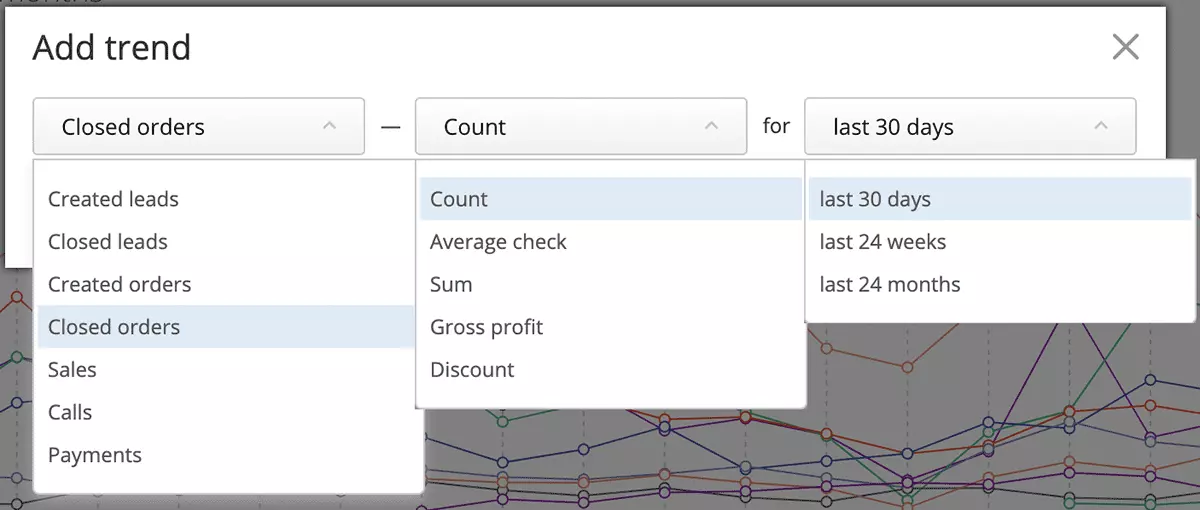 Here you can use filters to keep your newly-created diagrams unchanged. Set locations = Unit City, Linden Hill and managers = John, Sam to get the following results in trends: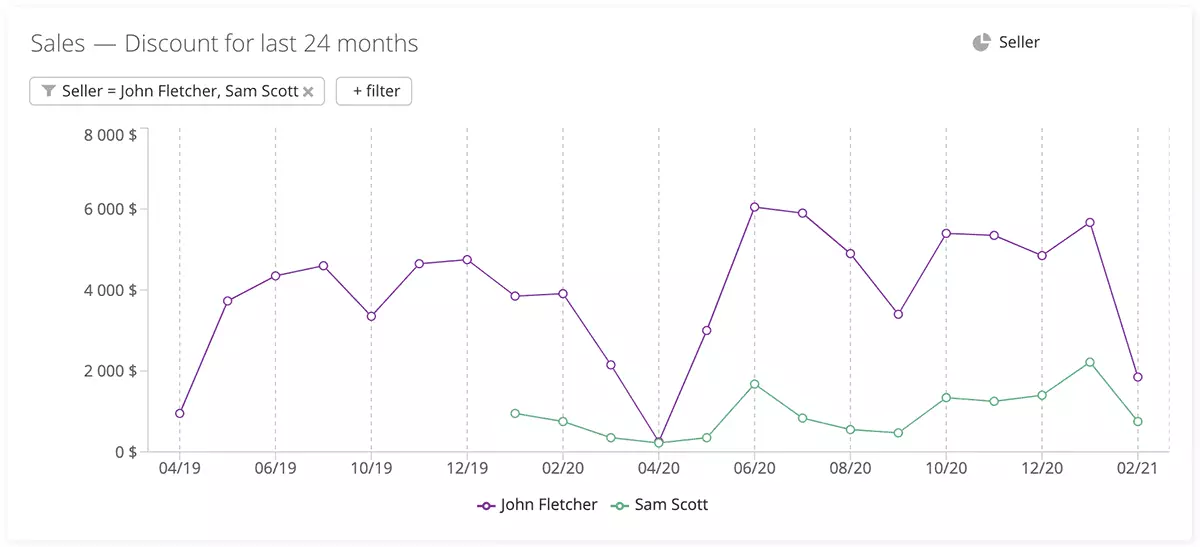 Discounts made by John were not actually that high, at least before last year's September. At the same time, Sam had them constantly growing since June already. At this point, maybe it's time to have a meeting with your team and clear all the details, isn't it?
So, now with trends, you can not only detect issues but spot the root causes, understand their nature, and act preventively.
Note: If not segmented, the metrics you select in trends will be shown as a global timeline that covers all locations. Drill deep into the trend that has not too many different metrics and use filters to get easy-to-read results.
When building a general trend to cover every location without exception, you get the following: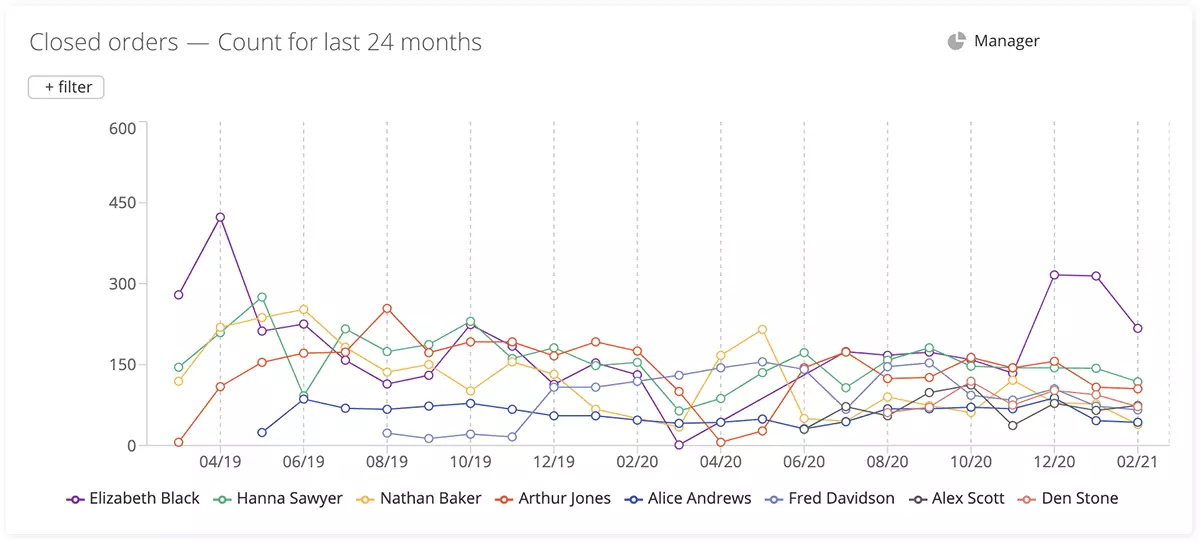 Additionally, you can change lines to columns to make even big trends look as you need.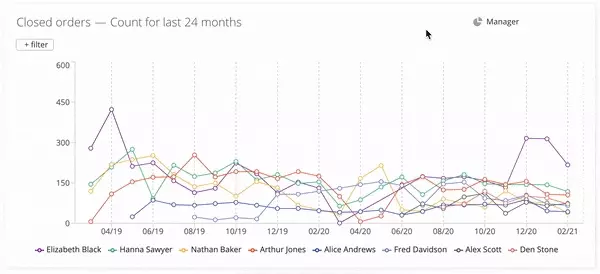 And if you really want to deep-dive into details, better use diagrams.
Shift between diagrams and trends. Try different benchmark parameters in a given diagram / trend or quickly build new ones. Test both variations to see what makes a perfect fit for the same task. Use settings to quickly visualize your data at its best.

RemOnline Plans That Support Company Insights
Basic features of Company Insights are available starting from the "Startup" plan in RemOnline. This includes full access to all available subjects, limited access to metrics (quantities), limited access to layout and segmentation. To unlock all metrics, full access to layout and segmentation (including time range setup and custom fields in Order / Lead profiles), go for "Business" or "Maximum" plans in RemOnline.
Look at your business from a lot of alternate perspectives. Identify new ways of leveraging data to make truly data-driven decisions globally and uncover new sources of value that have been unavailable so far.
We are looking forward to your comments and feedback. Tell us about your experience with diagrams and trends. Help to make Company Insights even more customizable and versatile. Which benchmark parameters or KPIs would you like to see in future updates? Don't hesitate to share your ideas and thoughts in comments and support chat.
comments powered by

Disqus