More Automation Features For RemOnline Users in 2022
The holiday season is a good time not only for reviewing the year behind but also for planning the next one. Let's review the biggest achievements of the year and take a look at the new functions that RemOnline will offer you in 2022.
2021 was Feature-Rich
Despite all the difficulties, the past year was productive for both our clients and the RemOnline team. The total turnover of our users' goods and services amounted to more than €400 million. We are very happy about such success of our clients. Thank you for using RemOnline to build your business!
It has also been a busy year of new feature releases and updates — 24, to be precise. Another inspiring number is 20,000 — it stands for new companies that evaluated RemOnline in 2021. Thank you for being active users and sharing your feedback! We are so proud to receive many positive reviews from you on Capterra.
Here are some of the major functionalities you empowered us to build in the passing year:
RemOnline App For Field and Office Teams
Besides field crews, employees of the brick-and-mortal shops do not always work with work orders at their workplace, nor have a computer at their fingertips to quickly verify customer data and work order details. But with the RemOnline App, your employees can work effectively from any location or while being on the move.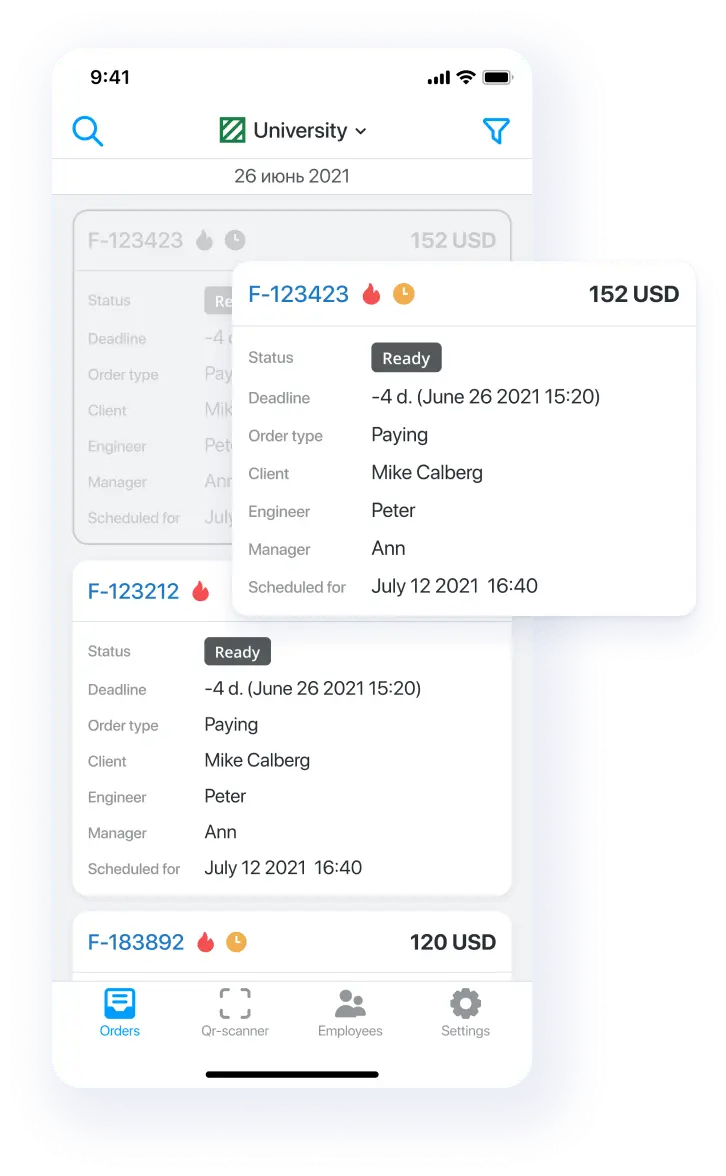 Screenshot of a work order list in the RemOnline App


The RemOnline App allows you to view the total list of work orders and their details, filter, and quickly find the right one using the search (for now these functions are available on iOS and will soon be launched for Android). You can add photos, files, and comments, and view the event feed of each work order using your smartphone.
Most SMB managers and executives spend most of their day at the shop to personally monitor employee productivity and company operations. To make them more mobile we launched the RemOnline Boss app this year.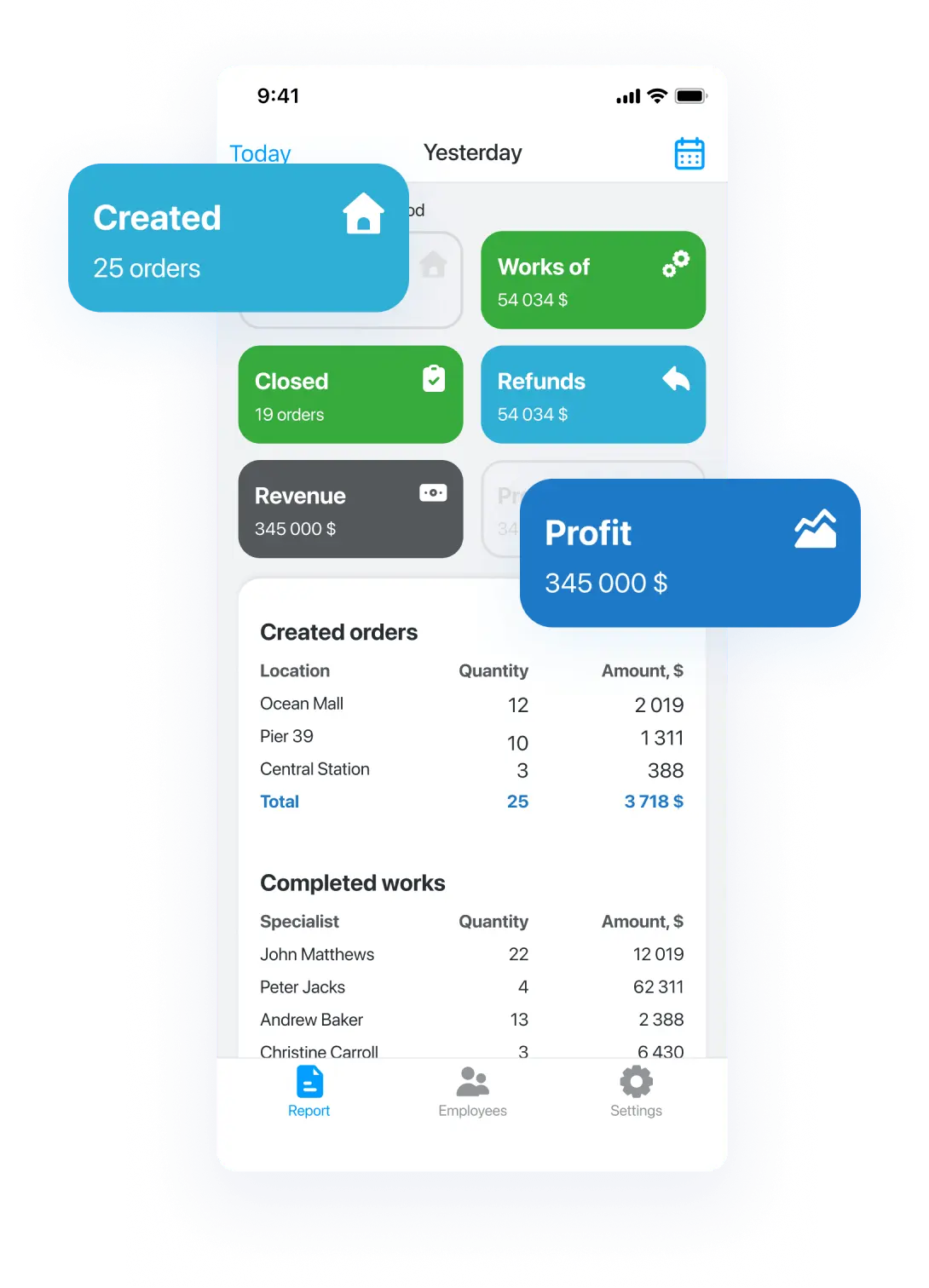 Screenshot of the Reviews Tab in the RemOnline Boss app


This mobile application helps to stay on the same page with stats in real-time, view and filter data for any period, analyze customer reviews, contact employees with one tap, as well as secure an RemOnline account with two-factor authentication.
Previously, managers had to navigate through different pages and documents of the RemOnline web to monitor the actions of employees. Now you can view all actions they do in RemOnline on a single page of the Activity Log.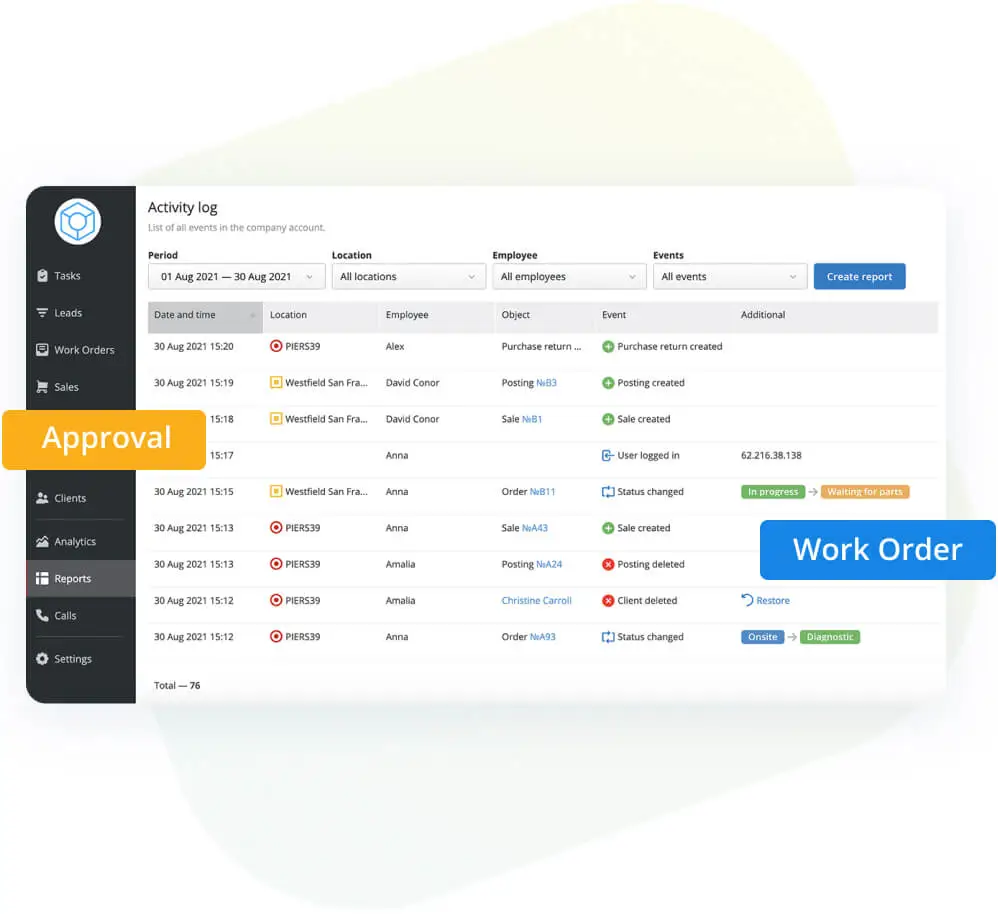 Screenshot of the Activity Log in RemOnline


Having this information easily accessible will help you avoid fraud and theft in your company. All actions of your employees are recorded in a single report showing you who created, edited, or deleted sales, work orders, and other documents. It is also possible to recover deleted customer data.

The new Tax Management feature helps business owners meet tax compliance and avoid errors in tax calculation and financial accounting.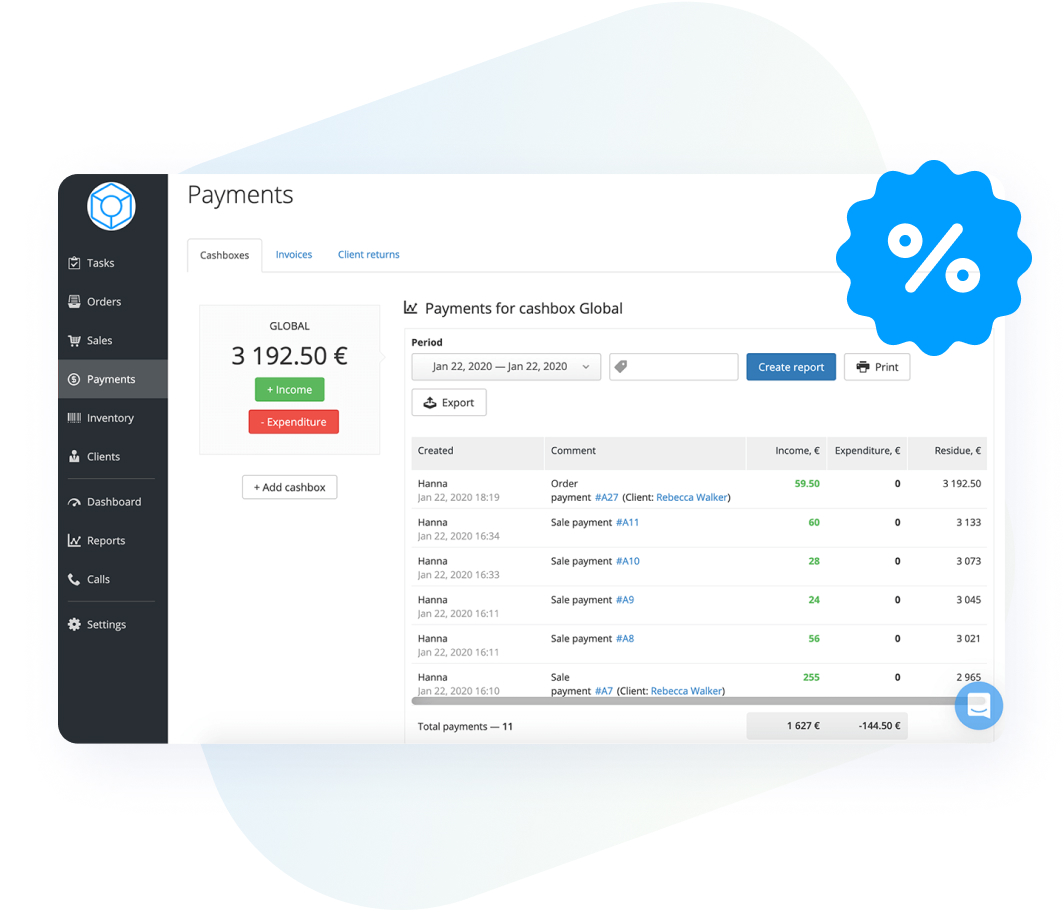 Sales tax calculation set up in RemOnline


You can add or exclude taxes on a price for goods and services, set up company-wide rules and tax exemptions for certain categories, use multiple tax systems within one account, or set different tax rates for locations. You have to configure this once, and further RemOnline will do the calculations for you.
The bigger the company, the more employees it has. And the more mistakes in planning working hours and client visits can occur. To eliminate human error risk, RemOnline has introduced the Employee Work Schedules.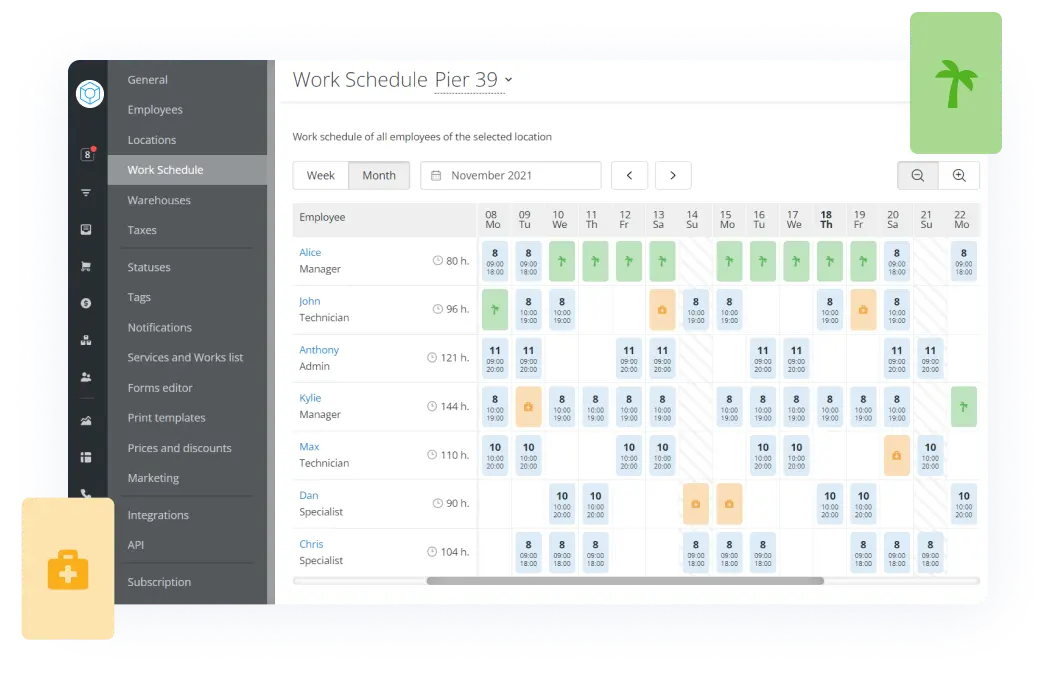 Employee Work Schedules Overview in RemOnline



You can record and schedule your employees' work, sick leaves, and vacation days. Based on this information, it's now easy to set up an individual payroll scenario for each employee to automate the calculation of daily and hourly wages as well as paid and unpaid days off and sick leaves.
To understand how good your business is doing, it is not enough to only track daily performance metrics. You need to go deeper into the data and analyze it in detail, looking for useful patterns and points of growth. This is what we have developed the Company Insights Report for.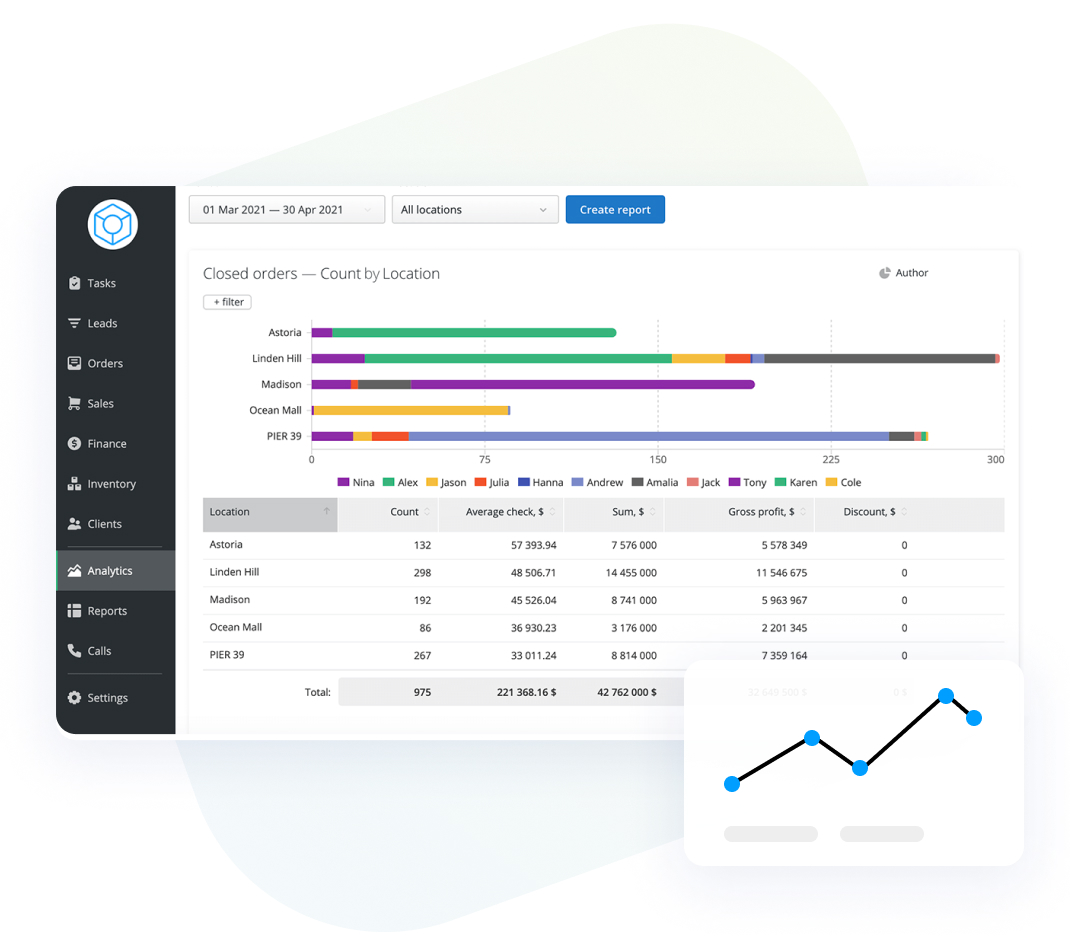 Screenshot of the Company Insights Report in RemOnline



This is a data visualization tool where you can view key business metrics in dynamics to see a big picture of how your company's performance. You can generate an unlimited number of diagrams and trends on work orders, sales, calls, employees, and cash flow for any period in a few clicks.
More Automation Tools in 2022
And now, let's have a look at what RemOnline features will be launched next year. Sit back as we have big plans.
Work Orders
You will be able to create and edit work orders via the app: change the status, add and delete works, services, and materials.
Cashboxes and Payments
You'll be able to work with cashboxes and create payments without leaving the application.
Task Manager
You'll be able to create, assign employees, and follow the progress in the mobile app.
Location Tracking
You'll be able to control the location of field workers and track them on the map.
New Features For Seamless Financial Accounting
Bank Integration
You will be able to link a cashbox in RemOnline to a bank account as well as track all account transfers.
Payment System Integration
You will be able to generate a payment link for customers so that the receipt of payment automatically changes the work order status.
Salary and Settlements with Employees
You'll be able to accrue monthly, daily, and hourly rates according to your employee's work schedules, including commissions, bonuses, and penalties.
Product Sets
You will be able to group goods into sets so they can be added to work orders or sales at once.
Bin Capacity
You will be able to specify how many items can be stored in each bin of your warehouse.
Bin per Product/Asset Category
You will be able to specify which product/asset category can be stored in each bin.
Improved Functionality of the Module "Services"
Consumables in Services
When adding a service to a work order or sale, the goods specified as consumables for this service will be automatically written off the stock. They won't be displayed in printed documents thus won't be visible to customers.
Sets of Services
You will be able to group services into sets to add them all at once to a work order or sale.
Customer Feedback
In addition to the five-point system, you'll be able to collect feedback on a binary grading system or NPS, as well as customize your response to customers based on the score assigned.
Other Features to Come
WhatsApp and Viber Integration
You will be able to send instant messages to customers as well as set up automatic notifications with work order updates.
API 2.0
Improved API will offer even more options to automate business processes, e.g. seamlessly integrate with Quickbooks.
Tasks
You'll be able to create recurring tasks and track changes of each task in the Event Feed.
Event Feed
There will be a more convenient and functional Event Feed in Tasks, Leads, Work Orders, Invoices, Customers, Payments, and Goods.
Employee Groups
It will be possible to combine employees into groups and subgroups according to the organizational structure of your company for a more convenient setup of the Employee Work Schedules.
Printing of Documents in a Certain Status
For each work order status, you will be able to configure the documents available for printing.
Display of Work Orders from Multiple Locations
If you need to quickly find a work order or other document, but you do not know what location it is in, you will be able to select a Group of locations instead of one specific location.


These are our goals for 2022. Stay tuned for more automation of processes, improved workflows, and constant growth of your company thanks to the new features of RemOnline.
comments powered by

Disqus