Activity Log In RemOnline Software
Managers and executives do not often have time to view all the tabs and reports in RemOnline to keep track of everything employees do in the system. Who deleted a customer? Which orders had their statuses changed today? What comments were added to work orders? Previously, you had to spend a lot of time finding answers to these questions.
But now, you can use the Activity Log that is a single report of who did what, where, and when in your RemOnline account. This tool allows you to better control employees' actions, see the overall activity of the company, as well as each location and employee separately.
Let's take a closer look at the new report.
Activity Log Data
To find the Activity Log report, navigate to the "Reports > Other > Activity Log" page. It consists of 6 columns:
Date

answers the question "when?"

Location

answers the question "where?"

Employee

answers the question "who?"

Object

answers the question "to what?"

Event

answers the question "what?"

Additional

answers all other questions :) For example, what was the status of the work order or lead and what it was changed to, what comments were added, etc.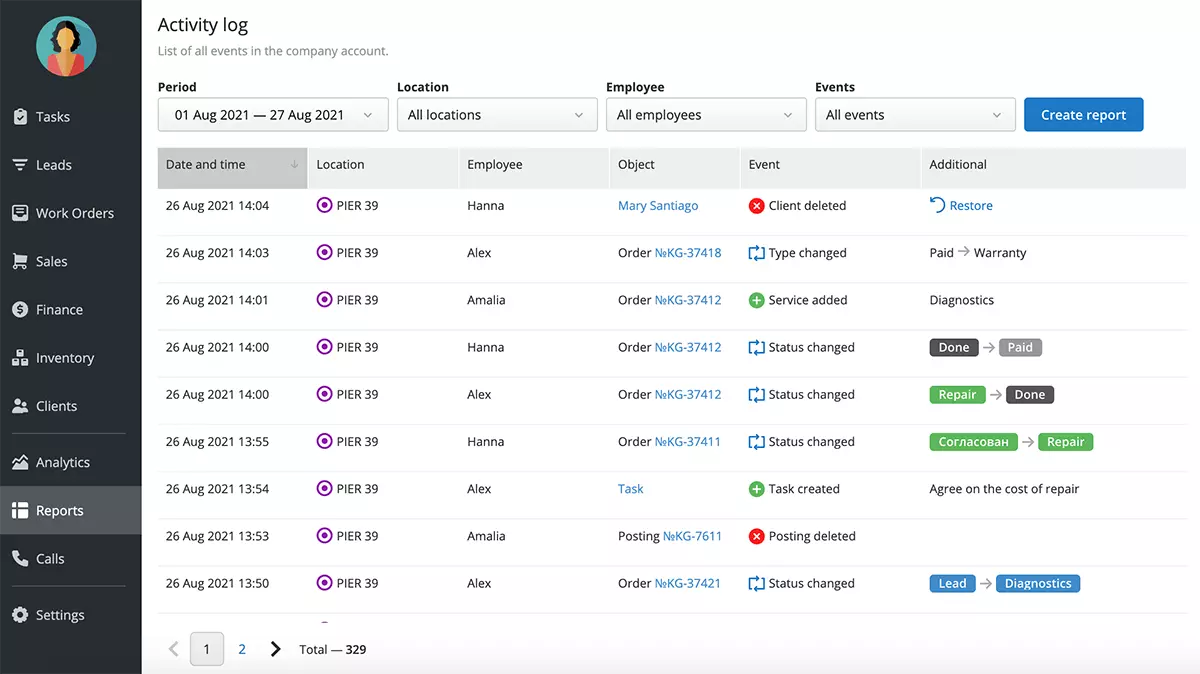 As you can guess from the title of the report, the key to all of this is activities. Currently, the report shows 44 events, which are divided into groups:
Tasks
Tasks created, deleted, completed, or returned
Leads
Leads created, deleted, status changed
Work Orders
Work orders created, deleted; status, location, customer, type, deadline, "scheduled for", manager, assigned specialist changed; work, service, or product added or deleted
Sales
Sales created, deleted
Finance
Receipt printed, refund to customer created or deleted
Inventory
Posting, Transfer, Write-off, Return to Supplier, Stocktake created or deleted
Clients
Client created, deleted, client feedback received
Other
Comment created, file attached or deleted
Authentication
User authenticated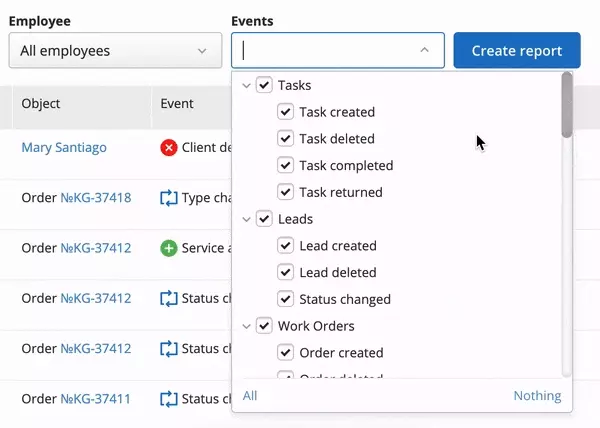 As you can see, there is a user authentication group among the events. This means that RemOnline no longer has a separate report with the login history — it has become a part of the Activity Log.
And this is just the beginning, the list of events will be regularly updated based on your requests.
Activity Log Use Cases
The report is generated based on 4 filters: Period, Location, Employee, and Events. You can change their values depending on what you want to see and what goals to achieve. Here are a few examples of what useful information you can get here.
Deleted Clients
The client base is one of the most valuable resources of any business, so you need to store it carefully. And even if you cautiously set up employee access to client data, the risk of human error still exists — any employee can delete a client by mistake.
To see who and when deleted a particular client you can now filter the log by "Client deleted" event. And here's another cool feature of the Activity Log: a deleted client can be recovered! You no longer have to worry that someone will delete your entire customer base.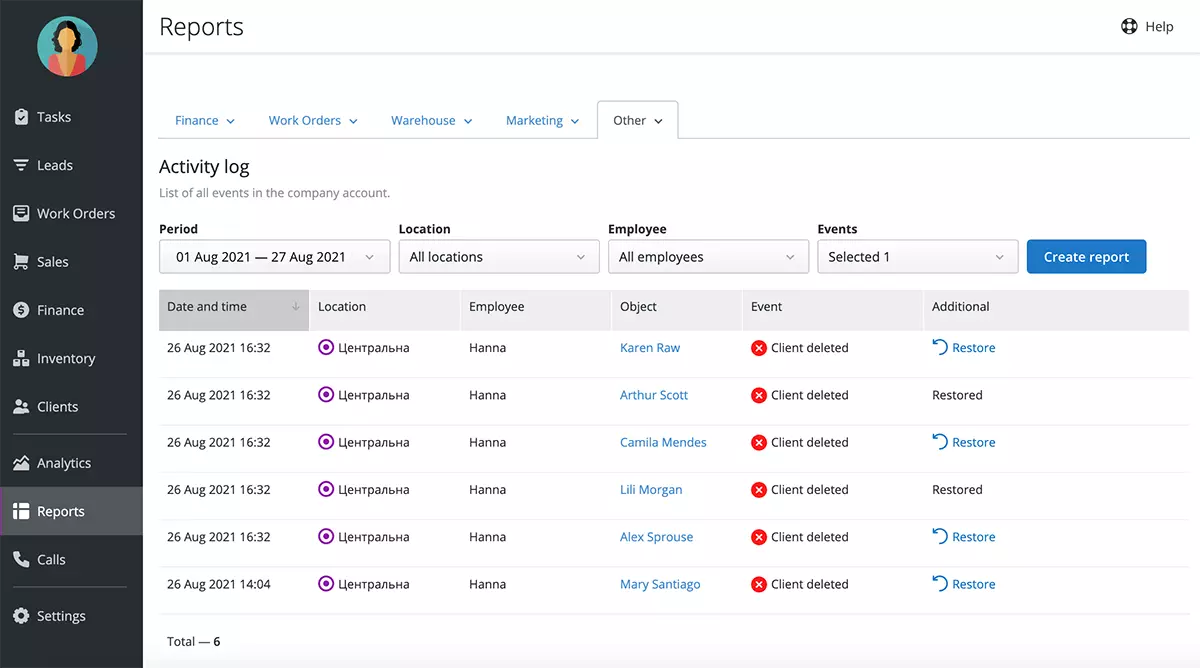 Now, due to technical limitations, you can restore the following deleted objects: clients and leads. We will work to expand this list so there will be more options.
Employee Actions
When questioning an individual employee's performance, for example, you doubt their integrity or don't understand what he or she has been doing all day, you can easily filter the Activity Log by this person.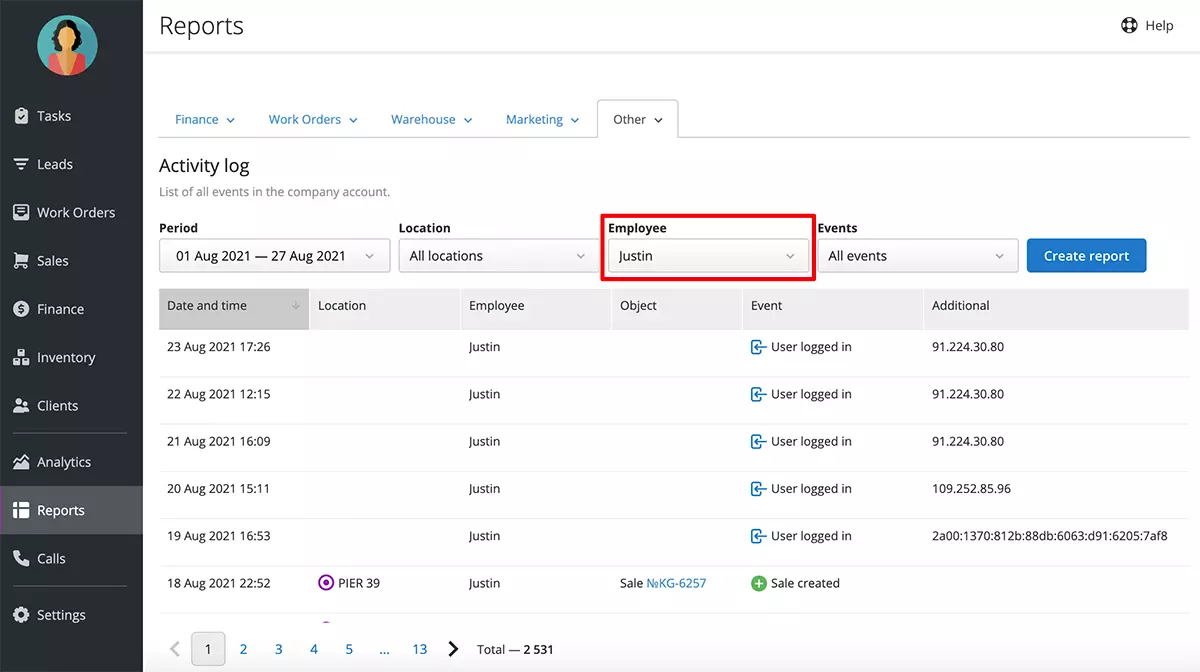 Location Events
Want to know everything that happened in the location during the day? No problem! Just select a period and location, and the Activity Log will show you all the changes and their timeline.
Please note that when we updated, we filled the Activity Log with your data for the year 2021. If you haven't done anything in your account since the update (the article publication date), old events will not be fully displayed. For example, for the "Order status changed" event, you'll see only the most recent status in the "Additional" column. But once you start actively working, the report will be quickly filled up with data as it should be displayed.
Activity Log in Subscription Plans
The Activity Log report is available in Startup and Business plans. The Users of the Startup plan can only see data for the last 30 days and cannot change the "Period" filter. For the Business plan, a full history of the Activity Log is available with the option to build a report for any period.
We also remind you that until October 1st, users of all plans can test another newly added feature — Allowed actions in warehouses and cashboxes. Further, it will be only available in the Business subscription.
What's next?
Adding a common log is a big step towards the development of Activity Logs in different documents: Leads, Tasks, Customers, Products, etc. So stay tuned as new updates will be released very soon.
Additionally, the 44 events in the current Activity Log are just a starting point. Now, we need to understand what other events you'd like to track in this report — write please in the comments below or in the support chat what you're missing and why.
comments powered by

Disqus