Mass Adjustments to Counterparty Balances, Write-Off and Group Transfer of Assets
Meet the first summer update of RemOnline. Now you can:
mass adjust counterparty balances via database export and import;
add multiple images to items;
move or write off multiple assets at once via group actions;
download RemOnline Boss app on your Android smartphone.
Let's take a look at the details of the update.
Mass Adjustments to Counterparty Balances via Import
When Balances and Mutual Settlements with Customers and Suppliers were released at the beginning of the year, many users had inconsistent data, because before, each company kept mutual settlements in its unique way. So now you have the opportunity to correct the balances of counterparties in bulk by importing and exporting.
To do this, you first need to have four permissions in the "Clients" block:
Can see the customer's balance;
Can edit client balances;
Can export data;
Can import data.
To enable or disable these rights, edit the roles on the Settings > Employees page.
If you've just started using RemOnline, or if you used another service for mutual settlements, you can simply download an example of an import file, fill it with current data, and import it to RemOnline.
If you have long been using RemOnline and do not match the current data on balances, you need to export a table of customers, change balances in it, and import the file back.
For each counterparty for which the imported balance does not match the current one, RemOnline will automatically create an adjustment to reconcile the balance value with the specified one.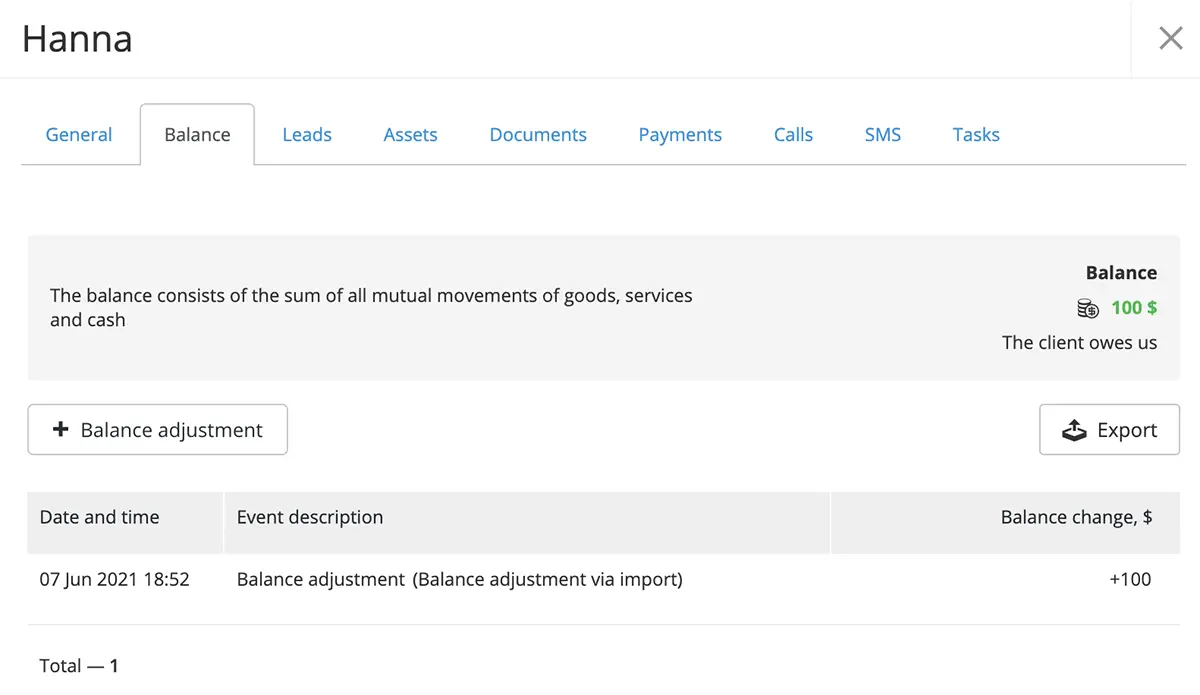 Now, if you enable any filter on the Clients page, it will be triggered in the exported file as well.
Multiple Product Images
This is another improvement that we have long been asked for. So now, you can add up to 10 images to each stock item. To do this, click on the image field to upload files from your computer, or simply drag and drop them.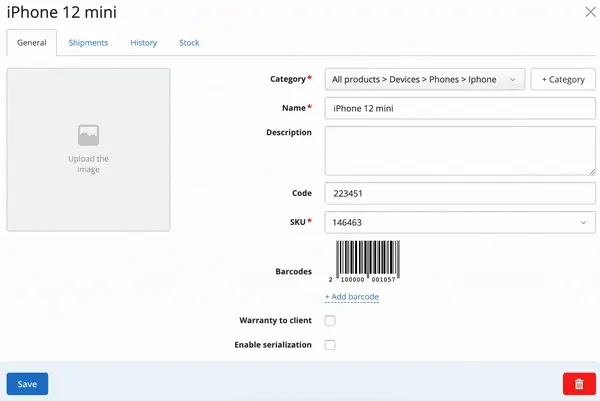 Any image can be deleted or used as a product cover. To do this, just hover over the file and select the required action.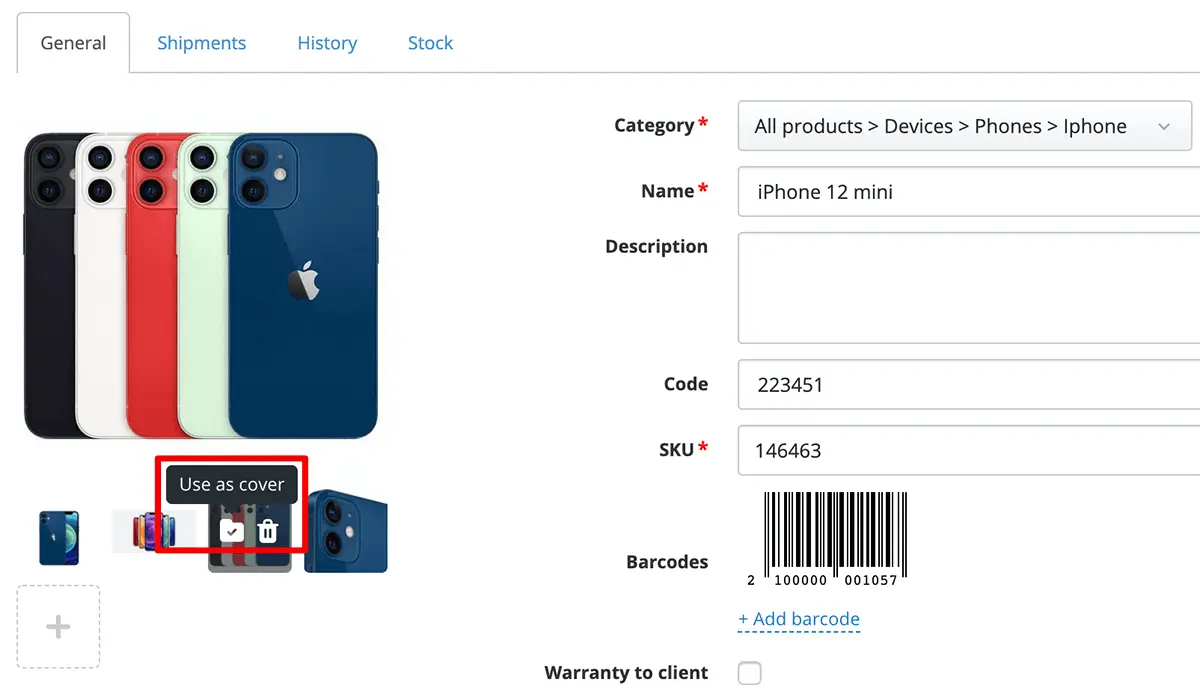 You can already transfer product images to other services via API as described in this method. Meanwhile, we are starting implementing new integrations with marketplaces and CMSes, for which having multiple product images was a mandatory requirement.
We're also already working on the ability to export images, so in the next update, this feature will also be available.
Bulk Transfer and Write-Off of Assets
The Asset feature appeared in RemOnline to help users better control the physical not just logical transfers of orders. After all, when you move a customer's device or equipment to another location, that is the most important asset which location has to be tracked.
You can now use the group actions "Write off" and "Transfer" for faster and more convenient work with assets. Just tick the checkboxes of the selected assets, click "More actions" and choose the one you need.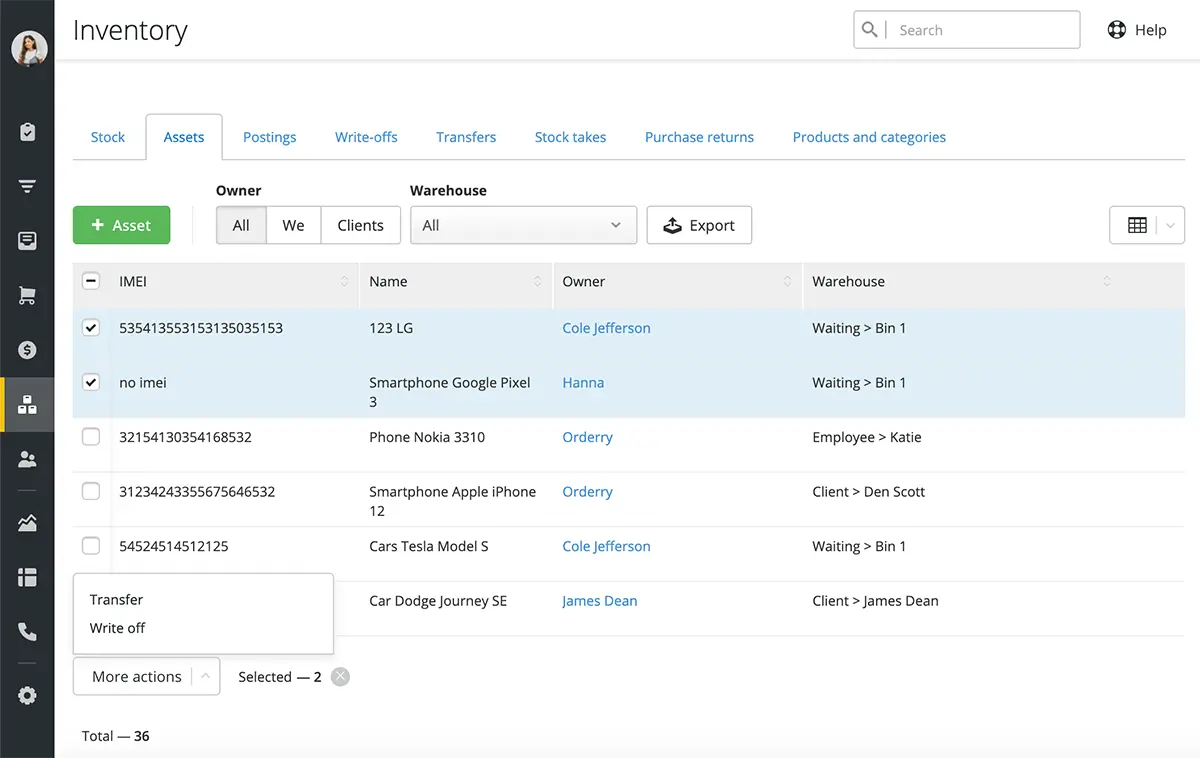 The actions may not be available if you have selected assets from different warehouses because they must be in the same warehouse for a group write-off or transfer.
RemOnline Boss App Now Available for Android Users
RemOnline Boss is an app we developed for business owners and executives who like the convenience of being able to look up their company's performance data on the phone. Whether you use iOS or Android, you can download the app to your device and sign in with your existing RemOnline account.
With RemOnline Boss, you'll be more flexible with managing your company from any location:
View the number of created and closed orders, works performed by each employee, sales, and payments in the Reports. Get insights into your company's revenue and profit for the day, week, month, and any custom period.
Keep track of your finances on the go. Just open the Cashboxes tab to see the current balances of all cash boxes, total cash, and cashless amount.
Have some questions after viewing the Report? Contact your employees in one click. In the Employees tab, you'll have a list of all your staff members with call and message buttons. For more control, you can track the time and IP address of their last sign-in.
RemOnline users who have access to the mobile application can enable two-factor authentication to keep business data safe and secure. Define the access rules for each employee in the RemOnline web version.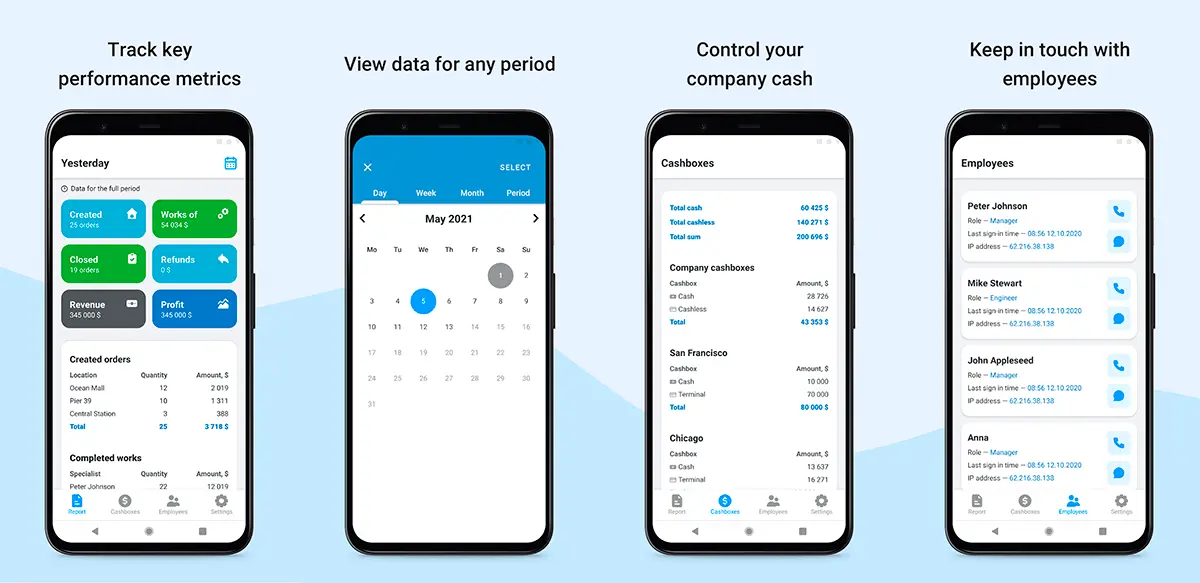 Now let's talk about further improvements that will be released with the next updates.
Taxes. Currently, taxes in RemOnline are represented only by the "VAT Payer" checkbox and variables for printed documents. But in the first version of the new Taxes feature, you will be able to set tax rates for goods and services in orders and sales separately from those for inventory postings.

In the future, it will be possible to set different tax rates for individual goods, services, and their categories.
Integrations. RemOnline will get a universal template to integrate with CMS and other online stores. Thus, you will be able to link your account with any marketplace that you are interested in and transfer there any data from RemOnline.
Assets. New features are about to come here as well. E.g., many users are waiting for serial number generation for Assets. That is especially useful when you deal with appliances or devices that do not have their own unique serial number.
Another enhancement will be a merge function for duplicate assets. You will be also able to generate asset labels to quickly identify equipment items with the barcode scanner.
Services. A new feature coming soon here is service categories. Initially, you'll be able to simply divide services and works into categories, so that you can later set a separate tax rate per category. And further, it will also be possible to link service categories to assets to set various service rates for specific equipment, machinery, etc.
comments powered by

Disqus