Assets and Balances of Employees
Dear RemOnline community, meet our first update in 2022 which is dedicated to employee balances and assets!
Until now, RemOnline didn't have employee balances so our users kept track of payroll and controlled payments in different ways. Some created a cashbox for each employee to move the amount they earned and then to pay wages from there. Others simply used the payroll calculation feature but did not control payments in RemOnline. And in order to process a work order, sale, or posting from an employee, they had to register him/her as a client in the system.
Today, we've taken the first step towards a new payroll module and full-fledged mutual settlements with employees in RemOnline — each employee has their own balance which is affected by all work orders, sales, postings, and payments in which they are listed as clients or suppliers.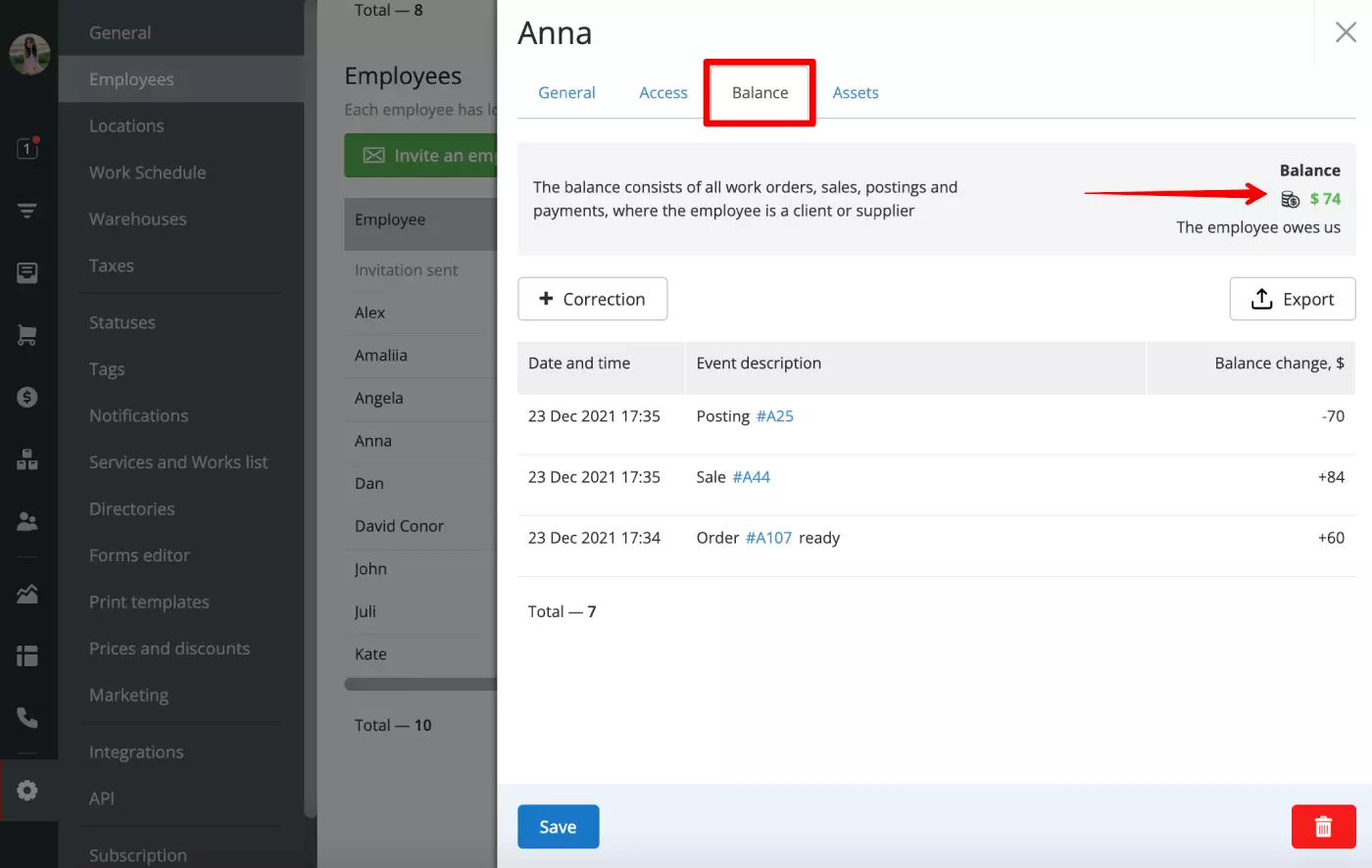 To enable this functionality, we created a system client for each employee with:
the same name and contact information as the employee
an icon identifying him/her as an employee of the company
a balance that corresponds to the balance in the employee's profile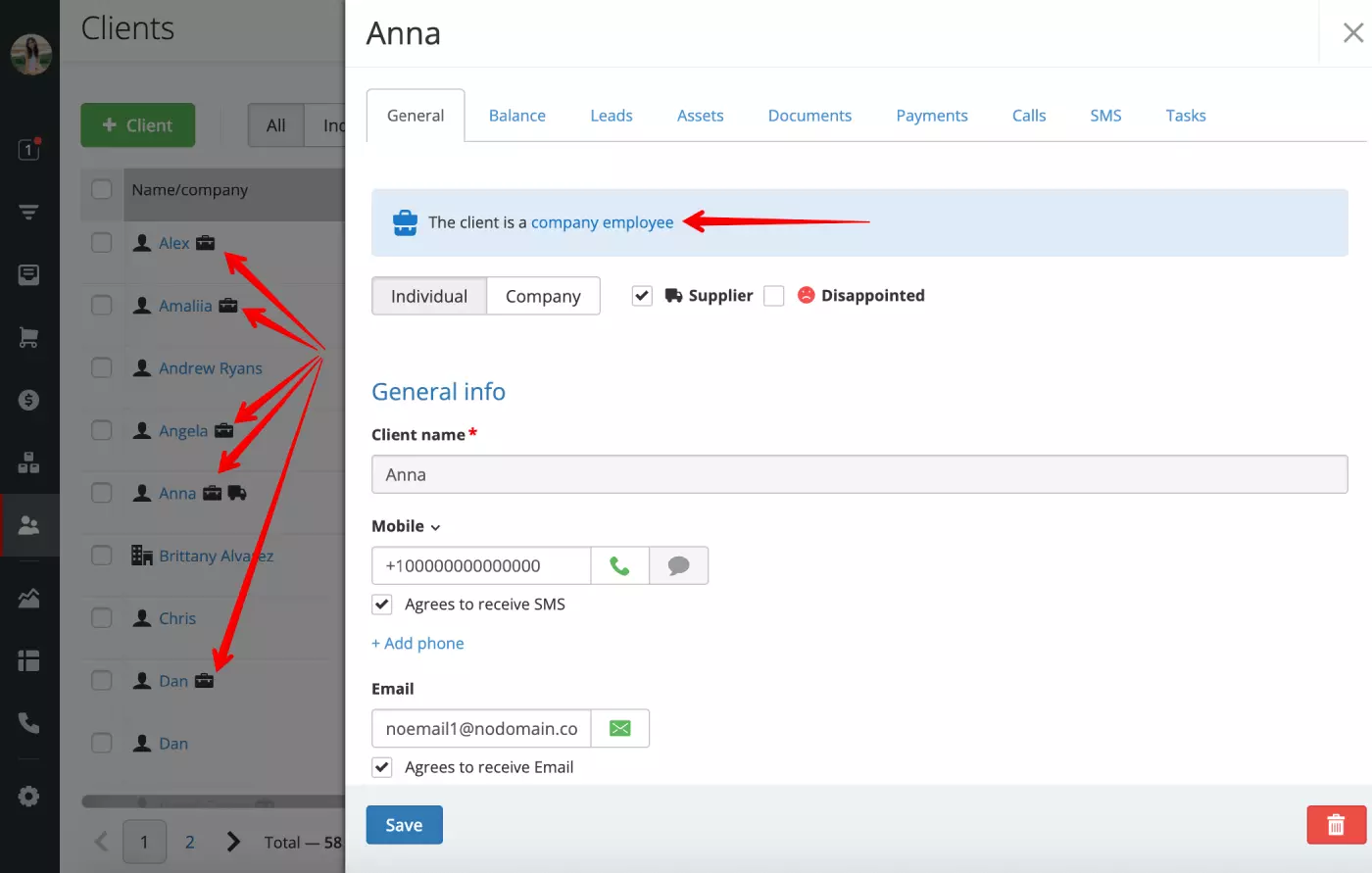 Note that the name of the employee is not just the same, but common. You can only change it through the employee profile on the Settings > Employees page, and in the client dialog box in this case the name will also change.
How You Can Use This Feature
If you created a client for an employee before this release, merge the two profiles via group actions. This will leave you with one employee profile in Clients with all the history of internal work orders and sales.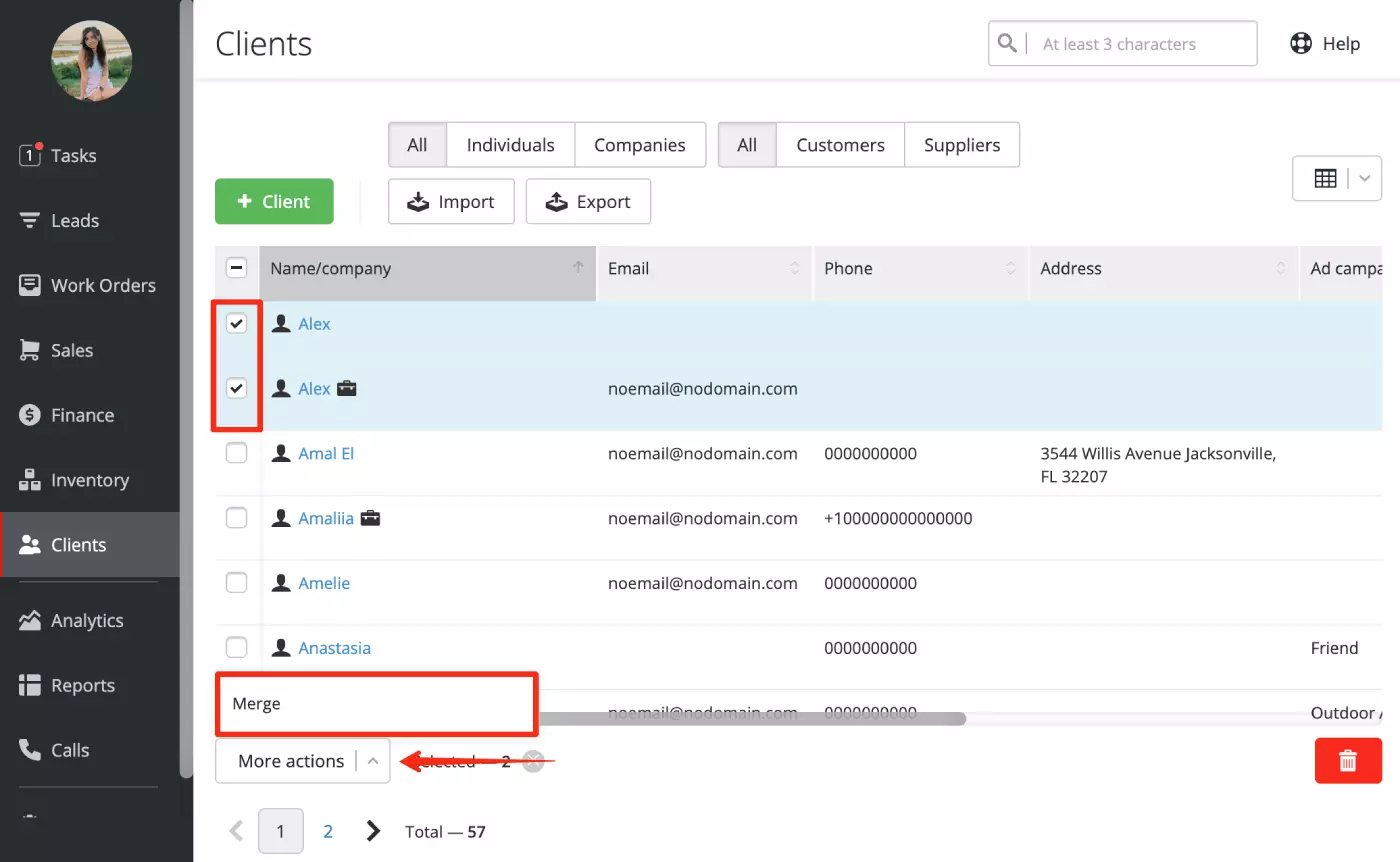 In case you have a special cashbox for settlements with employees, you can now move money from that cashbox to the employee's balance using the adjustment as described in this guide. If the balance of the selected cashbox is positive, RemOnline will invert this value when adjusting. You will see a negative amount in the employee's balance, that is, the company owes the employee. If the cashbox balance is negative, the employee will owe you after you make the adjustment.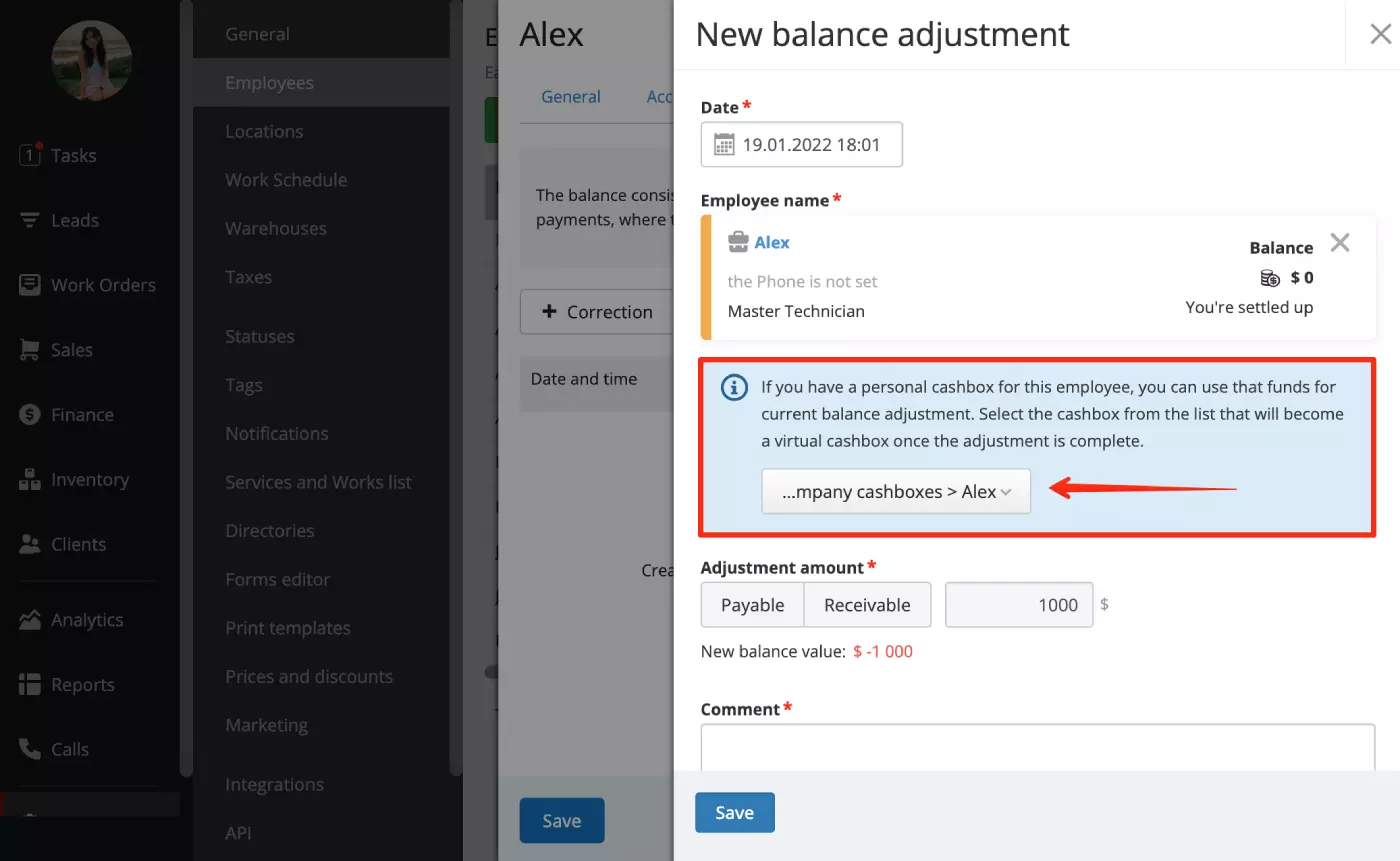 Note that after this adjustment, it is important not to use such a cashbox again and not to make other adjustments to the employee's balance to make it zero, for two reasons:
Soon, you will be able to accrue employees' wages to their balances. Moreover, wages for January and February can be accrued retrospectively. And if you use cashboxes for mutual settlements, employee balances will simply not add up in the end.
After the release of the new payroll module, we will begin working on the ability to generate other costs by accrual and then form P&L based on the data on income and expenses. Further use of cashboxes for mutual settlements will cause incorrect data in there.
Right now, we are working on the feature for specifying not only daily and hourly but also monthly rates for your employees in the payroll calculations. In addition, we will expand settings for calculating commissions, for example, for converting leads or for urgent work orders. You will also be able to set up extra rewards or penalties for your employees. All this will be added to the employee's balance later on so you'll be able to see how much you've already paid and what amount you owe.
Employee Assets
In addition to balances, you can now handle employee assets more conveniently and correctly. Since the employee has a client profile, you can have employee assets that they use in their work. For example, an employee came in with their soldering station, a scanner, or even a laptop. Now, you can enter it into the company's warehouse but indicate the employee as the owner to see what belongs to whom.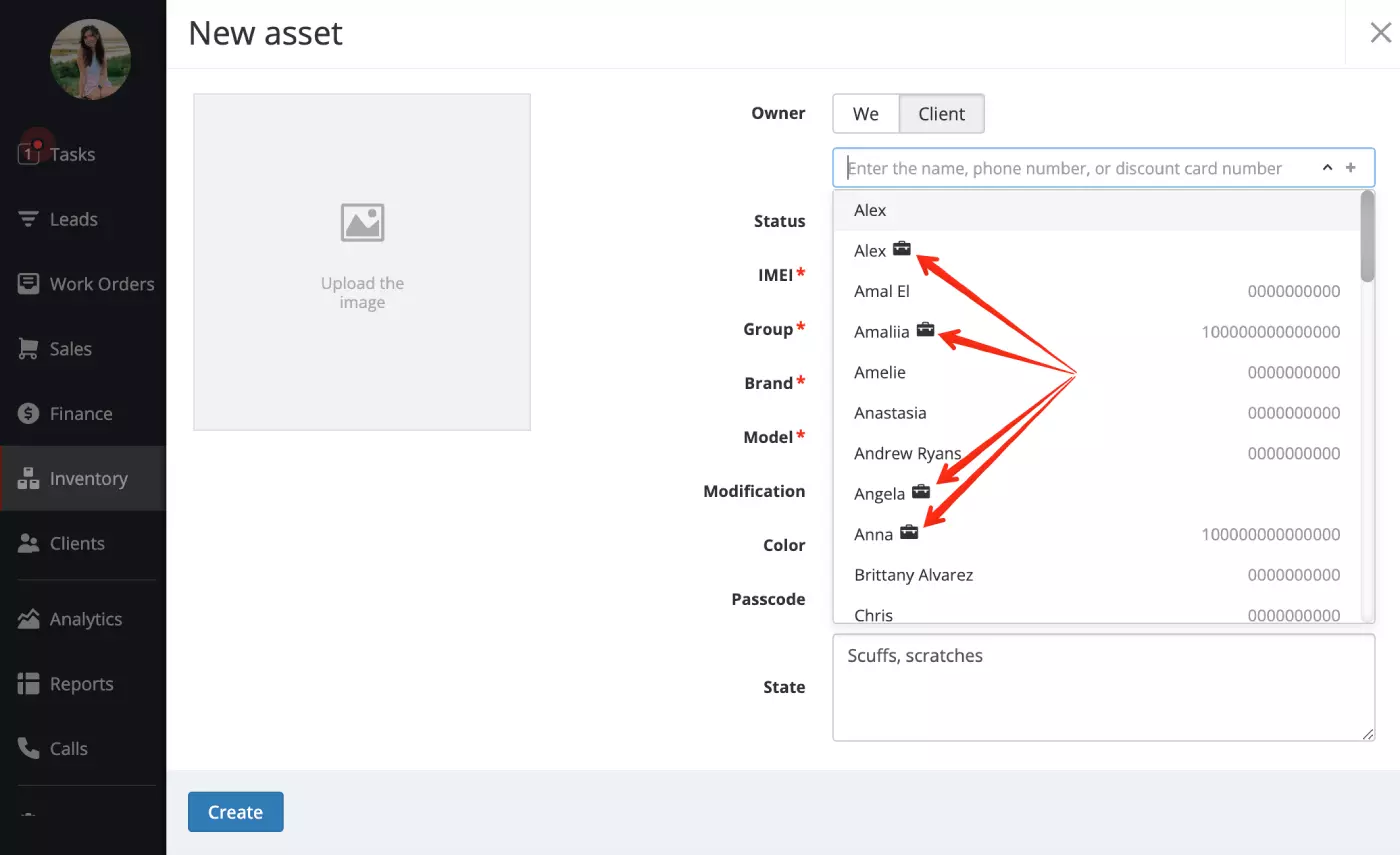 You no longer have to go to the Warehouse > Assets page and use filters to see all the assets that are assigned to an employee. For this purpose, go to the Asset tab of the employee dialog box on the Settings > Employees page.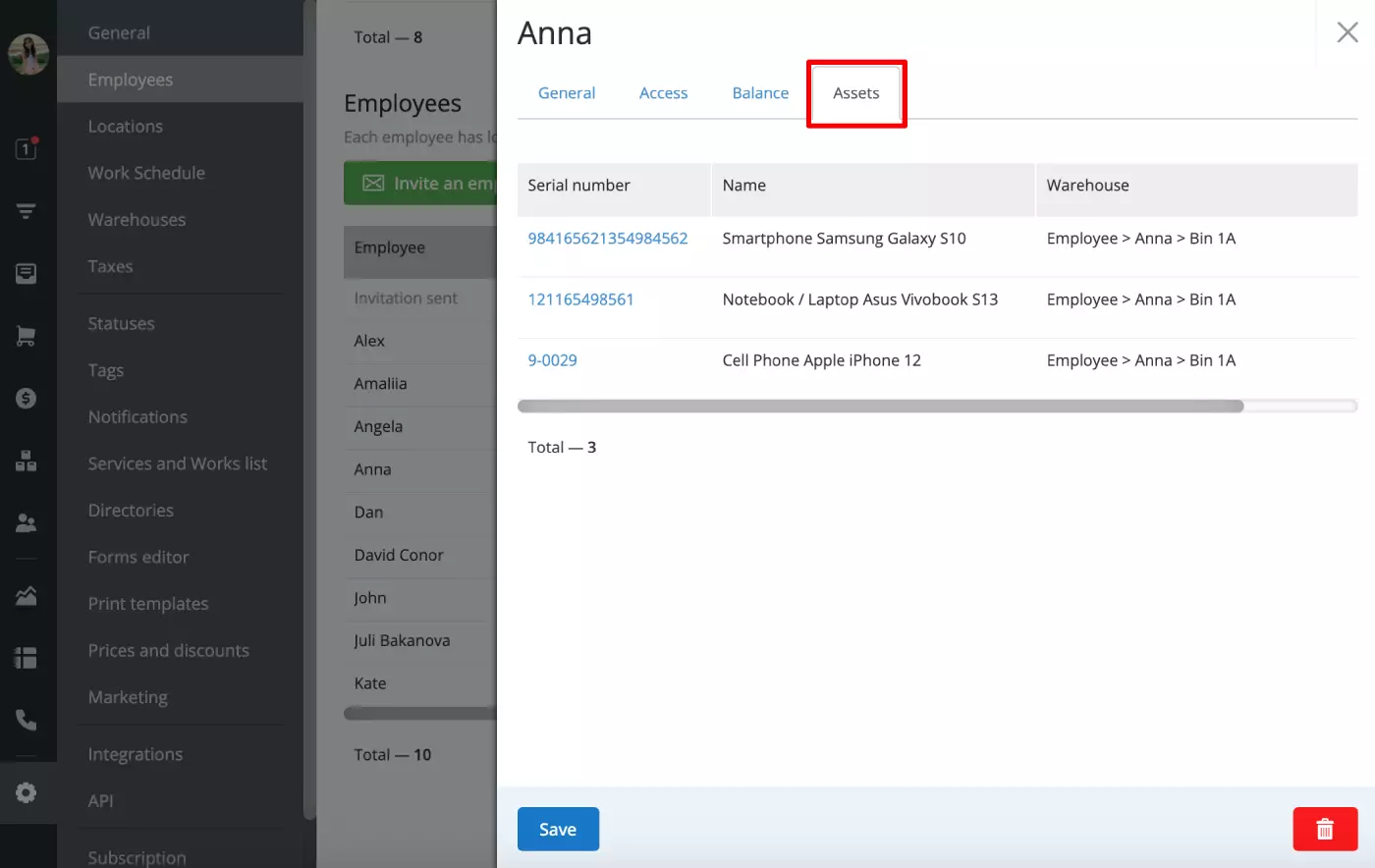 With the coming updates, you will be able to track all the changes in the Leads, leave comments and attach files via the Event Feed. In addition, we are actively working on improving the Employee Work Schedules and, as mentioned above, the new payroll module. If you have any questions or suggestions about this update, be sure to write them in the comments below or to our support chat.

comments powered by

Disqus