Forms Editor To Improve Leads & Critical Update With New Assets Goes Live
Thanks to everyone for your interest in Leads, the latest functionality available within the RemOnline app for over a month already. So if you haven't had a chance to check them out, now it's a good time to do so. In this week's update, we are making a number of changes to further improve the experience. Here we often say "Enough is never enough". Our development team remains committed, with a wealth of proposals and feedback received on Leads, to doing more. And we look forward to showing you Assets, a new big thing in RemOnline that has been a secret for quite a long time. As we've just revealed a part of the mystery, you need to get the full story.
Check out the rest of our latest releases below!
Leads Forms Editor
Whether you are moving away from paperwork, or are looking for software that feels like it was designed just for you — your workflow can't go wrong when you have RemOnline.
Now the "Setup > Forms Editor" page has the new "Leads" tab for you to:
create new types of Leads, configure them
add, remove, and arrange fields
use your own rule-based logic
use the "Initial Lead status" feature
Much like with Orders, everything can be custom-tailored so that you can easily collect all relevant information on Leads, split them by categories, and create unique workflows based on your own business logic. Make the most out of better marketing opportunities, targeting the right people, and converting more Leads directly into sales.
What Makes Leads Form
Note: These system fields are mandatory: "Client", "Mobile", "Location", and "Manager", so just keep in mind that they can not be modified or removed. And the following are basic system fields, we recommend that you keep everything as it is (at the same time, you're free to change or even completely remove them all):
the "Ad campaign" value list
the "Commentary" text field
the "Due date" field with date and time
the "Urgent" checkbox.
You can add custom fields and use them in combination with the Directories. As a result, creating new Lead profiles and running check-ins will be much quicker and simpler things to do.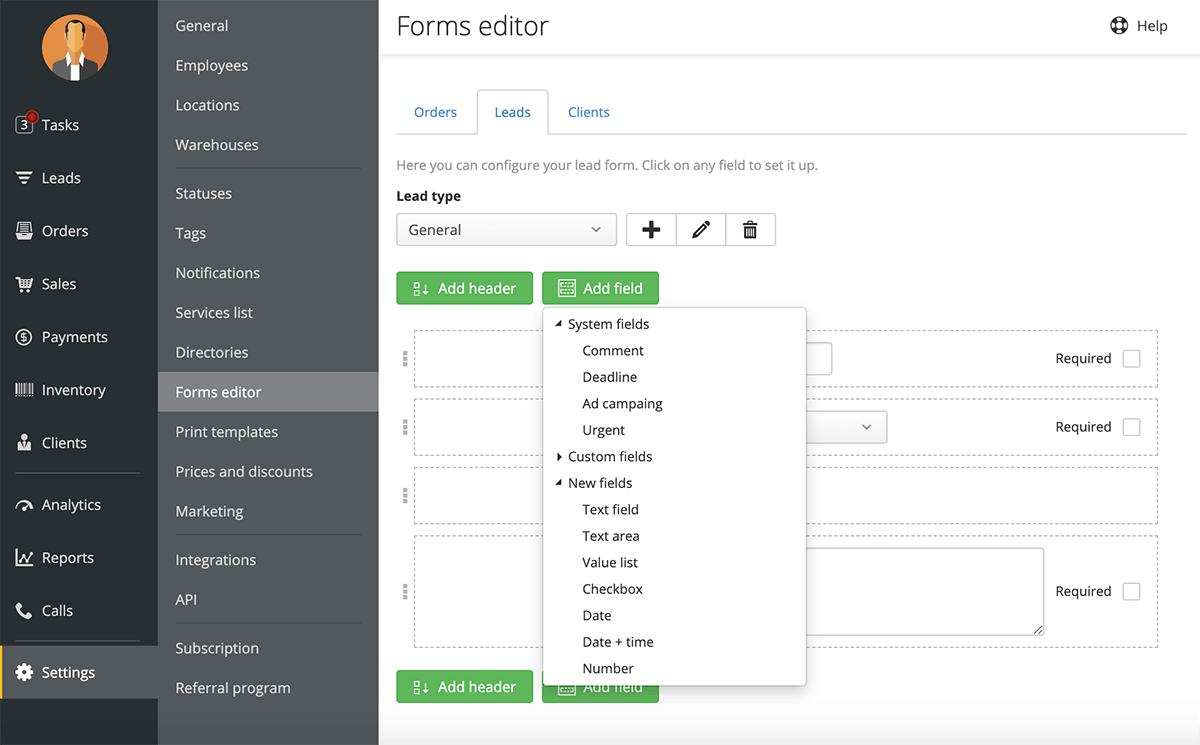 How To Use Leads Types And Initial Status
Now you can finally have a nice structured view on Leads. Create different types of Leads for each marketing channel, add custom fields, and arrange them to meet your needs at their best.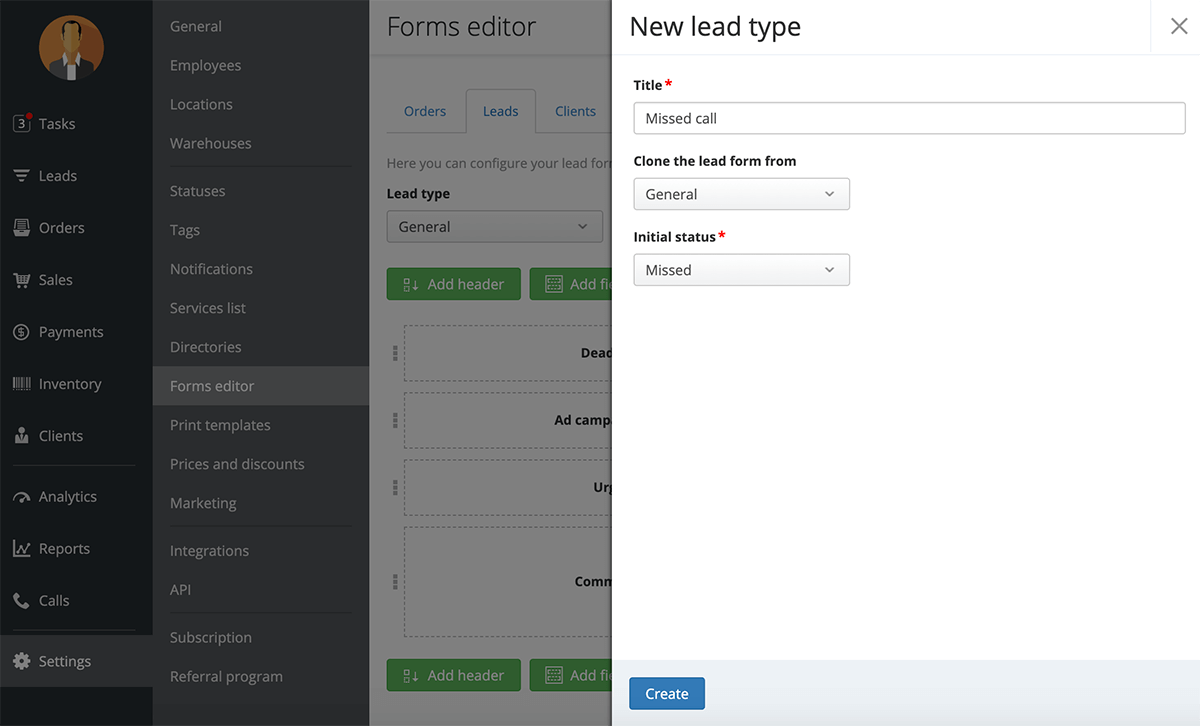 And from here, you decide what you want to do next:
quickly review and arrange Leads by type directly in the Leads Table (that's right, now it has a new column and button)
select default type for Leads on the "Settings > General" page
additionally, choose the default type of Leads in case they are created automatically on a missed call.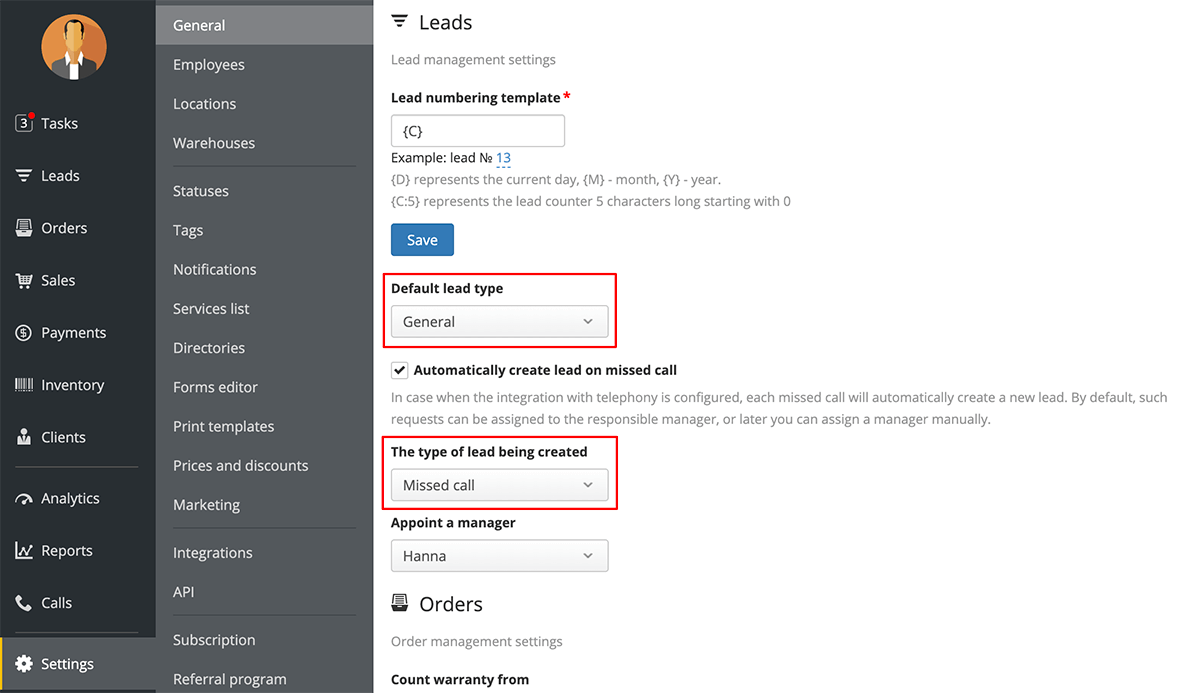 If you're a lucky owner of the Business Plan in RemOnline, we added the ability to set initial Lead statuses for each type of Leads, this is really hitting the spot. The same is for transfer rules to change the Leads status automatically, according to workflow patterns or specific events. For example, you can ensure missed calls receive a callback, or take care that website application requests for quote, number of available items, or terms of delivery.
The Forms Editor (or, rather, the lack of it) was the last principal barrier to vast reporting feature (you can't measure anything when Leads are just messed up all together), and a host of different integrations (marketplaces, social networks, etc.).
Unlock the power of Leads, with more new opportunities being added over time.
Get Prepared For New Assets Feature
Unlike all other industries, the service businesses often deal with the assets of the clients rather than their own belongings. That's why we update the logic of order-centric workflow built mainly around statuses, types, and categories by adding a solely physical side of the process. Actually, we've got a lot of things to tell you for a long time. Just wanted to get you ready for change.
Let's get down to basics. By definition, Assets can be anything from a device, car, appliance, apparel, or any other belongings of your client that need repair or maintenance. At the same time, equipment, machinery, transport, and even premises may count as Assets — being added into order yet not for sale (for example, hiring, rental, or temporary use assets).
In a nutshell, Assets are designed to help you:
maintain physical inventories of your business and property records of the clients
transfer assets through multiple warehouses, responsible employees, or pickup by client
improve customer service when everything can be found in just a few clicks
track service history and asset transfers through different stages of business workflow.
Now let's take a closer look below.
Asset Warehouses, Product Warehouses
We don't actually keep retail and business assets all together in the same place, right? The same thing is for Assets and Products you create in the RemOnline system. Asset warehouses and Product warehouses will be displayed on the "Settings > Warehouses" page independently.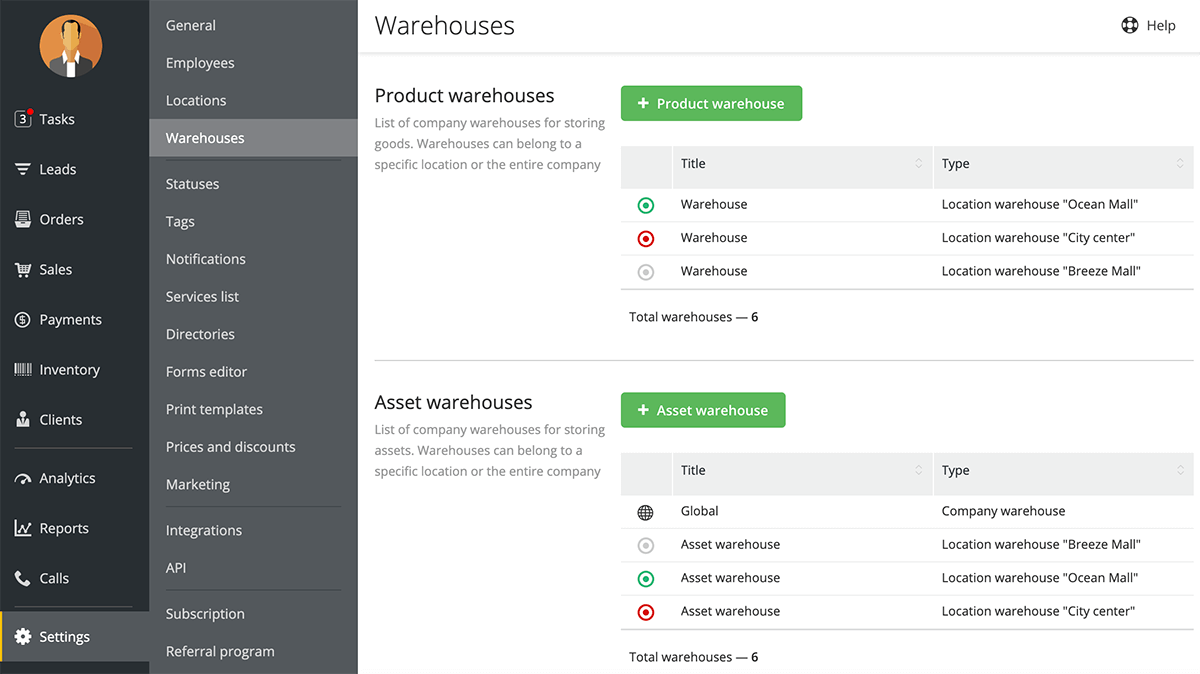 For better convenience, Asset warehouses can be configured as global or belong to a specific location. You can also create bin locations to easily find the actual physical storage for every Asset in the system.
Assets Page
Assets will soon be represented in a new tab on the "Inventory" page. Over there, you can find all Assets of your clients and the ones owned by your business, the name of the owner, and (even more importantly) their physical location. Eventually, that means your Assets will remain in secure storage at one of your warehouse locations, kept by a client or assigned specialist.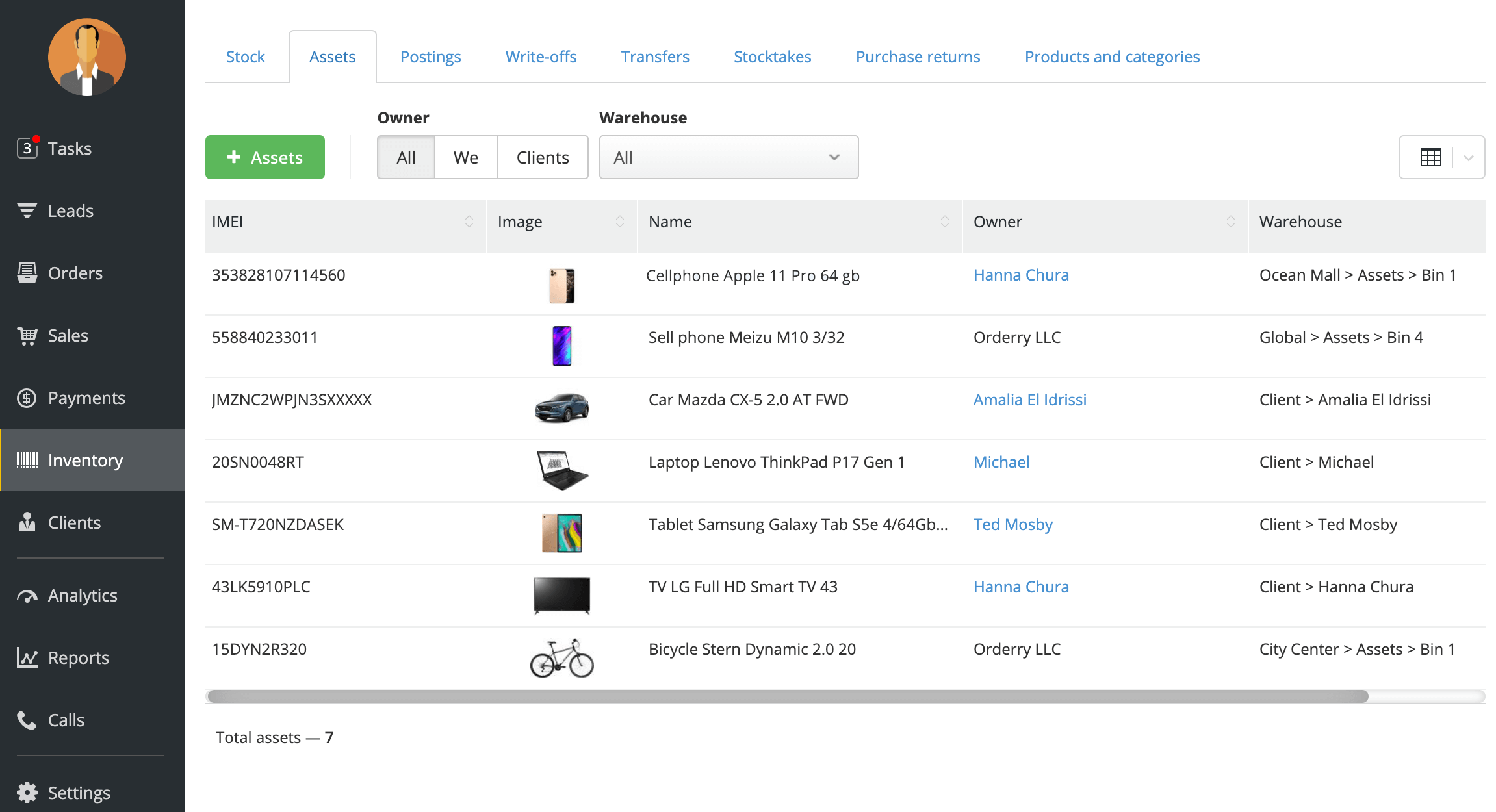 Upon a click, you can instantly review Assets and their profiles with a complete history of works, services, and transfers. And you know what? With Assets in place quite soon, our development team is getting down to Logistics.
And the best part is you can finally set automated Asset receiving and transferring, based on the Order status.
Adding Assets With Forms Editor
When the update is finished, there will be 2 common ways of adding new Assets in the system, on the Inventory page or directly in the Order profile. Before getting started, we recommend that you go to the Forms Editor and complete the following:
Master field "Group > Brand > Model > Modification" (the latter is optional)
VIN / IMEI / Serial number
Color
State.
Each field has the following checkboxes: "Required", "Show in Order form", "Forbidden edit after creation". Check what you need, and that's it. Now the Asset profile will be displayed for each type of Orders with a system checkbox.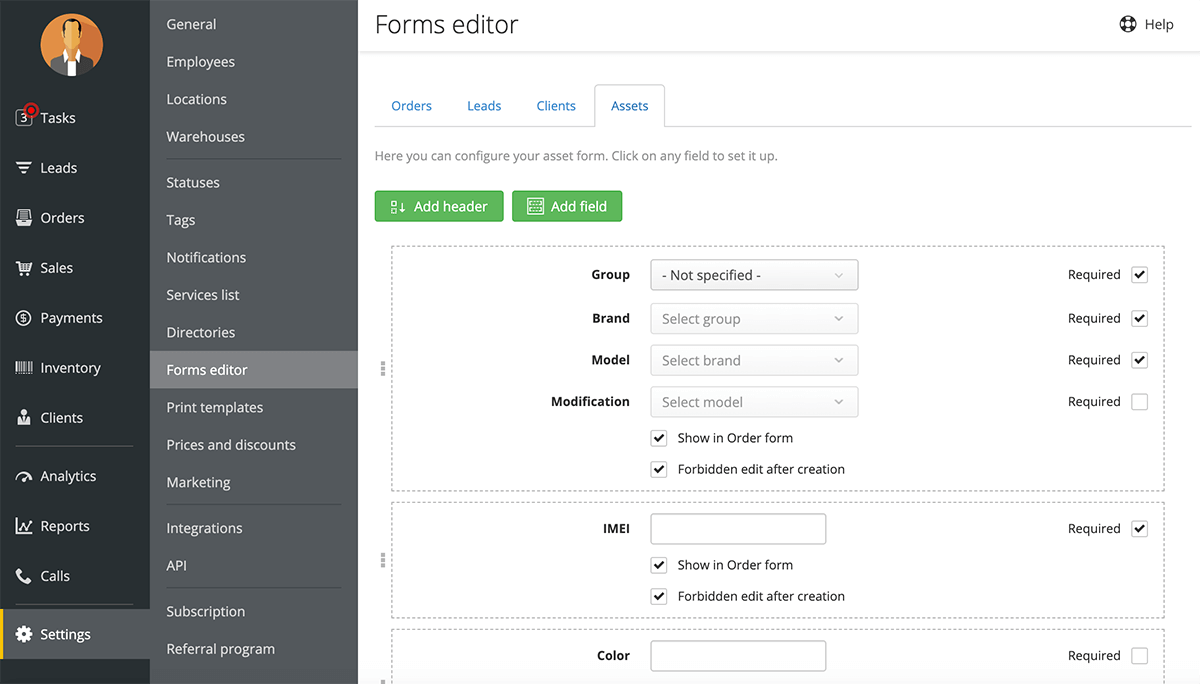 But most of all, you will be impressed with a Directory hierarchy for Assets. Yes, that's right — now you work in a fully consistent and coherent directory, and no matter what industry or service area you're in. Here is how it may work for you: specify the "Cell phones" group, next select your brand (let's give a try with Apple), and eventually only relevant models will be displayed for you to quickly complete the task (here we're going to see only cell phones by Apple). Or let's say you're dealing with auto repairs, then pick the right group of Assets ("Car"), next select a producer (let's say, "Mazda"), and hit the model you need. So good, isn't it?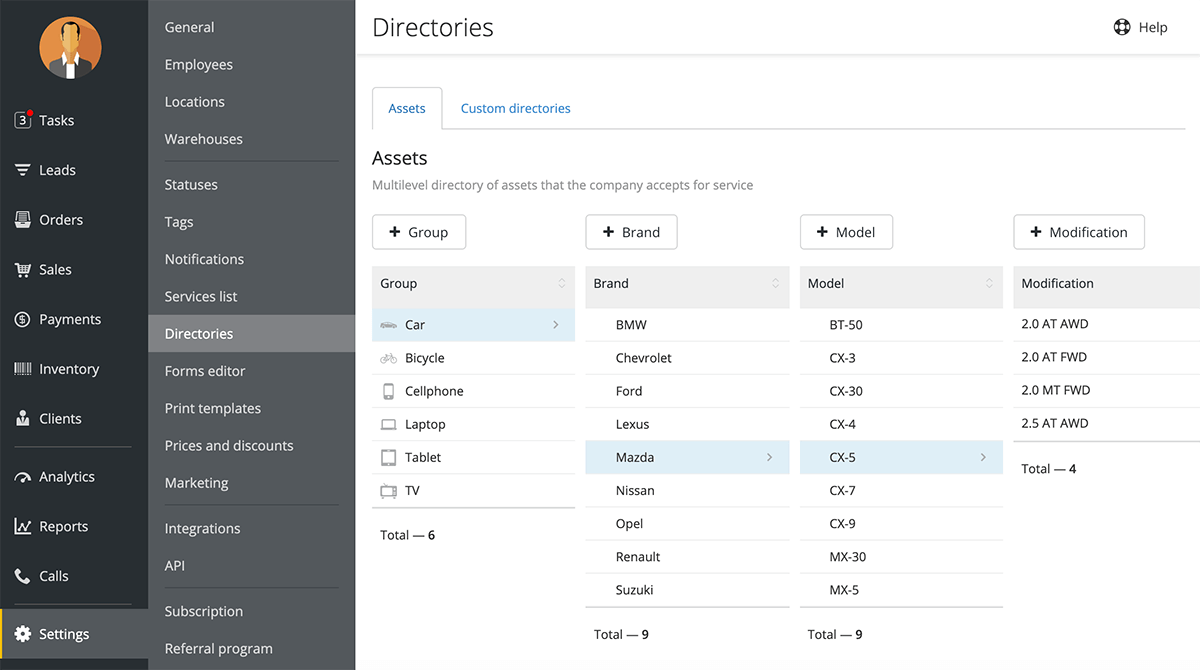 All these features are essentially ready. We will be back this month to present you with a new-brand RemOnline experience. Right now we are just making some final polishings. And in the near future, we're going to further expand Assets and create opportunities for stocktake, client segmentation, and even more! That would involve, in particular, converting Assets into Products and vice versa, for example, when the client didn't pick up.
A new Asset Directory will also grow, providing a good base for a Directory hierarchy for Services list. For instance, service shops can have a simple way of managing services and payments independently across different brands like Xiaomi, Macbook, etc.
Note: This will be the first software update when the implementation is on request for all users, rather than automatically as it has been so far. Recognizing that you may have different system fields and customizations to manage the assets of your clients, RemOnline will keep all your data safe and unchanged. Looking forward to trying the upcoming update in action? We will let you know what to do next, just before the official release.
Stay tuned for upcoming updates and feel free to leave comments. Your ideas and suggestions would be highly appreciated. Cheers!
comments powered by

Disqus