New Work Order: Design, Warehouse Features, and More!
Work order management is at the heart of RemOnline, and we've just given it a major upgrade. In addition to technical improvements, we've introduced several user-friendly features that we're excited to share with you.
Here's a short look at what's new in the revamped work order:
The "Services and Products" tab is now available when creating a work order.
United dropdown list of labors, services, and products now displays their categories.
You can add the same product to a work order under different technicians.
You can increase or reduce the product quantity in a much more convenient way.
When deleting a product from a work order, you can select a warehouse to which you want to return it.
Enhanced Event Feed, which displays previews of attached photos and files, and provides you with links to the added products.
You can divide a Client and Payer in work order, when not the client is financially obligated but another person or company.
The "Payment" tab is now called "Payments and Invoices", so you can track all invoices associated with a work order.
Let's go for more details of all the improvements!
Enhanced "Services and Products" Tab
When creating a new work order, you can immediately add necessary items and input technician notes, eliminating the need to reopen the order after creation.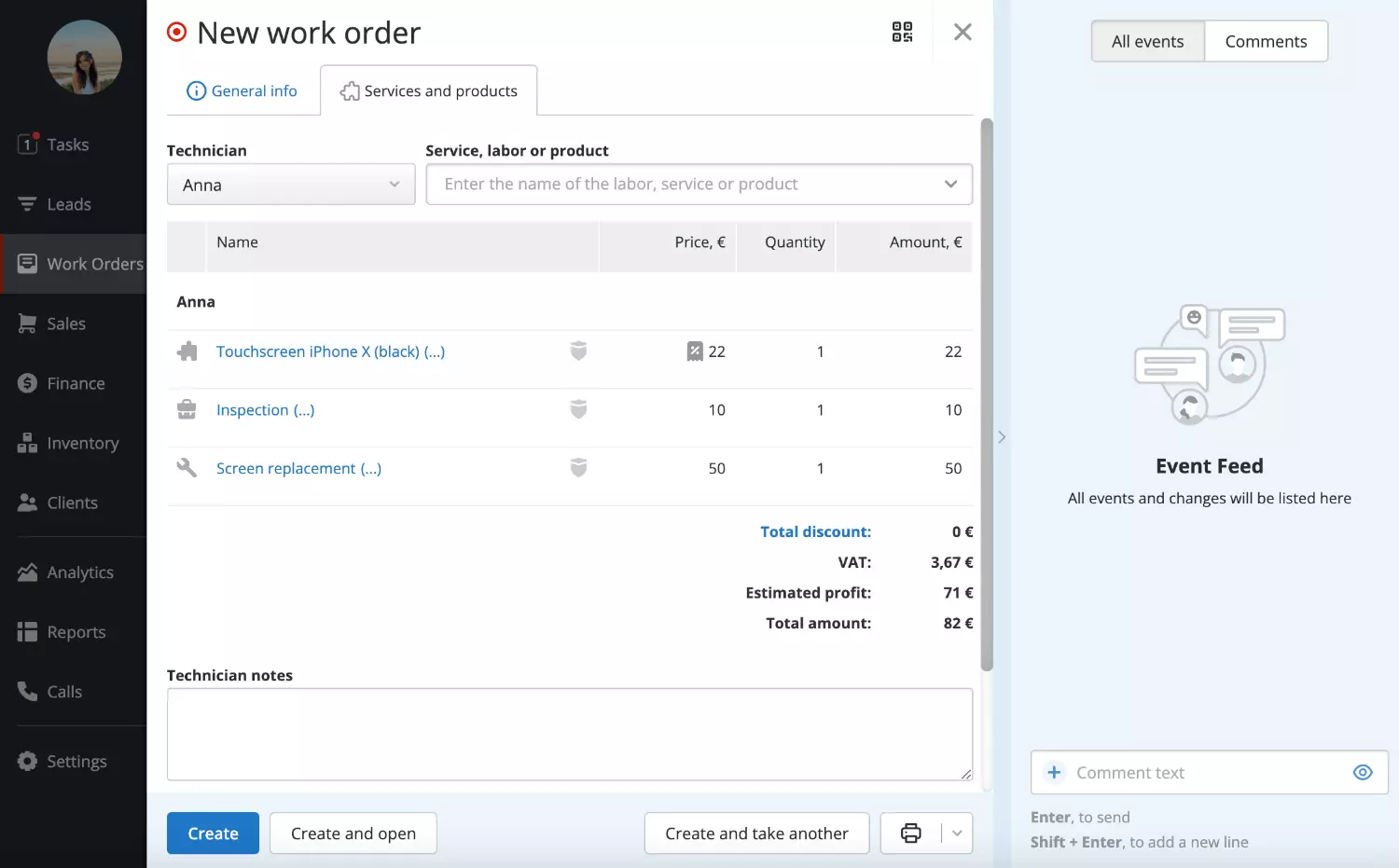 A Unified Dropdown List of Items
Now, on the "Services and Products" tab, you have a single search bar where you can find a labor, service, or product by its name or a barcode. It simplifies the process of finding labors, services, or products. You have the flexibility to choose whether to pin the dropdown list open or keep it unpinned, depending on your preferences.
Besides that, it also is your choice whether you want to search for all items, labors and services, or products only.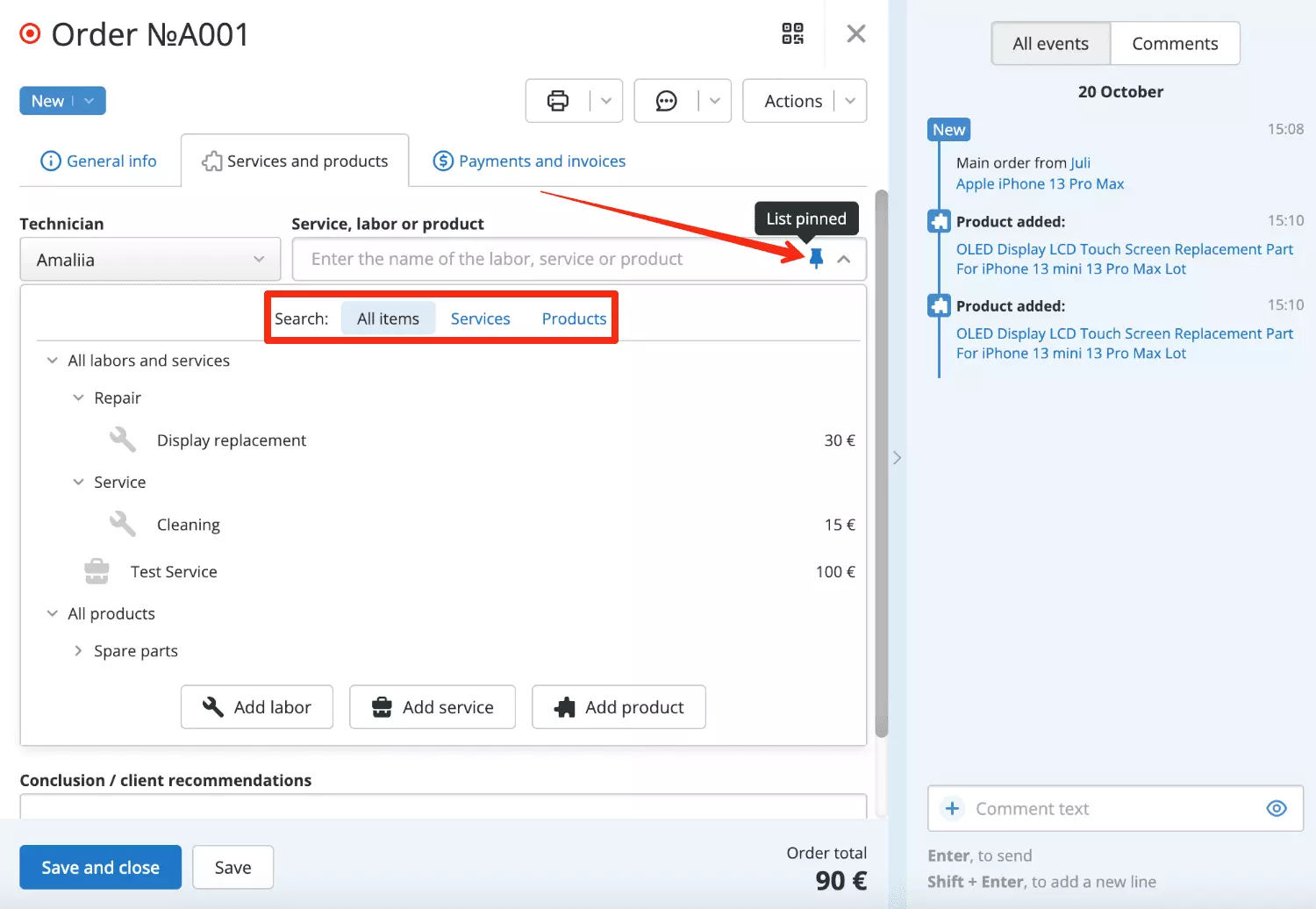 Adding, Changing Quantity, and Deleting Products
Besides the search bar, we've also changed the product-adding process. If you scan the barcode of a serialized item, it will be added to the work order table automatically. Suppose you are adding a product by its name or scanning the barcode of non-serialized items. In that case, manually select a warehouse, bin location, unit price, discount type, and technician. Also, if you have permission, you can set a custom unit price for an item.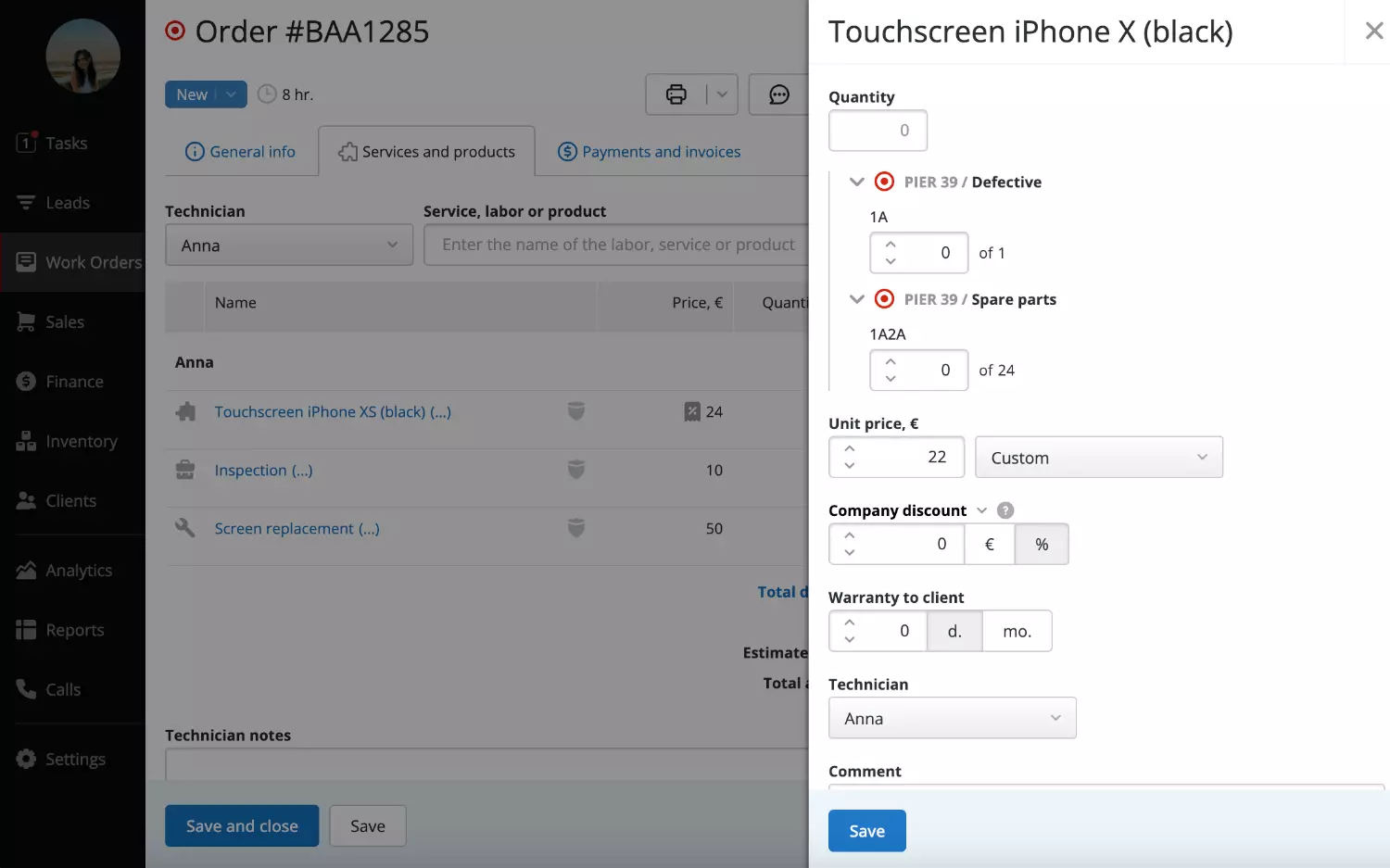 To change the product quantity, you can simply increase or decrease the quantity by editing items in the table. Moreover, you can write off different quantities of products from different warehouses at the same time.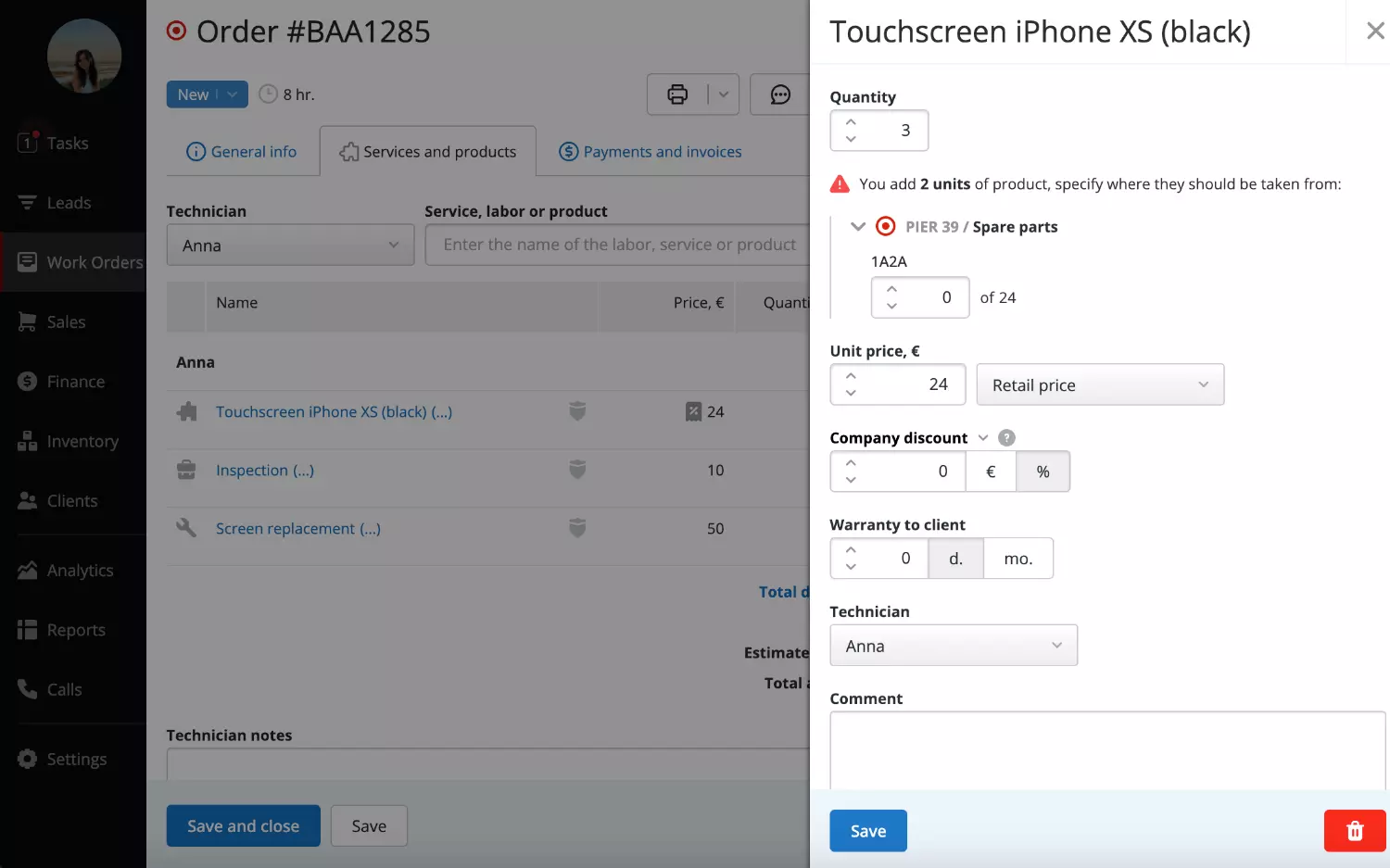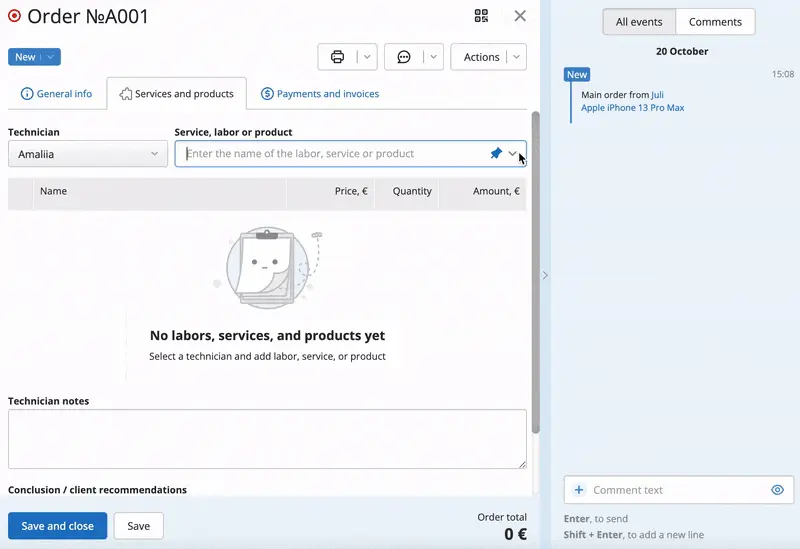 Additionally, when you want to decrease the product quantity or delete it from a work order, RemOnline will ask you to specify a warehouse to which you wish to return items.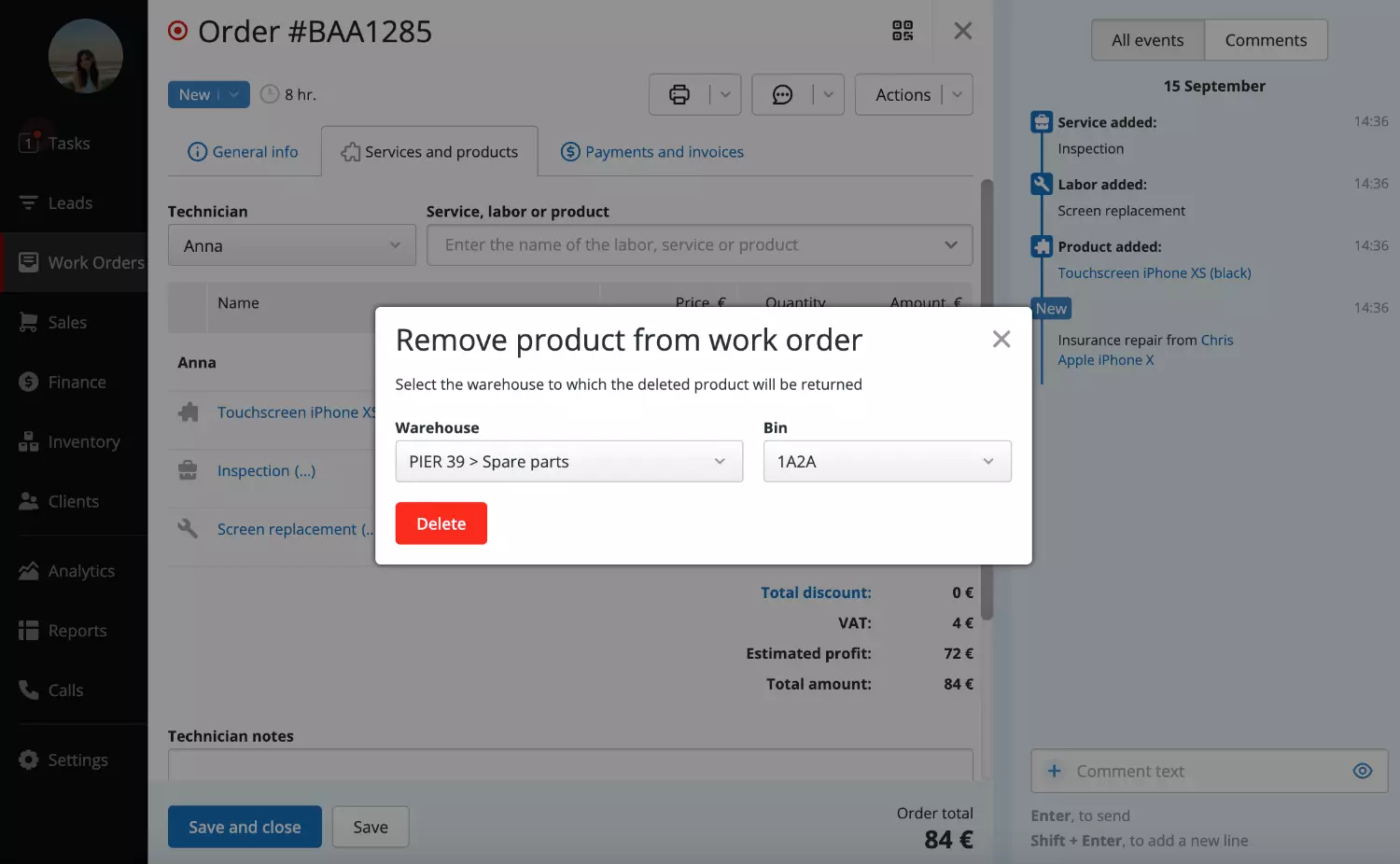 And as it's also been mentioned, now you can add the same product under different technicians. It allows you to have more accurate history of changes and payroll calculations.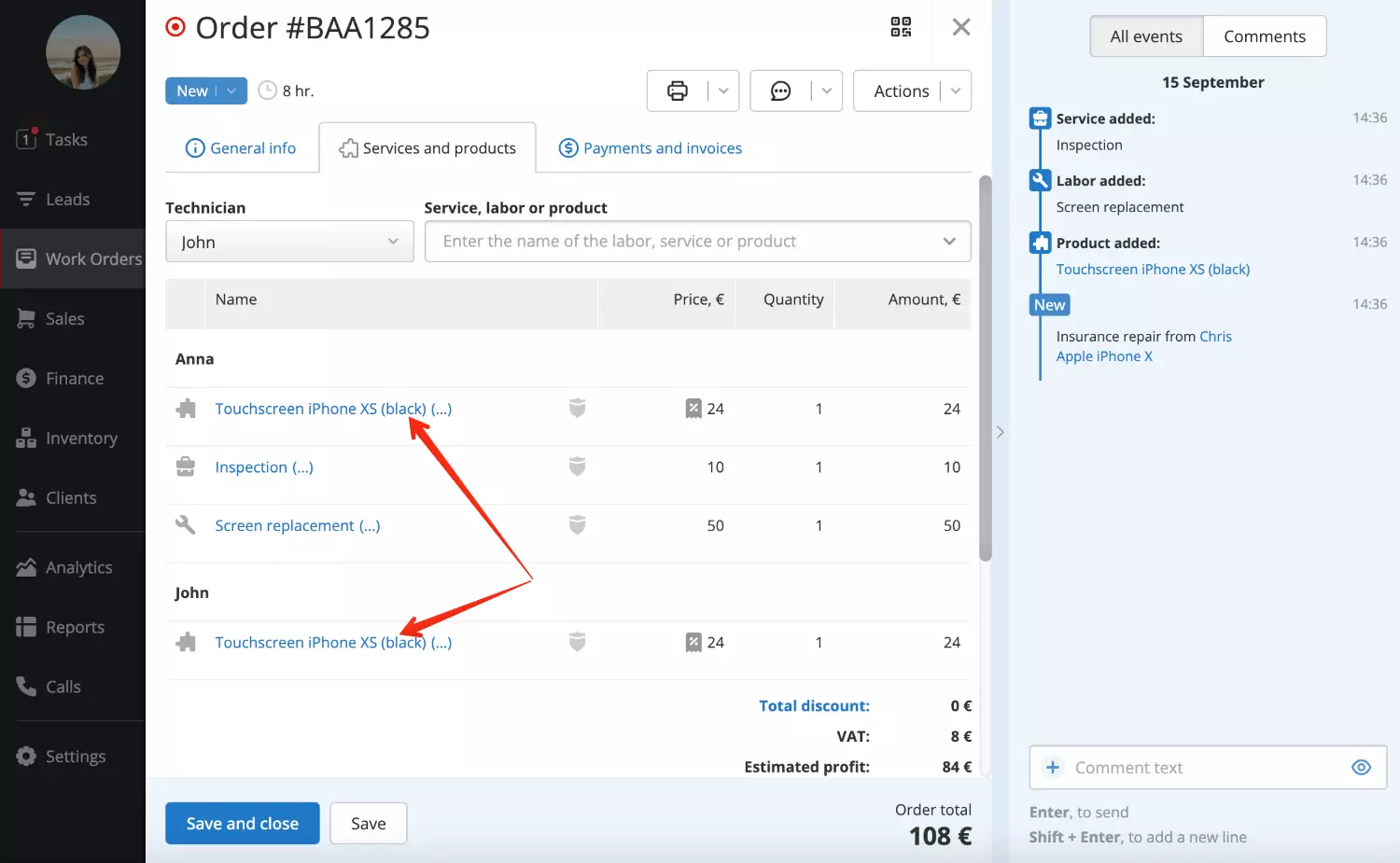 New Event Feed in Work Order
The work order dialogue has been revamped with a more modern and user-friendly Event Feed. This feature offers previews of attached media and allows for easy commenting. Also, you can switch Event Feed from all events to comments only, so it's essentially functioning as a work order chat.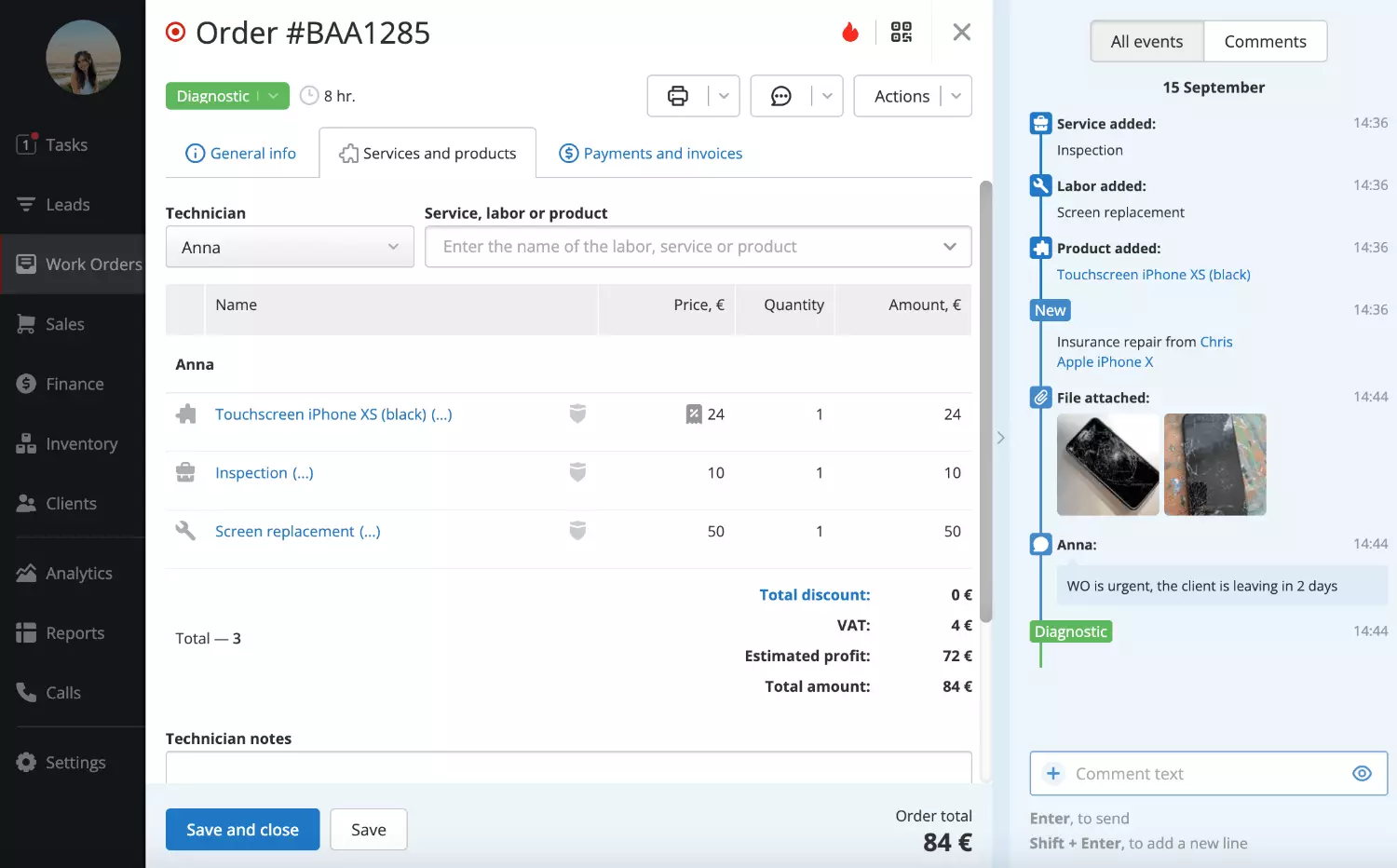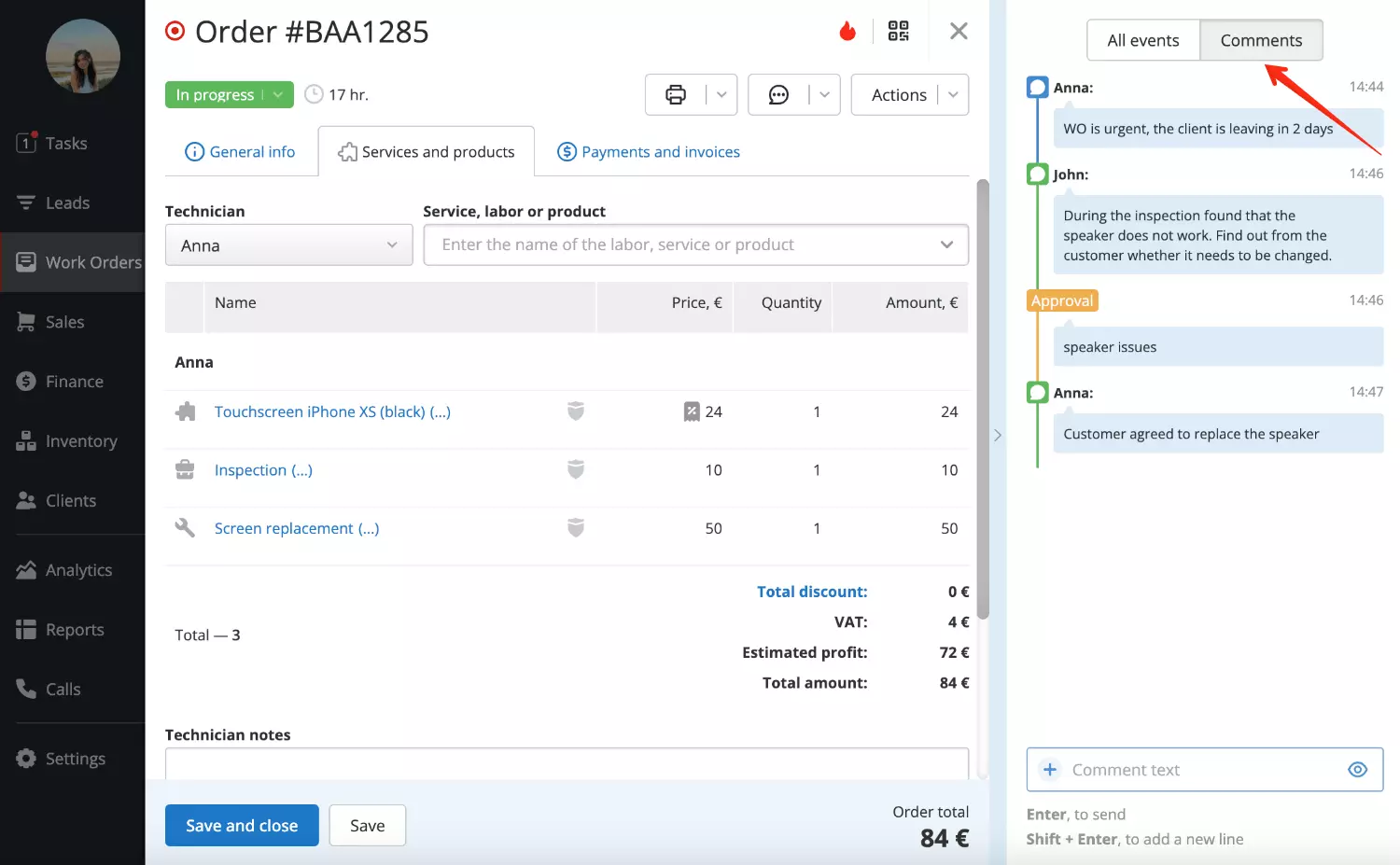 Client and Payer in Work Order
Users of RemOnline on Business and Corporate plans can now enable the "Payer" field in their work orders. This field allows you to specify a different financial responsible party, ensuring accurate balance tracking. For instance, when you need to accurately account for dealings with insurance companies and business clients with multiple departments.
If the payer is specified in the work order, all financial transactions will go through their balance rather than the client's balance.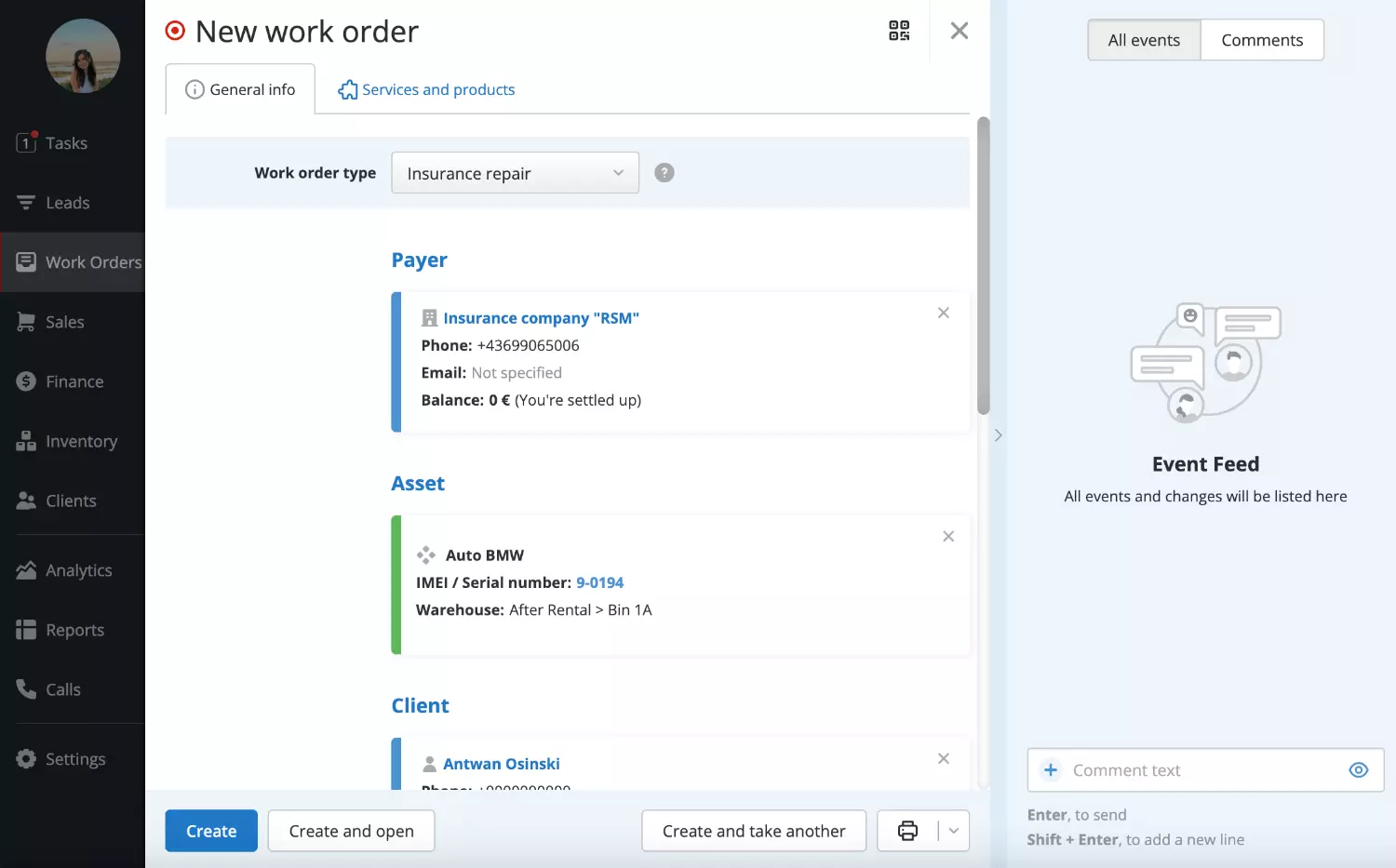 To add the Payer field to a work order, go to the "Settings > Forms editor" page, select a work order type, and add the new system field.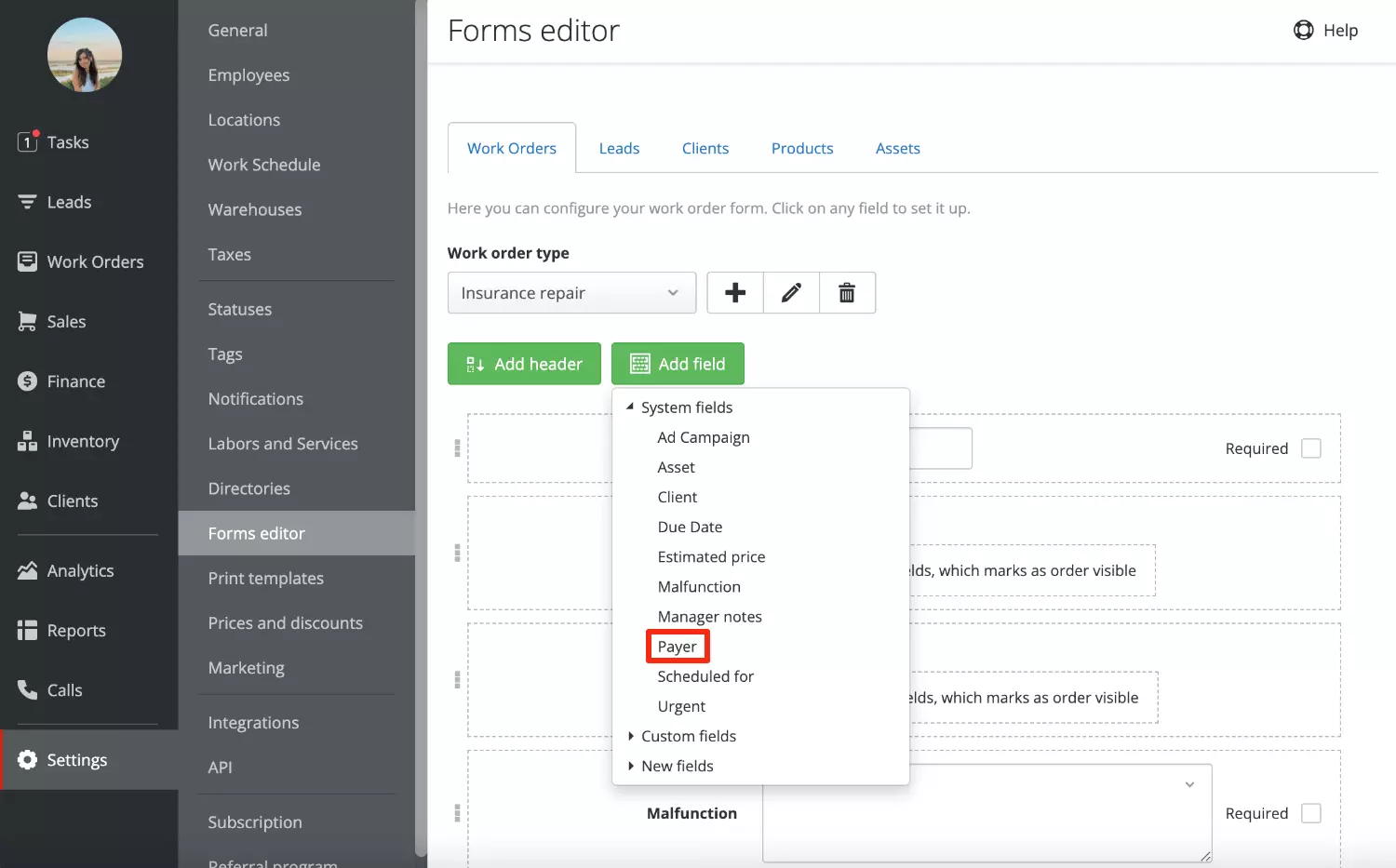 The Payments and Invoices Tab
The third tab in the work order dialogue, previously known as "Payments," has been renamed to "Payments and Invoices." This section now contains two tables, making it effortless to track all associated invoices. Moreover, there's no longer a limit of "one work order – one invoice," enabling you to create multiple invoices from a single work order and track them by different statuses.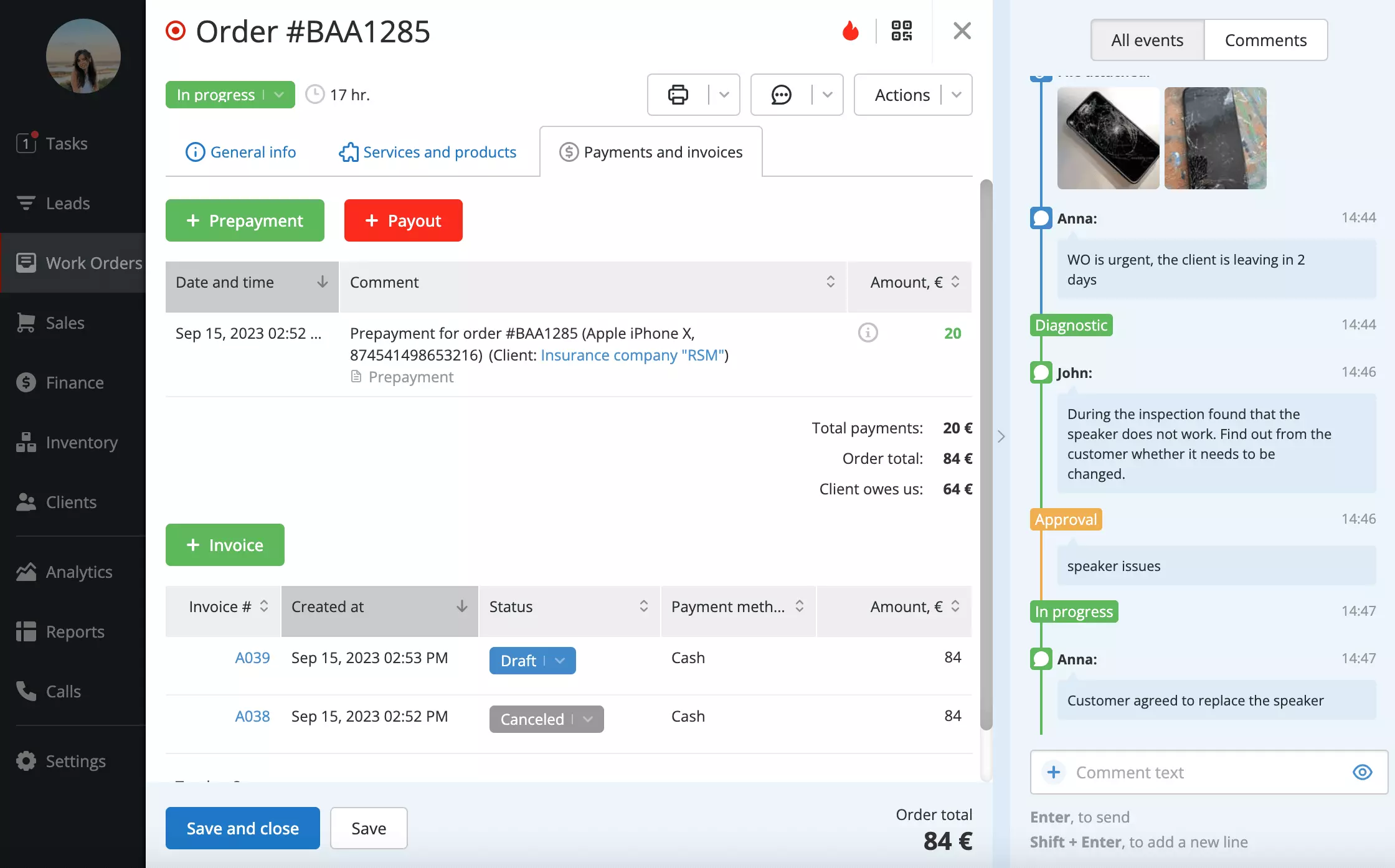 Work Order Actions
We've consolidated various work order actions, making them more accessible.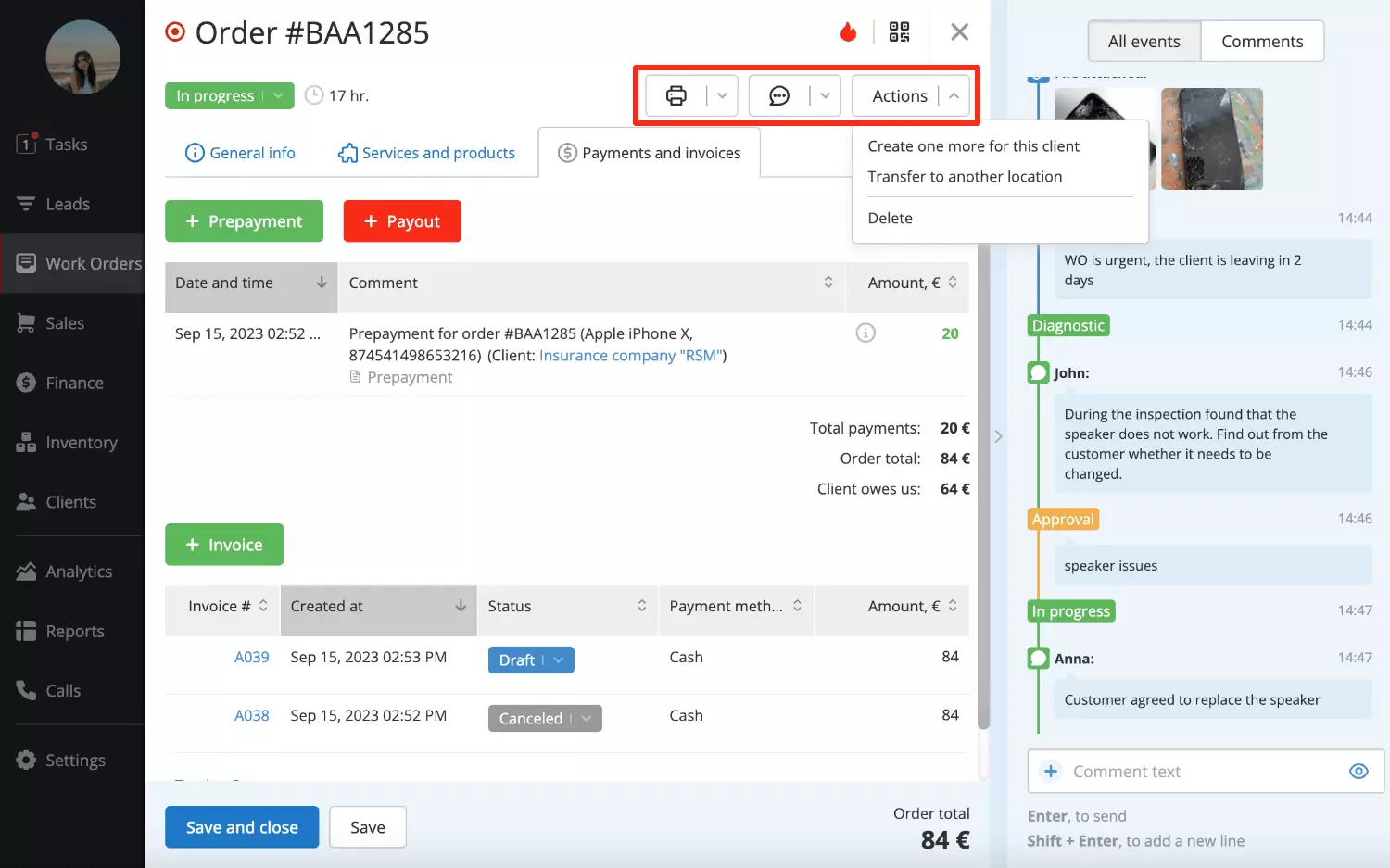 Also, if you click on the QR code in the upper right corner, you can scan it via the RemOnline Work Orders mobile app or switch to the barcode and change it. This might be necessary, for example, if the barcode that needs to be assigned to a product is already "occupied" by an order.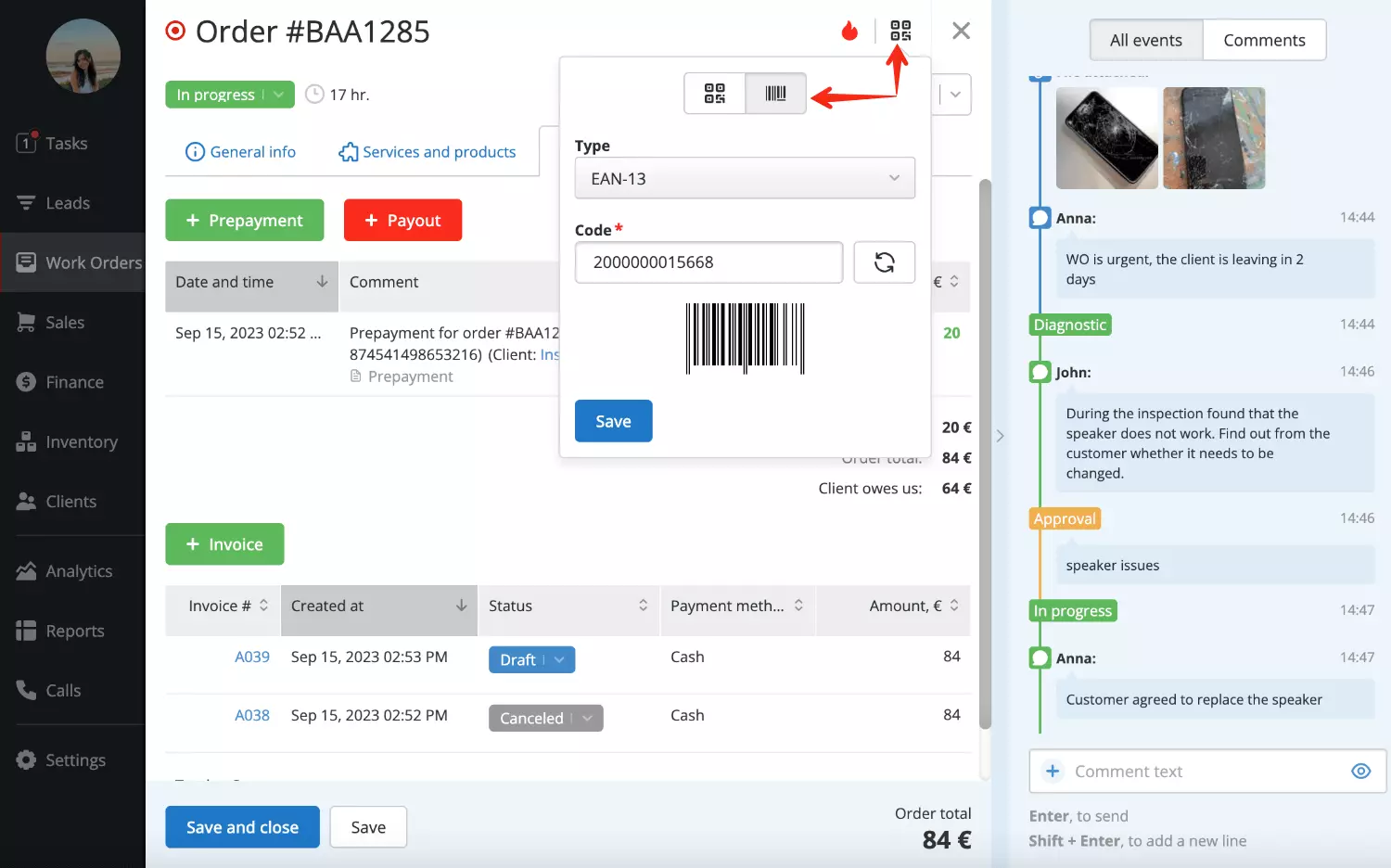 Upcoming RemOnline Updates
With these foundational changes in place, we're excited to announce a slew of forthcoming features, including:
Estimates. You will be able to create a separate document, add all services and products to it without depleting your inventory, calculate the total amount, and get it approved by the customer. Then, you can convert the document into an order with just one click. Additionally, the introduction of this document leads to the next point.
The initial state of orders for e-commerce with subsequent fulfillment. You will be able to configure integrations with online stores, marketplaces, and custom platforms in such a way that RemOnline will generate orders with a complete list of necessary items, including searching by unique serial numbers.
Integration with delivery services. After order fulfillment, you can create shipping documents directly from RemOnline using customer information.
Enhanced invoices. Invoices will gain new features, statuses, reports, and new integrations.
We anticipate delivering even more updates as we continue working on the listed features. Stay tuned for these enhancements!
Should you have any questions, suggestions, or feedback regarding these work order improvements, please share your thoughts in the comments or contact our Support team. We're committed to making your RemOnline experience better than ever!
comments powered by

Disqus