Updated Inventory management: address storage and serial accounting
New RemOnline brings cutting-edge features to Inventory: serial accounting, address storage, product bulk actions, stock take, supplier returns, and many more. Let's discover what is serial accounting and address storage. We'll also figure out how to implement those in your RemOnline business strategy.
Serial accounting: What is it and why you need one
Serial accounting is a technology for tracking the transfer history of a specific product item by a barcode. The product barcode is a unique identification number containing digits and letters.
RemOnline enables you to activate serial accounting for each product separately in their cards. Not all products are suitable for serial accounting. For instance, we don't recommend applying this technology to a product with fractional quantity (measured in grams, meters, etc), because there cannot be a serial number for a product unit. There is also little sense in activating serial accounting for low-cost and consumable materials (like stationery).
Serial accounting is disabled for all products by default. Check the Activate serial accounting checkbox in the product card to enable serial accounting for a selected product.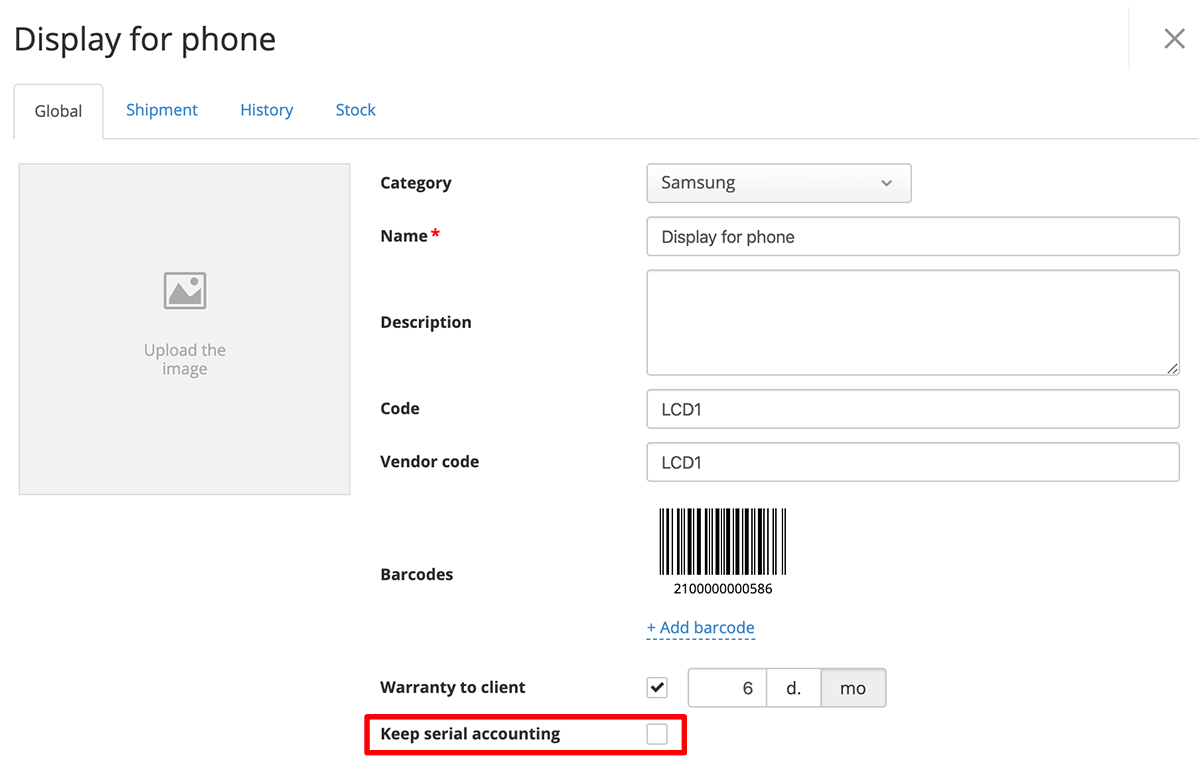 Activate serial accounting for new products upon posting. Enter the existing product serial numbers or generate new ones in RemOnline.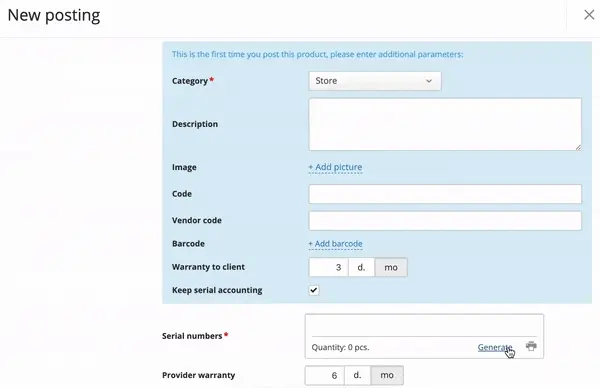 Remember: the serial number quantity must correspond to the product quantity you are posting.
RemOnline allows you to print the product labels with barcodes right away and put them on products. This significantly accelerates the product search and write-off procedures in your orders and shop.
Writing-off serial and non-serial products differ. This is why the system marks serial products with the "SN" sign.

Product unit passport
The Order, Sale, Posting, Write-off, and Transfer documents now display serial numbers for products with enabled serial accounting. This is how it looks like:
Click the serial number to open the product unit passport. Here you can see all information about the product and its transfer history: supplier name, price cost, current unit location, time of posting, transfer, and write-off. You can also print the product barcode if you didn't do it during the posting.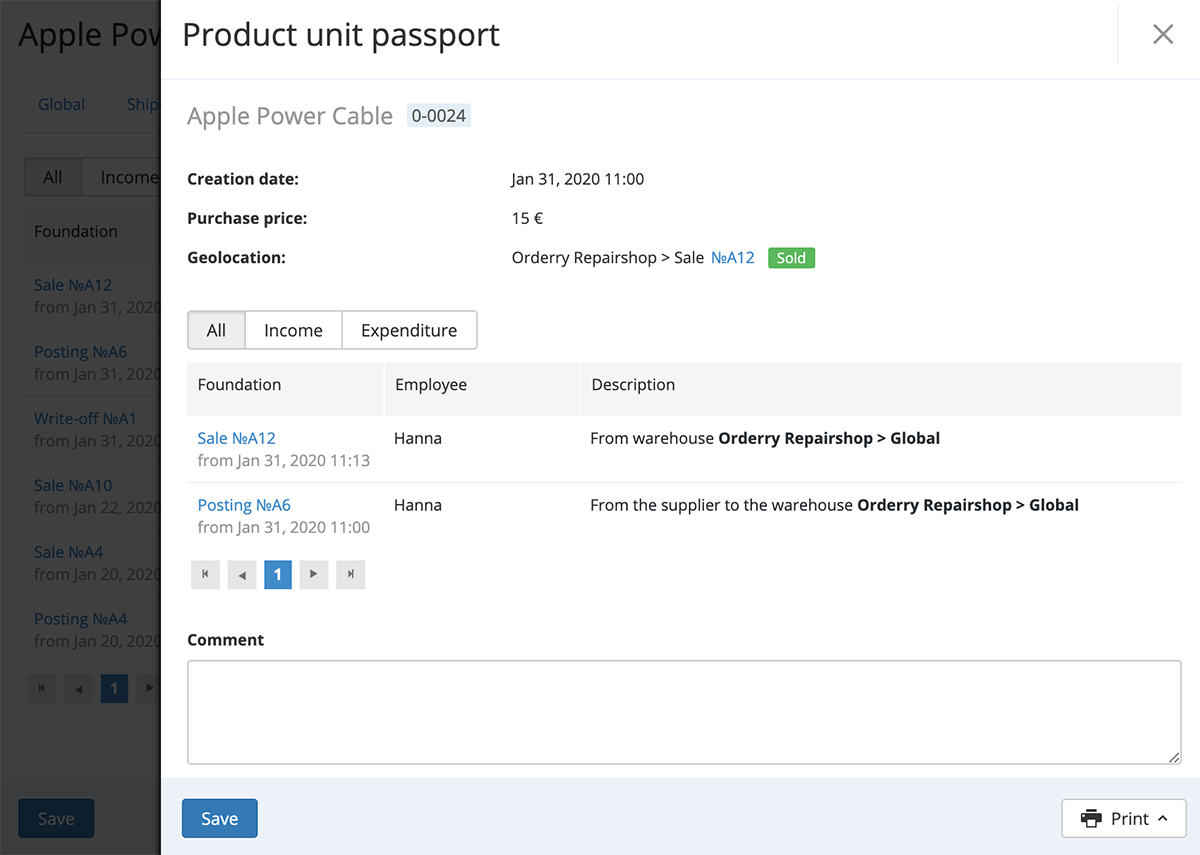 Inventory address storage
Great opportunities – to great businesses.
The Business and Maximum subscription plans now have the address storage feature. Address storage is a technology of product distribution where every warehouse cell is assigned with an individual number or address.
Address storage is disabled by default. Check the Activate address storage checkbox on the "Settings > General". After that, you can add warehouse cells, generate and print cell labels with barcodes.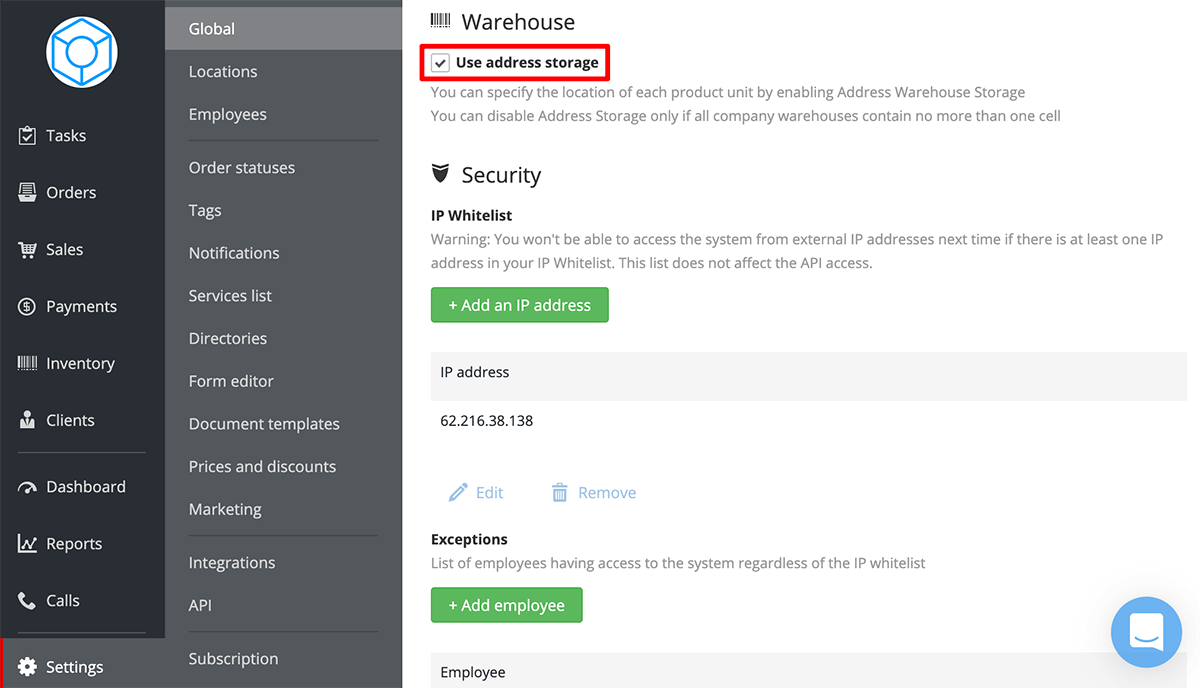 Learn more about product bulk actions and supplier return here. You also can find out more about the stocktake procedure in this article.
comments powered by

Disqus