iOS Work Order App | September Improvements
Hello, dear RemOnline Users! Currently, we are preparing some vast and essential updates for you. It may take some time, but that doesn't mean we can't please you with other little improvements. So look at what's new in the Work Order App on iOS.
Work Order Statuses With Configured Automatic Asset Transferring
If you have configured automatic asset transferring for some statuses of the work orders in the web RemOnline application, now they are also available in the mobile Work Order App.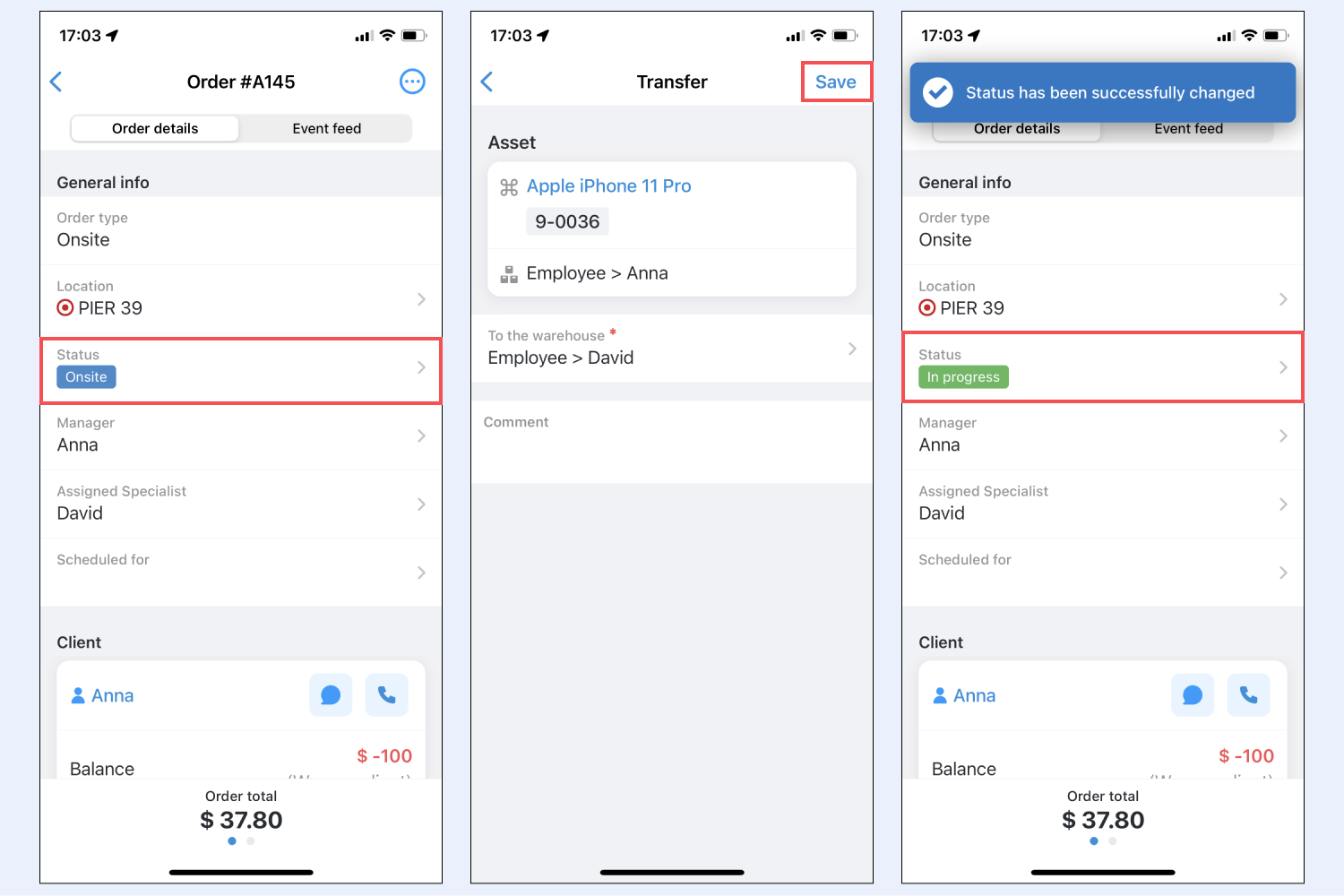 As it works in the web application, you must confirm the asset transfer when you choose one of such statuses. If you don't, the work order status won't be changed.
So now, using RemOnline mobile app, field workers can choose any status for work orders. Yay!
Support of Local Account Settings
RemOnline is an international software for repair business, so our users live in different countries with different localization features. Now Work Order App supports local settings for your account:
Date, time, and week format according to the country that you chose when you created the account
Currency format and placement before or after the amount configured in the web RemOnline application on the Settings > General page
So whether you live in 24 hours or AM/PM time zone and your week starts on Sunday or Monday, your mobile app interface will be set up accordingly.1
Dark Mode
We think it's unfair that the RemOnline Business Insights app supported dark mode and the Work Order App didn't, and it was a matter of justice to fix that. So now, a mobile app for work order processing fully supports the dark mode if it's enabled on your iPhone.
And that's a wrap with Work Order App improvements for today. It's not that much, but we know that the little things make your user experience perfect. So if you have any suggestions on other little improvements, please let us know in the comment section below or contact the Support team via chat.
The following Work Order App update will be a huge one because you will be able to create work orders along with new clients and assets from your smartphone. So stay tuned and don't miss anything important!
comments powered by

Disqus