Work Schedules, Calculation of Hourly & Daily Wages
Hi everyone! Meet a big update of RemOnline that enables you to:
Control and schedule employees' workdays
See who works on what day and whom you can assign a job or an appointment in the Work Order Scheduler
Automate the calculation of employees' wages for days and hours worked
Integrate RemOnline with any online store that supports the import of stock through an XLS file
Let's take a closer look at every feature.
Work Schedules
Each location has now a Work Schedule for the employees working there. So, you can plan their working, vacation, sick, and just non-working days for weeks and months ahead. It's also possible to edit the plan according to the actual days worked.
All employees' working and non-working days are highlighted with different colors:
Blue for working days
Orange for sick leaves
Green for vacation days
The non-working days are left blank in the Work Schedule.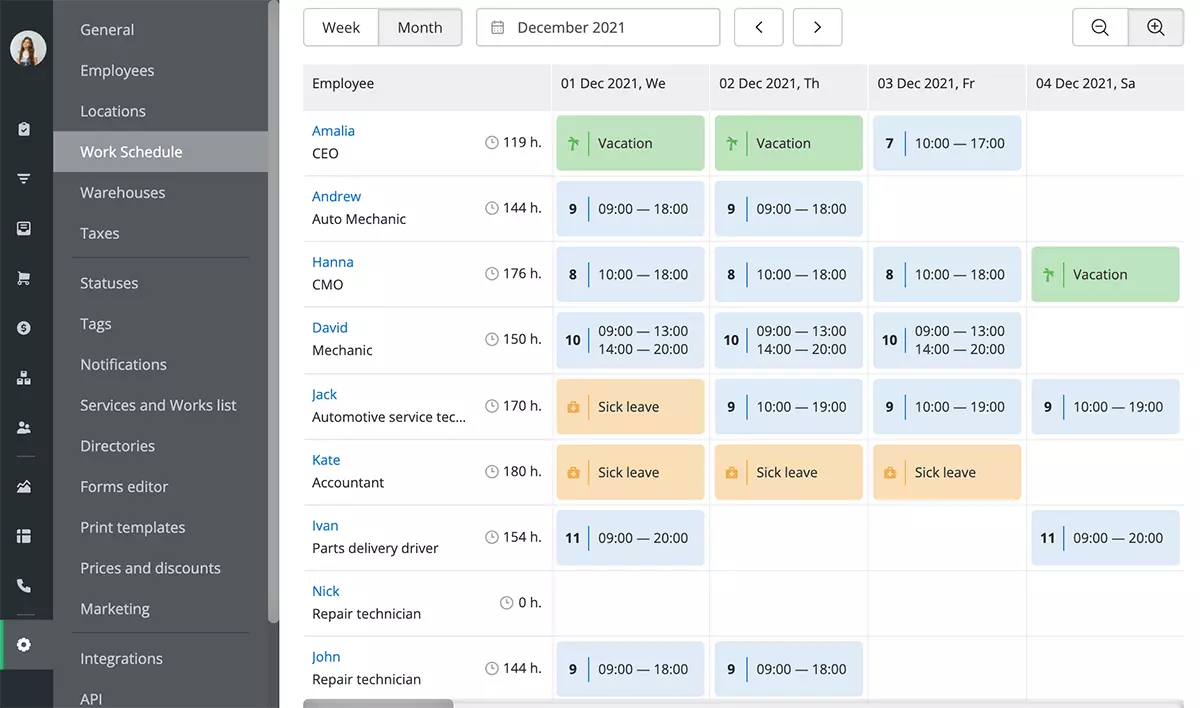 Each employee's name shows the number of hours worked per week or month, depending on which display mode you selected.
Under the employee's name, their position is displayed — not their role, but the position. In the employee's profile, Role and Position are two different fields because a role is just a list of employees' access rights to certain actions in RemOnline which may be the same for different positions.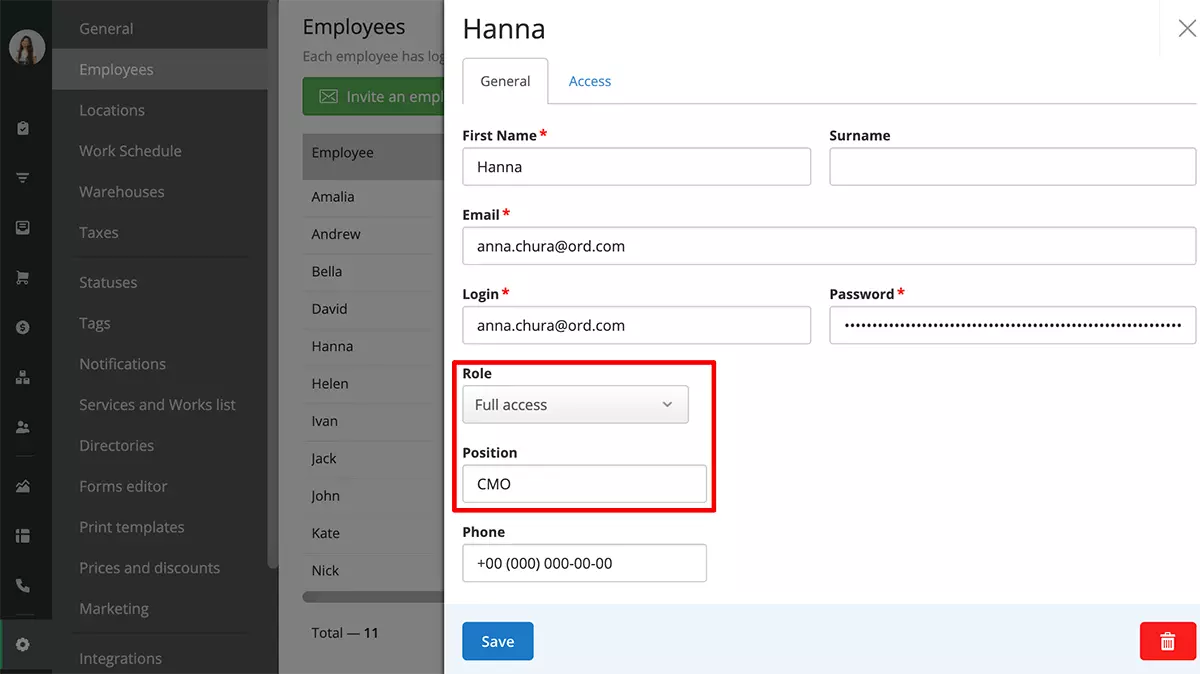 Now, the Position field duplicates the Role name by default and will do so whenever you add an employee and the field is left blank. But if you change its value, that is what will be displayed in the Work Schedule.
Which Employees Will Be Listed in the Work Schedule?
You can manage the schedule of employees only after you specify which locations they work in. To do so, go to the profile of each employee on the Settings > Employees page and specify their locations.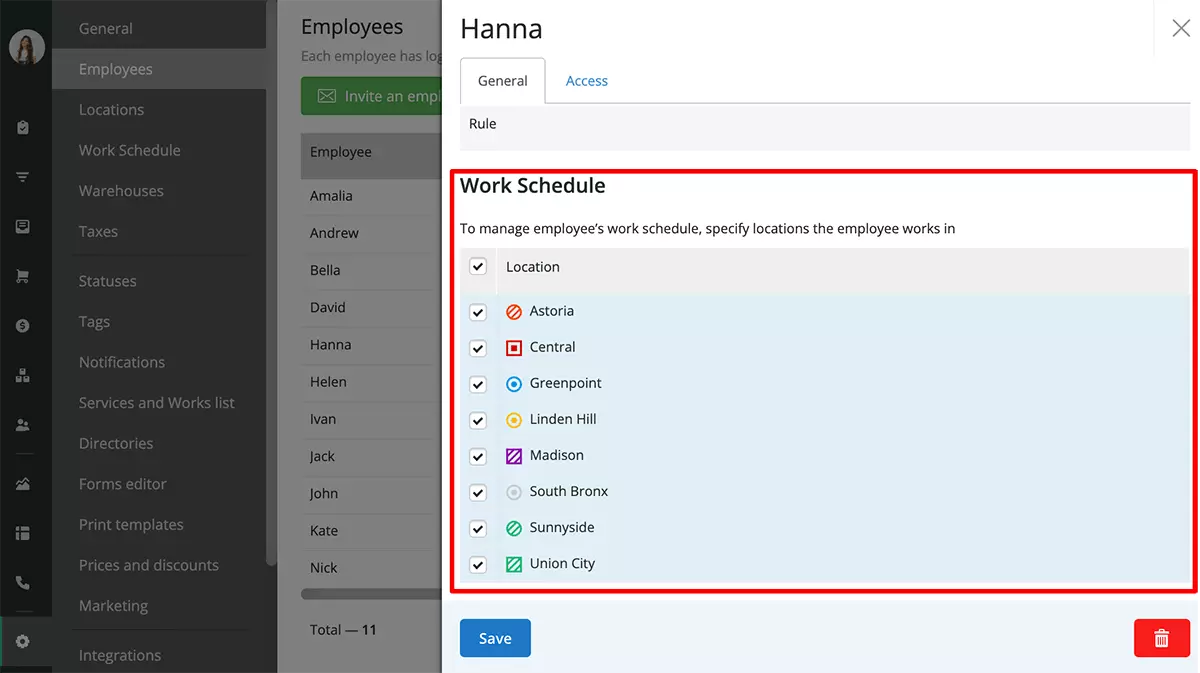 In the Knowledge Base, you will find updated instructions on how to set up an employee profile.
Filling out the Employee's Work Schedule
By default, before setting up the employee schedule, all working days will be blank and non-working days of the location will be shaded according to its settings on the Settings > Locations page.
You can set up the schedule of employees using the Edit group action, selecting the necessary days by ticking the checkboxes. Then you can choose whether these days will be working days or not.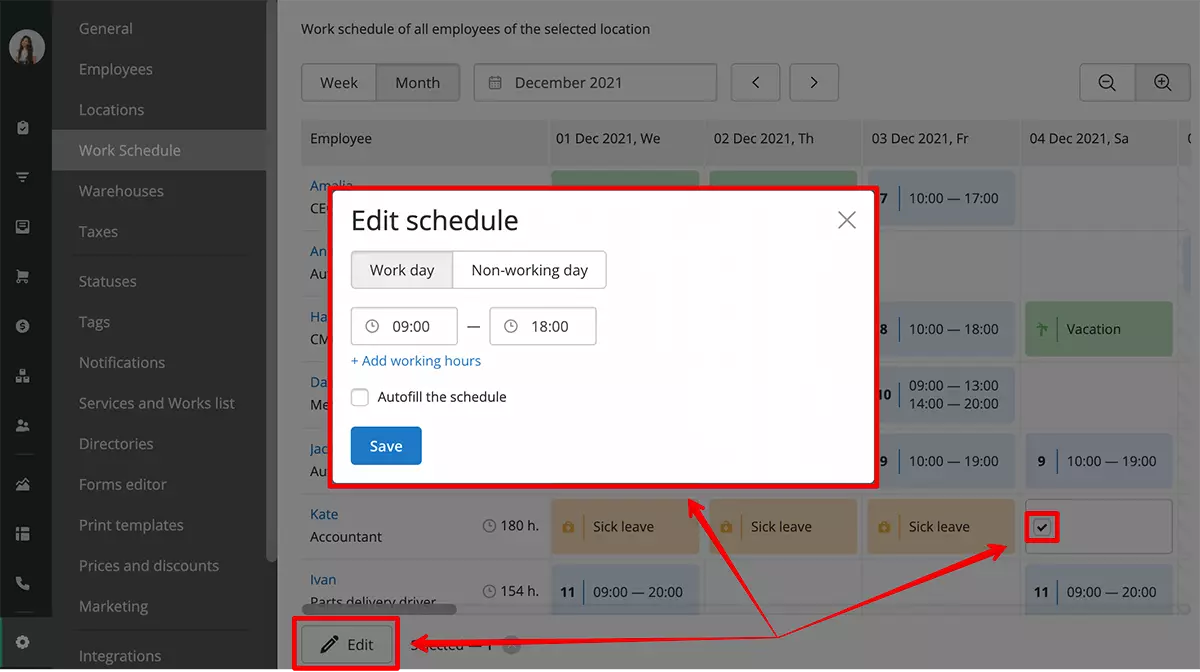 You can specify either one or several time slots for workdays. The second option comes in handy, for example, if you schedule appointments in the Work Order Scheduler and want to avoid situations when a client makes an appointment with your tech during their lunch break. You can simply specify the time from the beginning of the working day to lunch and add the afternoon working hours.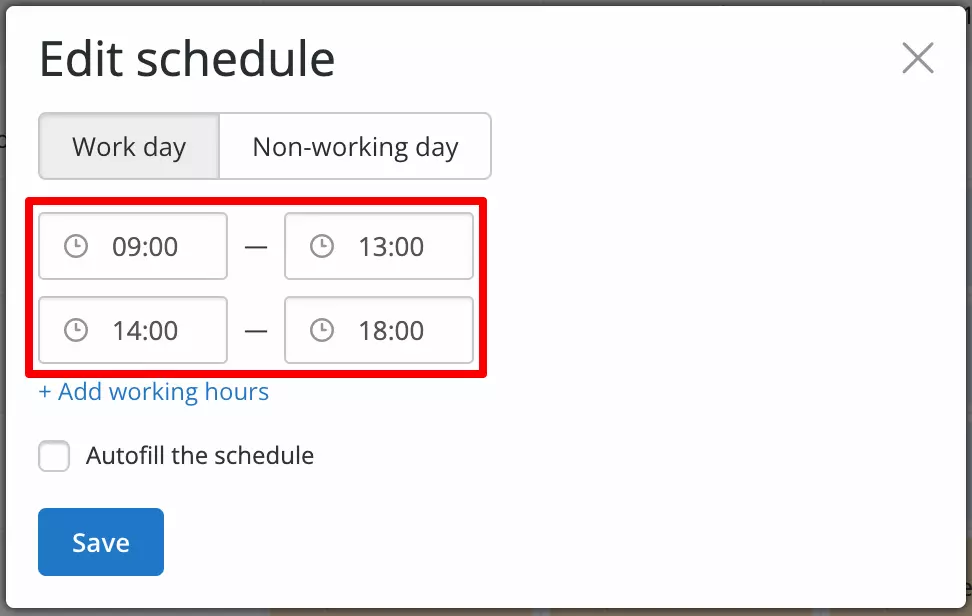 If an employee works a well-established schedule, such as 5 workdays and 2 days off or 2 in 2, you can save time by auto-filling the Work Schedule. To do this, you need to:
Select a day from which you want to start filling out the Work Schedule and click Edit
Specify working hours and check the Auto-fill the schedule box
Select the date up to which you want to autofill and specify the sequence, for example, the same 2 in 2
Click Save.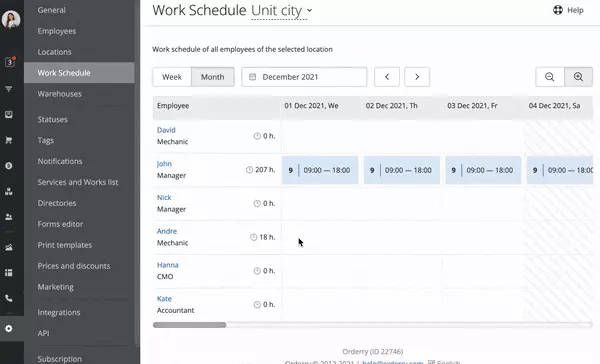 That's all. In a few clicks, you could successfully auto-fill the employee's work schedule for a month, two months, or even three.
If you mark any non-working days in the schedule, you will be able to choose between vacation, sick leave, or a day off.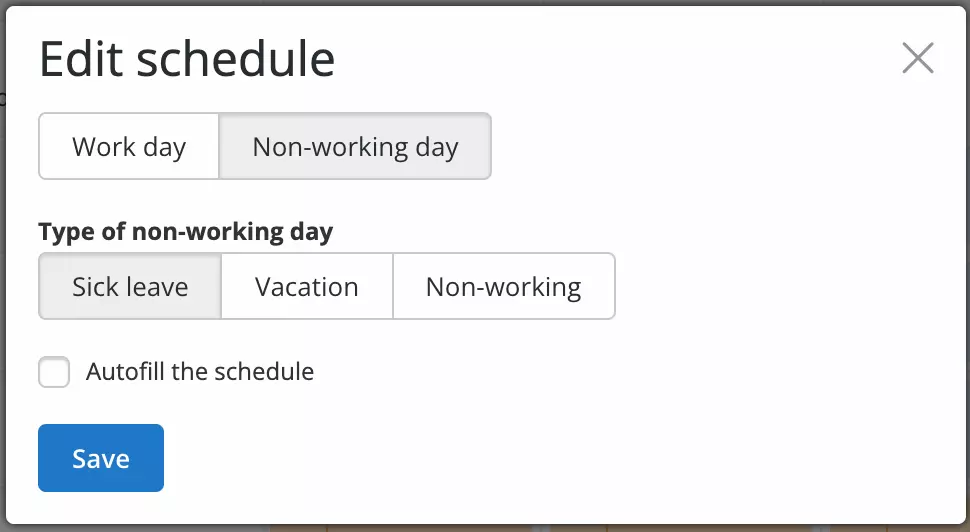 We understand that it is difficult to remember all of this information at once that's why we prepared step-by-step instructions on how to use the Work Schedule in the Help Center.
Access Rights to the Work Schedule
Of course, we have taken care of the flexibility of data access settings for employees. Therefore, in the role settings on the Settings > Employees page there is a new group "Work Schedule" which consists of two rights:
Can view work schedule
Сan edit work schedule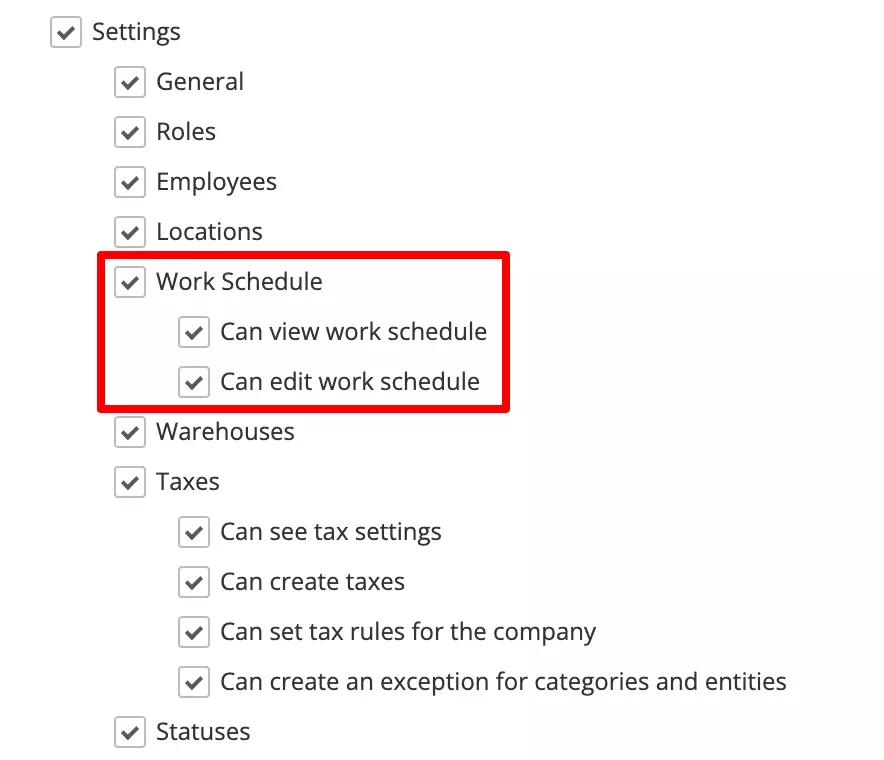 If an employee has neither of these rights, the Settings > Work Schedule page won't be available.
Displaying an Employee Schedule in the Work Order Scheduler
The Work Schedule feature in RemOnline will be useful for all companies that schedule customers' appointments to individual employees. Previously, you were only able to overview the location's days off in the Work Order Scheduler. And now, all non-working days of employees, be it a vacation, a sick leave, or a day off, will also be displayed there. If an employee has any breaks during their working hours, they will also be shaded.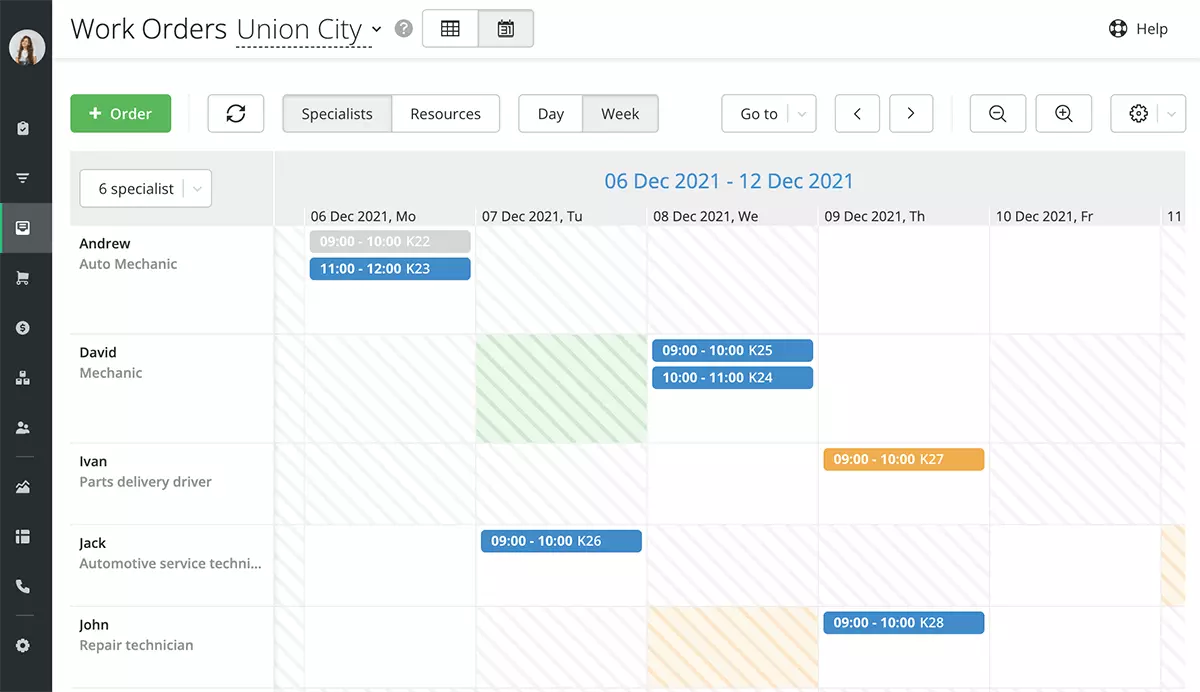 This way, you can see each technician's schedule at a glance to quickly find a time slot for an appointment.
Payroll for Working Days and Hours
With the Work Schedule, there are more options for automating employee payroll in RemOnline.
You can add a pay rule for working hours or days to each employee for whom you have previously set up a work schedule, specifying the corresponding pay rate.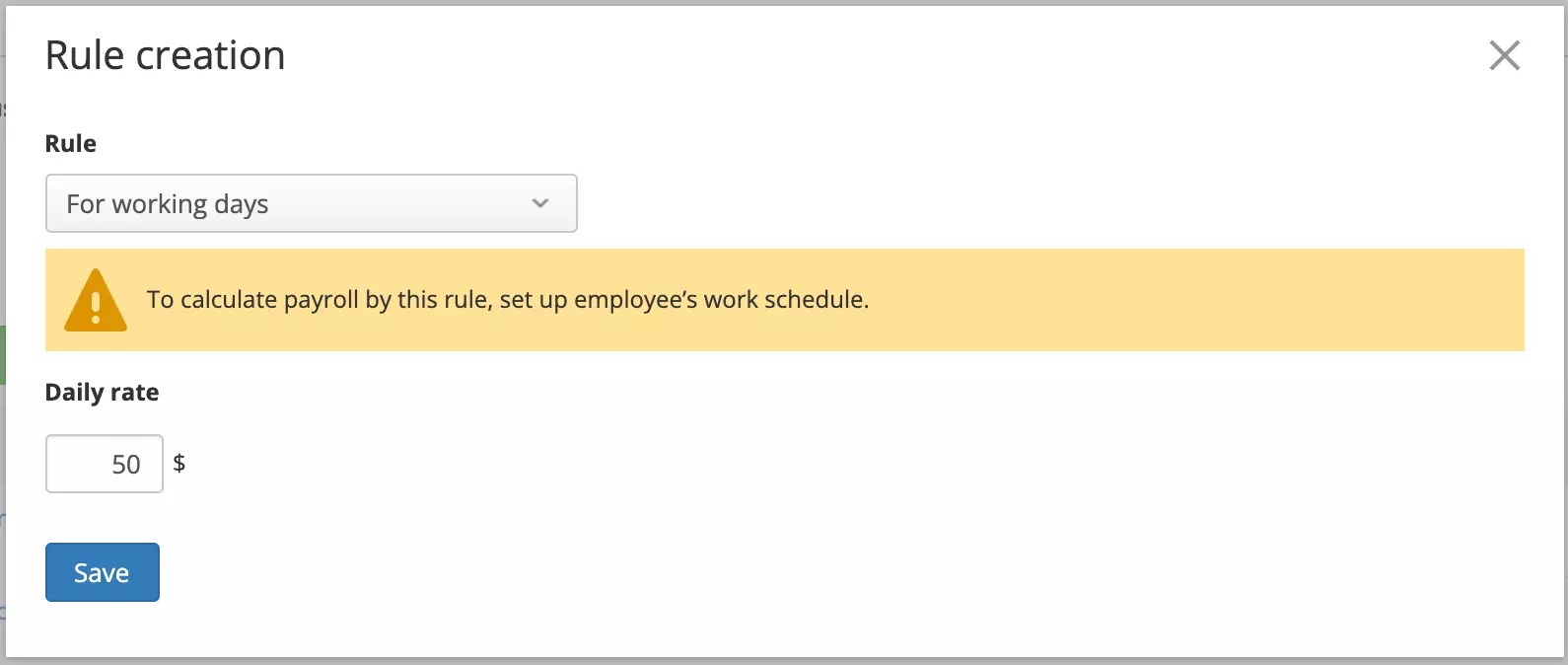 And if you have calculation rules set up, you will also see the calculated wage amount based on them in the Payroll Report. For working hours, you will see the amount for the number of hours worked in the location according to the Work Schedule.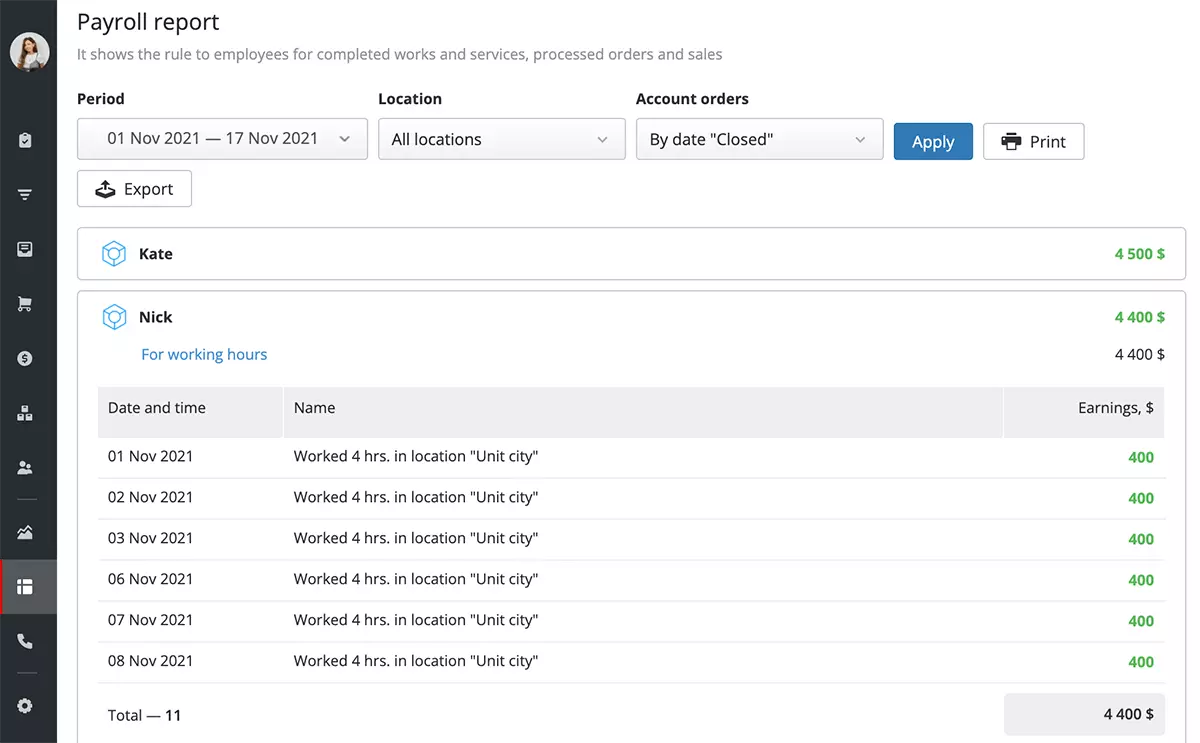 For a working day, you will see the number of working hours and the sum of the daily rate.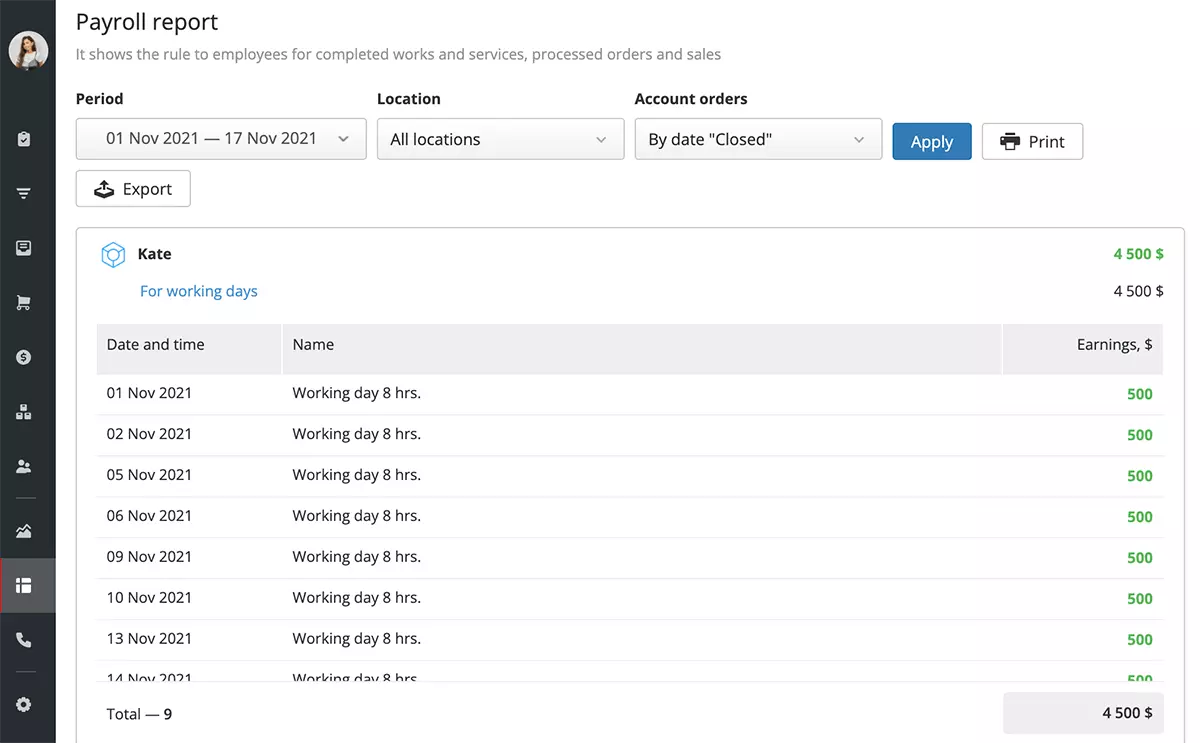 And, of course, the payroll according to these rules of calculation will be displayed in the export of the Payroll Report.
As a reminder, in the Knowledge Base, you will find instructions on how to set up employee payroll and work with the Payroll Report.
Custom Integration with Online Stores
We regularly receive requests for new integrations with marketplaces, online stores, and especially the users' own websites.
You can wait until we develop the integration you need or just set it up yourself right now using the custom integration in RemOnline with online stores!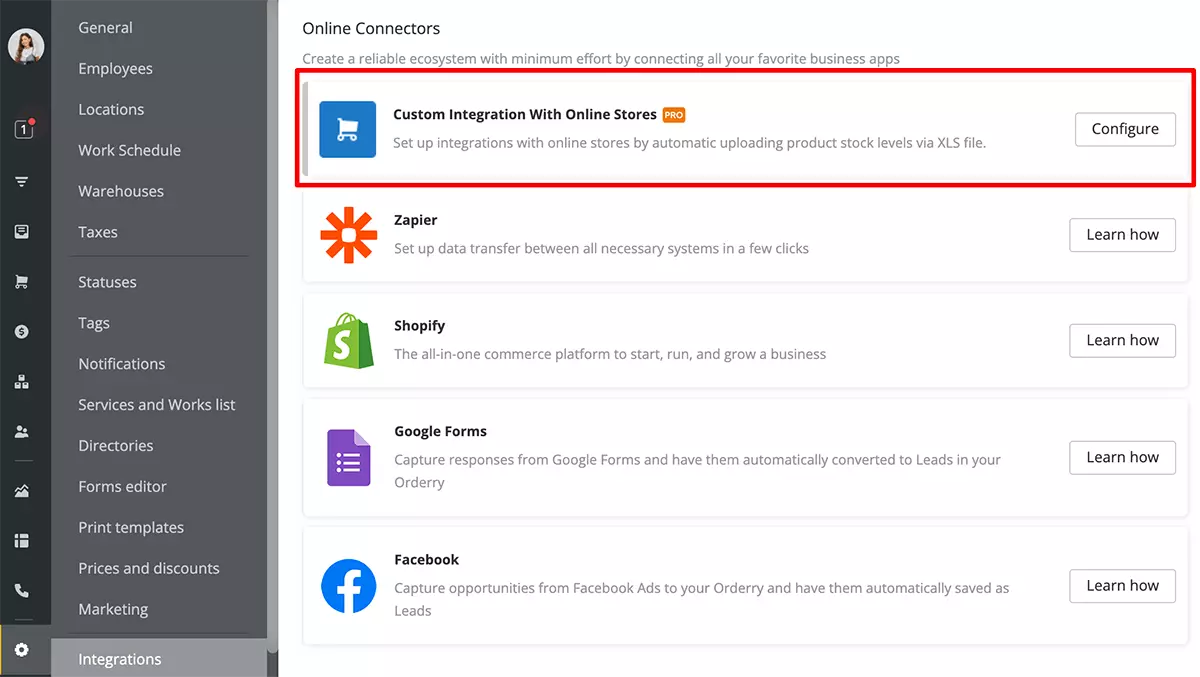 It allows you to configure an automatic transfer of data on stock levels in RemOnline to any online platform that supports XLS file uploading.
Just click the "+ XLS file" button in the custom integration settings dialog and specify from which RemOnline fields to take data. And after saving the settings, copy a permanent link to the XLS file and paste it into your profile on the online platform.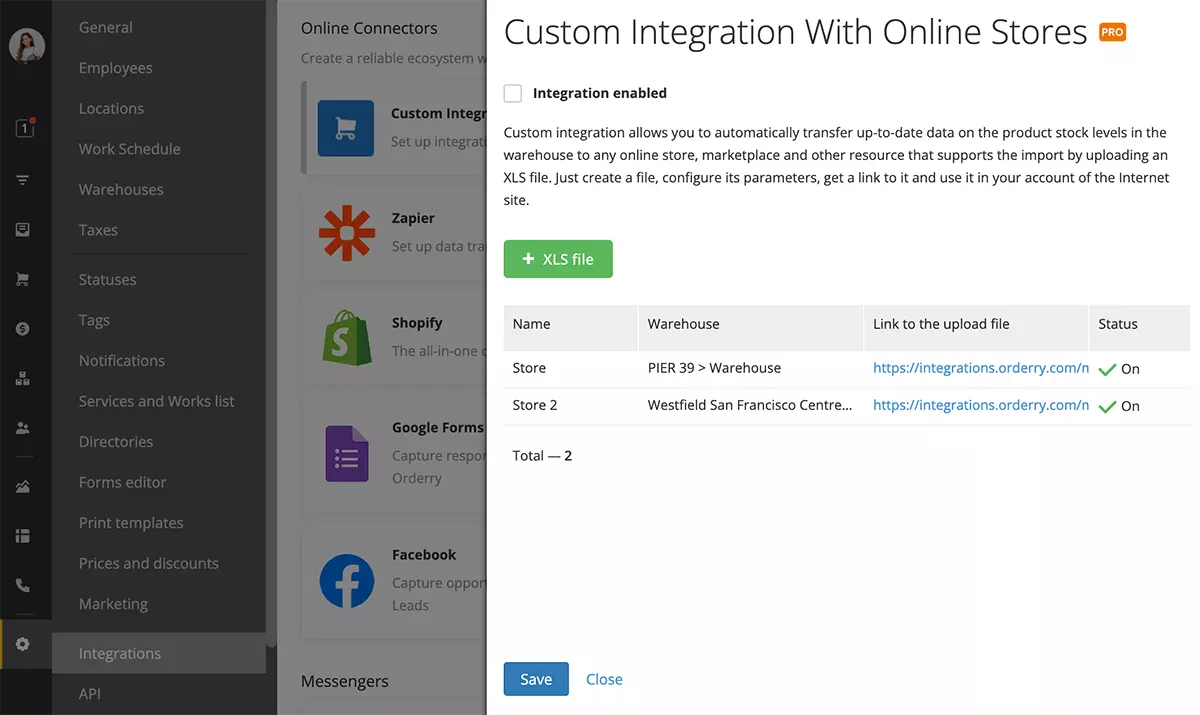 Users of the Startup plan can set up an integration with one online store. For users of the Business plan, an unlimited number of integrations via XLS file is available.
To set everything up quickly and correctly, use the step-by-step instructions for custom integration with online stores in the Help Center.
How will RemOnline's Capabilities Develop Further?
With the Work Schedule feature released, we can start working on direct integrations with service search platforms as well as add new methods to the public API that will be based on the schedule.
We also understand that RemOnline's current capabilities only allow us to automate employee payroll. So, we've started working on a completely new payroll module, which will give each employee their own balance to which you will be able to accrue wages. In other words, you will not only be able to calculate employees' wages but also make full settlements with your team.
And in the near future, RemOnline will have new data in the Activity Log with the ability to restore deleted tasks, goods, cashboxes, etc.
If you have questions or want to share your opinion on this update, write a comment below or contact our support chat.
comments powered by

Disqus