Final RemOnline Update in 2021: Days off in the Work Schedules, New Features in the Activity Log
Meet the 2021 year-end update of RemOnline enabling you to:
configure days off in the Employee Work Schedules and specify whether they are paid/unpaid
track the creation and deletion of estimates, goods, warehouses, and locations, as well as other changes in the Activity Log
Let's look at each update in detail.
Calculation of Days off in the Work Schedules
In the first version of the Employee Work Schedule, you've got the ability to specify working and non-working days (vacation, sick leave, non-working day), as well as to calculate wages for the hours and days worked. We have received a lot of feedback from active users which we highly appreciated so we are now ready to present the first improvements.
Another type of non-working day "a day off" has appeared in the Employee Work Schedule. Now, you can separate employees' days off according to their personal or company schedule as well as non-working days, such as state holidays.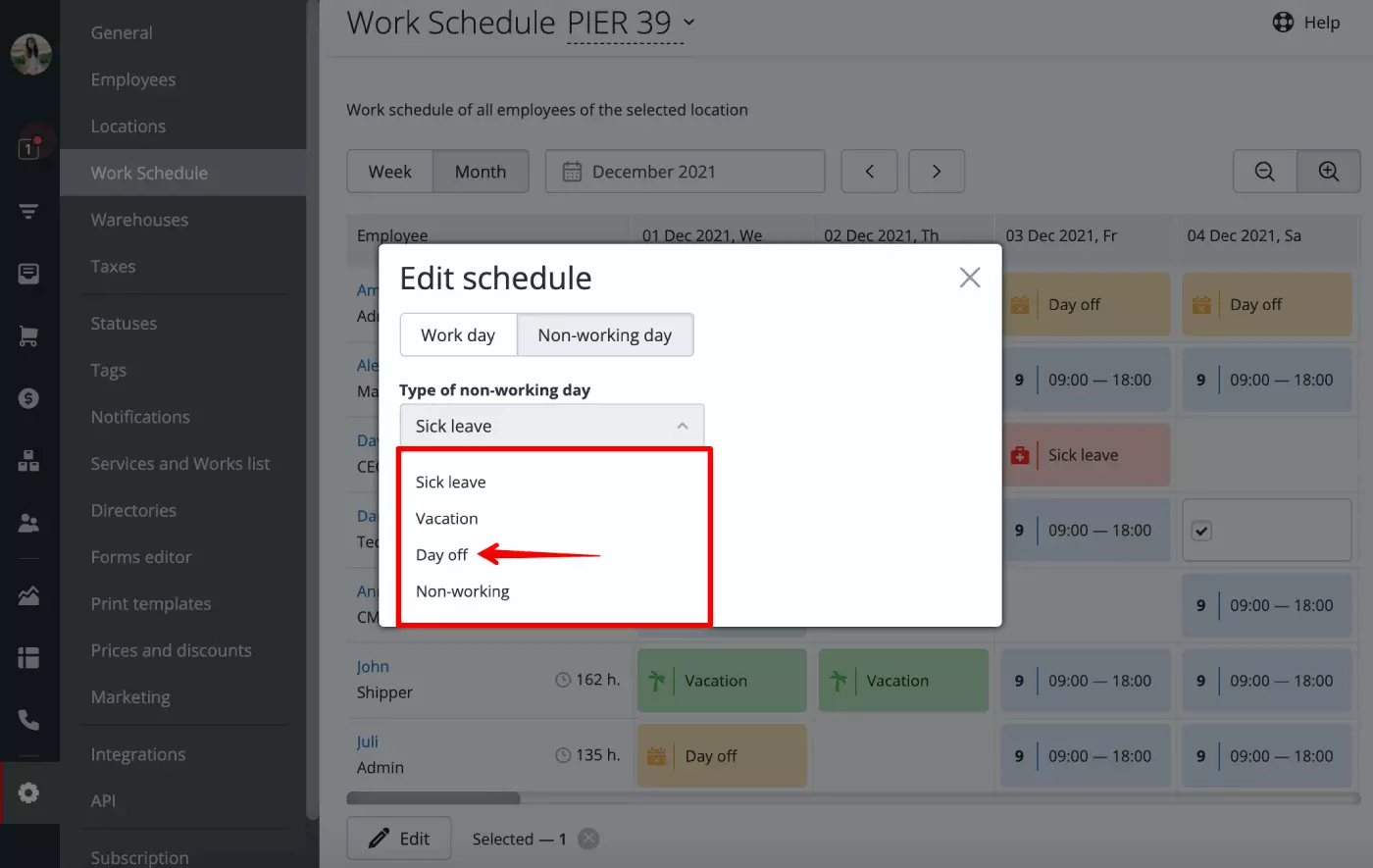 Moreover, if an employee takes an unpaid vacation, sick leave, or a day off, you can mark it accordingly using the "unpaid" checkbox when setting up the schedule.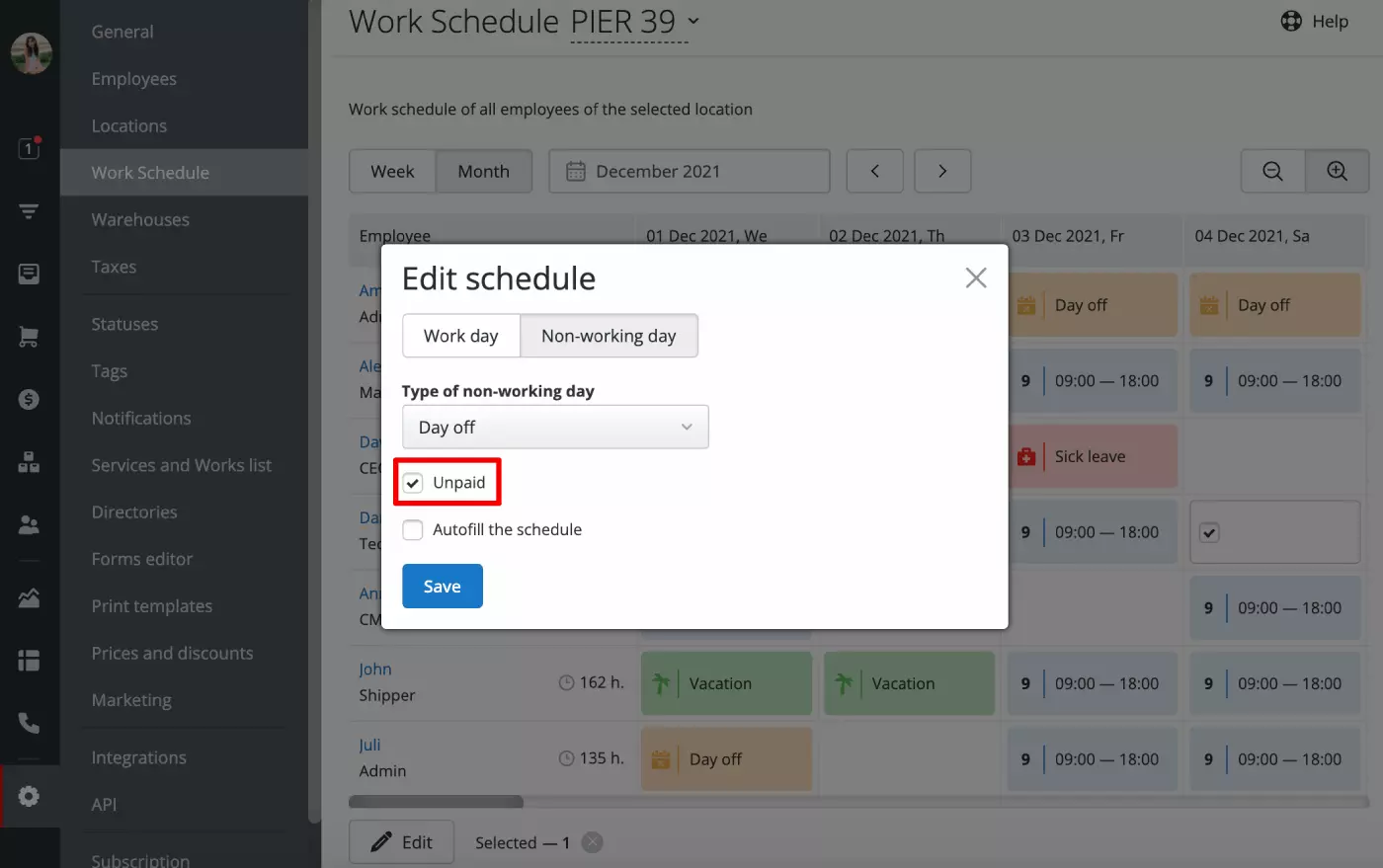 If there are unpaid non-working days, there must also be paid days. There are 3 new rules on the Settings > Employees page in the employee's payroll settings: Vacation, Sick Leave, and Day off. For each rule, you only need to specify the daily rate at which you want your payroll to be calculated, and then you just need to keep the Work Schedules up to date.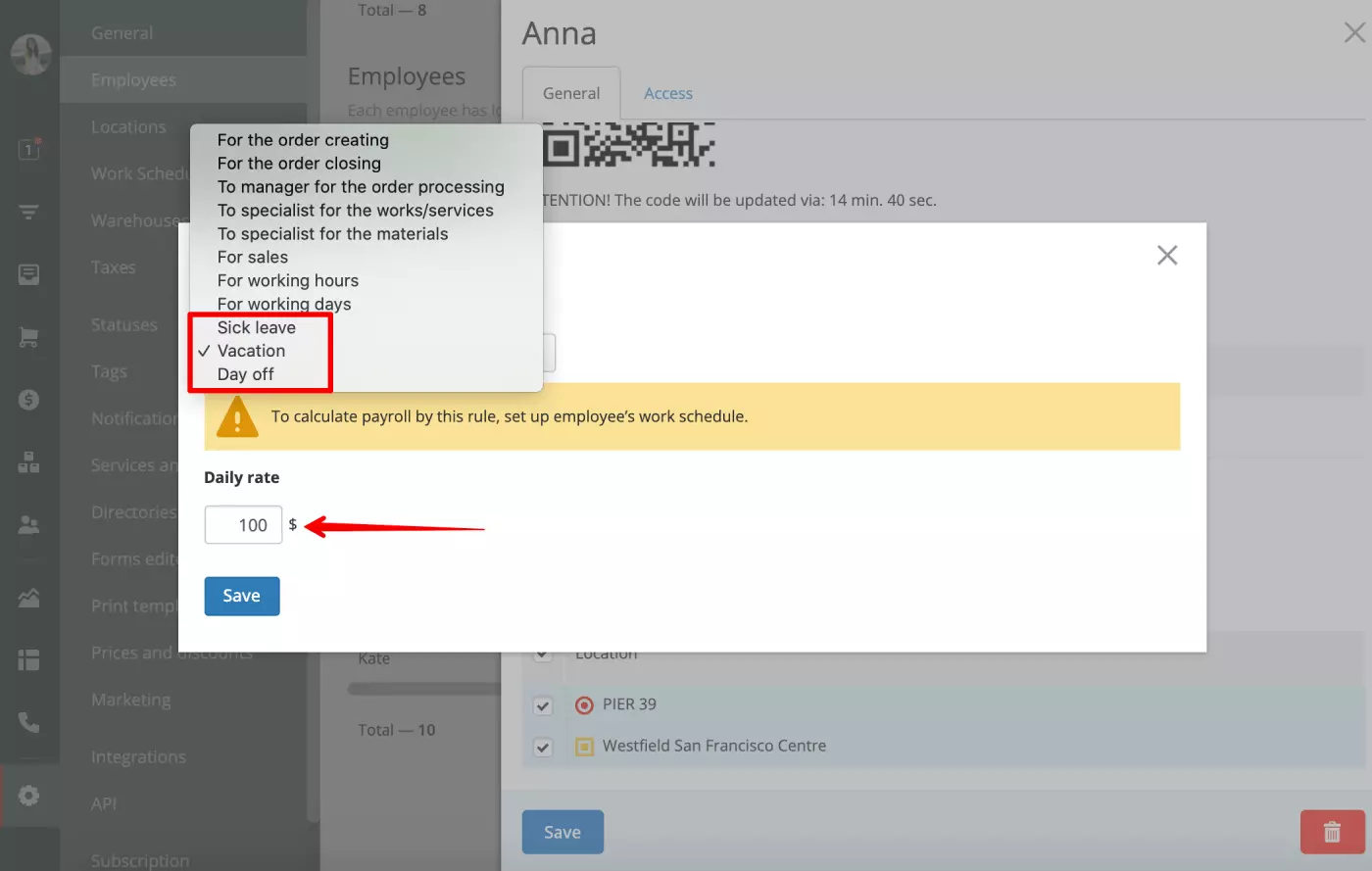 What's next in our plans? In the future, each employee will have the ability to view their own work schedule, the Work Order Scheduler will display only those specialists that are listed in the Work Schedule of the selected location and other improvements.
New Events and Features in the Activity Log
As promised, we are extending the Activity Log report with new data and features. So with this update, there are 21 new events in the report:
Tasks – deadline changed, specialists changed, task deleted
Leads – type changed, client changed, deadline changed, location changed, manager changed
Finance – estimate created, estimate deleted, cashbox created, cashbox deleted
Inventory – product created, product deleted, product name changed
Settings – new employee created, employee deleted, location created, location deleted, warehouse created, warehouse deleted.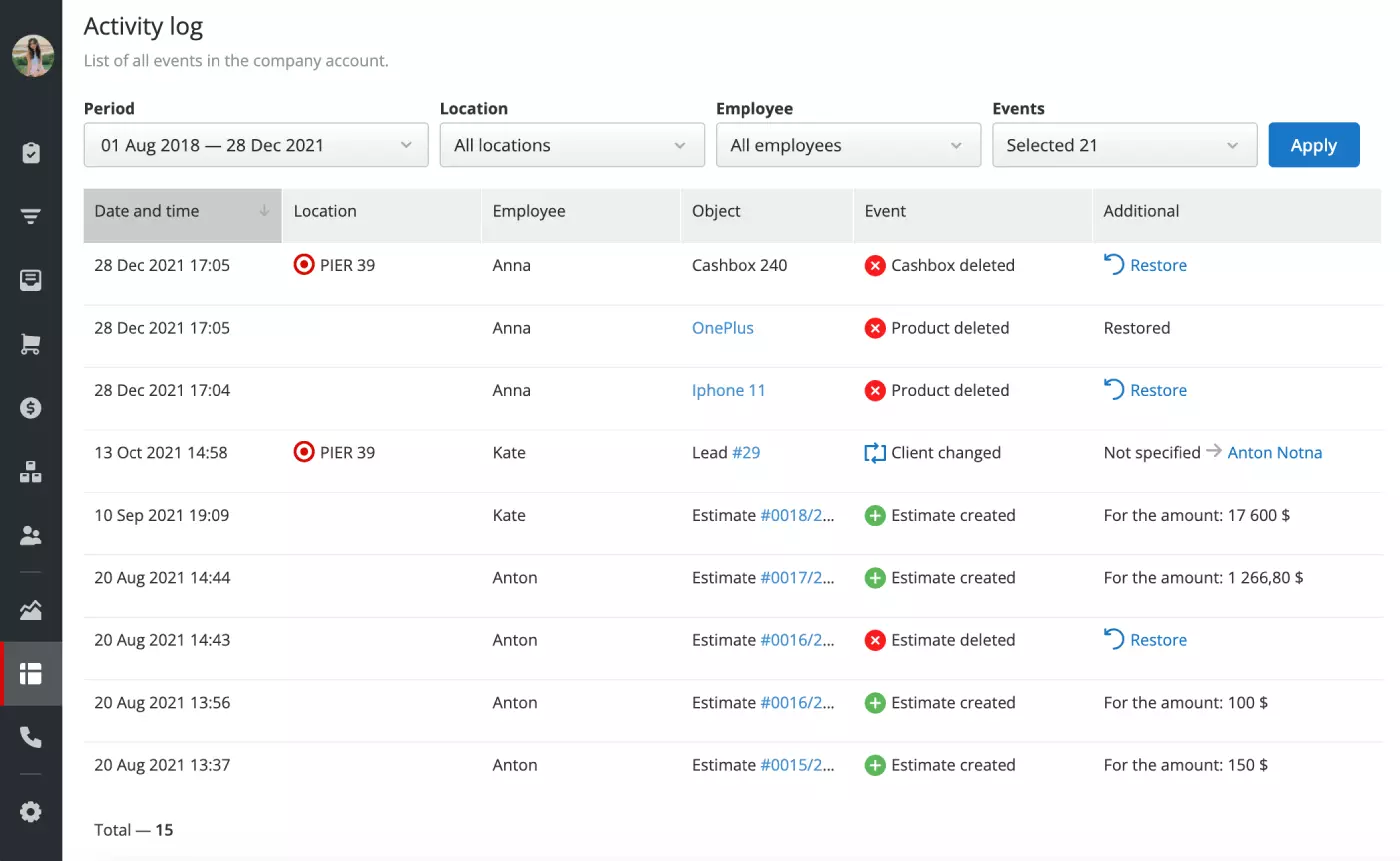 Moreover, now you can recover not only deleted clients, but also tasks, estimates, cashboxes, goods, and warehouses. That means you no longer need to contact the RemOnline support service if someone has deleted a checkbox, a product, or a warehouse by mistake. You can do it yourself!
Increased Capacity of User and System Fields
There are more and more integrations between RemOnline and other services that increase the requirements for the volume of transferred data. So we added more characters allowed in the text field — up to 256 characters including spaces, and for the text area, there are up to 16384 characters including spaces. We are sure that we can now cover the requirements of any services from which data may come to RemOnline.
If you still have questions about the update or have any suggestions, write them in the comments below or support chat. And if you've missed our blog post with development plans of RemOnline for 2022, you can read it here. So stay tuned for alerts and updates in our blog.
comments powered by

Disqus