CRM Implementation: Best Practices & Tips To Make It A Smooth Process
Learn how to prepare yourself and your team for the successful implementation of a customer relationship management solution in your organization.
Table of Contents
Stages of CRM Implementation Process
"Sell" a New Customer Relationship Management Program to Your Team
Is the Organization Software You've Selected a Good Fit?
Why Employees Resist Digital Transformation
Final Thoughts
CRM implementation projects require thoughtful planning, business leaders' vision, consistent communication and collaboration of different departments, and a result-oriented approach. Be ready to invest time and resources and be patient about the results. In this blog post, you will find out the dos and don'ts regarding CRM implementation and adoption.
Stages of CRM Implementation Process
Business owners and project managers should divide all the necessary actions into phases to ensure the efficient work of the entire implementation team.
Let's look at the essential steps:
Prepare Your Implementation Plan
There are no strict requirements here, as everything depends on your business objectives, available recourses, and the software you've selected. However, gathering inputs from potential CRM users to list their needs is recommended to create a realistic plan.
Describe Existing Workflows and Processes
CRM solutions are designed not only for data management but also for lead conversion, customer retention, and controlling the completion of tasks. And you should have internal processes for each of these activities. Visualize them in an algorithm, specifying responsible persons, deadlines, and essential statuses.
Get Your Data Ready For Migration
If you've never used a CRM before, ensure that the data in your spreadsheet fields is well-structured and up-to-date. If you migrate from another system, check out what your new solution offers to make the procedure quick and painless.
Integrate with Other Business Services You Use
To create a streamlined ecosystem for effective business management, you'll need to set up integrations with other solutions, e.g., for business accounting, appointment scheduling, online sales, and marketing.
Define Data Accessibility Rules and User Roles
Based on the role hierarchy in your company, configure user permissions and access to customer data, financial, payroll, and other sensitive information. Enable two-factor authentication via mobile apps and set up IP whitelisting, if available.
Develop an Incentive System for Keeping CRM Discipline
Besides teaching your employees how to utilize a new tool, you should also create a set of rules to motivate them to use it daily. This way, you will avoid inconsistent data, duplicates, and chaos in reporting.
Evaluate the Results
Months after launch, when data is collected, workflows are set up, and the new work structure has become "normal work," it's time for reports. This is the functionality you as an owner will value the most — with just a few clicks, you'll see how healthy your business is and where your growth points are. Enjoy! You did a good job. It was worth all the effort.
"Sell" a New Customer Relationship Management Program to Your Team
Modern technology transforms our work positively. Deciding to automate your daily processes is a good thing, and you know that. You need to convince your employees they will also benefit from this innovation.
Who Are The End-Users?
When implementing a new CRM, think about the people who will be its daily users — customer service managers, marketers, individual sales reps, and an entire sales team. How can CRM help understand the customer journey? How does it improve customer experience rating? How does it simplify customer conversations? How does it streamline the complete sales process and help win more deals?
What's In It For Me?
Prepare a quick presentation highlighting the tool's advantages and how they will make work more accessible — from the employee's perspective. Avoid talking in general terms like "increase productivity" and "better service," and don't even think about using the word "control." You have to demonstrate each benefit on real examples from their everyday routine, so they see the software for management is not your whim but a necessity.
What's It All For?
Another point you should communicate to your employees is what you want your business to achieve with digital transformation. You do have such a goal, don't you? Whatever it might be, again, think about how achieving this goal will impact your employees' lives. And don't forget to introduce it with excitement and enthusiasm.
Is the Organization Software You've Selected a Good Fit?
You won't be using the tool only yourself, although that's probably only you who is actively testing it. That is why it is highly recommended to involve your team in the evaluation process so you all can see how it will improve your daily routine.
Invite your employees to your trial account and start testing it together. This will be more fun and allow you to share experiences and thoughts on a new thing you are trying out together.
Collect feedback from each team member and make them feel comfortable to express their doubts or concerns.
In RemOnline, you can add employees to trial all the functions together from the start. In addition, you'll be guided by your personal onboarding manager to set up the solution according to your business needs quickly.
As RemOnline operates in the cloud, you won't need to hire implementation partners to manage the entire process. This cost-effective solution allows you to set up everything yourself using self-guided instructions, which is especially helpful if you have a small business and are on a budget. However, RemOnline fits the business needs of big companies, too. It provides flexible subscription plans and user training for teams of various sizes.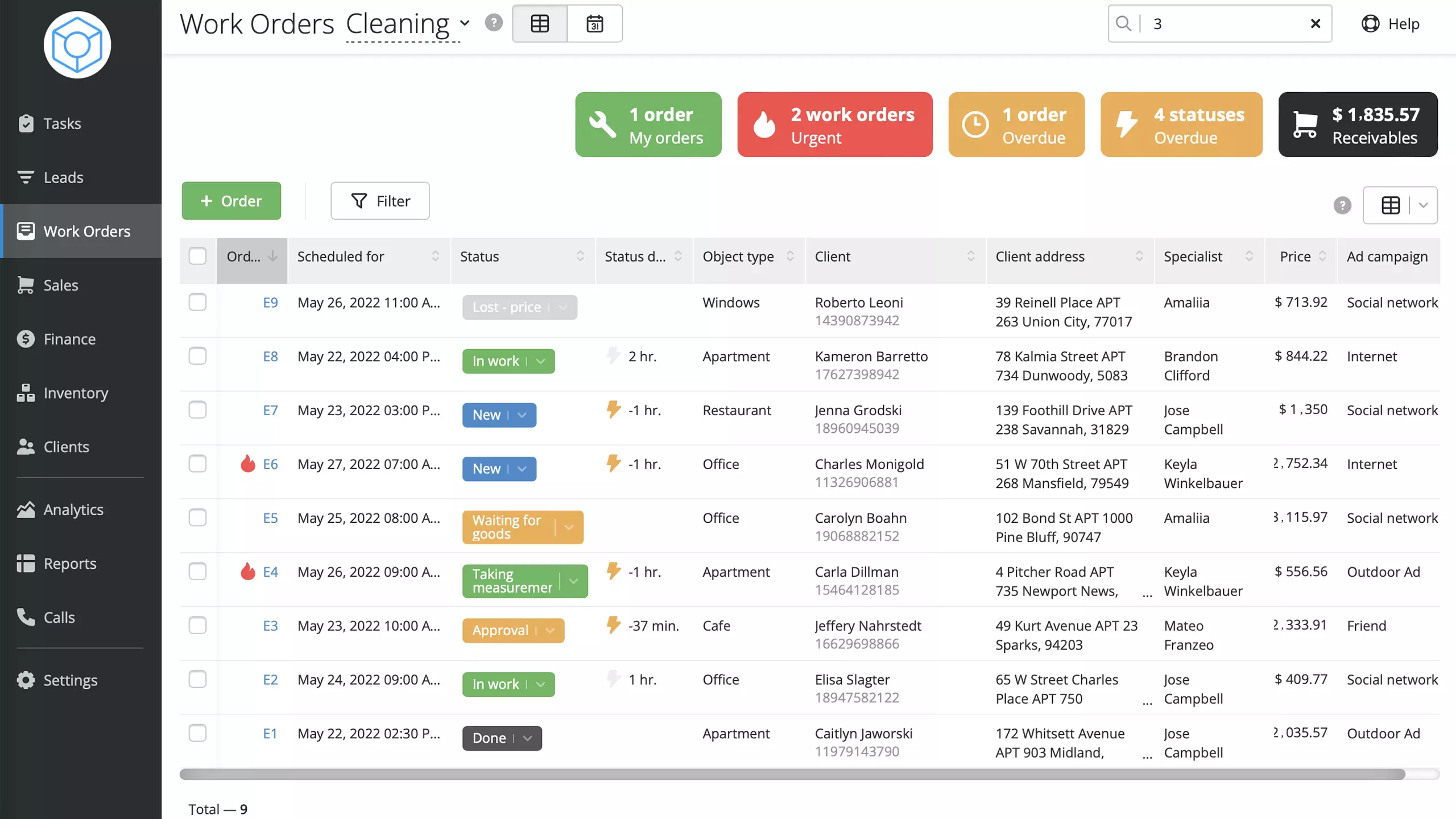 Work Orders in RemOnline
Why Employees Resist Digital Transformation
You finally found a product that perfectly fits your internal processes. You know it will make a lot of things more manageable. You can't wait to get started. But not everyone in your company is as excited as you are...In fact, that's only you. But who said that going digital would be easy? Human beings don't like changes by their nature! So, be ready to deal with resistance against any new solution for your business.
These are typical rejections owners face when introducing new business tools to their teams:
Inconvenient
Rearranging daily routines and developing new working habits might be stressful for some employees, primarily if they have worked with old processes for a long time. Trying out a new thing seems like an additional workload and provokes an adverse reaction. In this mood, employees could look at the business software program as the source of all problems and start describing it as "inconvenient."
Solution: Be patient and give them some time to adjust — at least a month, as it takes between 21 and 66 days to form a new habit.
Time-Consuming
You probably don't expect your team to complain about a new tool taking them more time to work with routine tasks than before. On the contrary, it should save time...The truth is that any solution to manage business requires regular data entry, which is, yes, time-consuming. You'll need to constantly remind your team and yourself: as soon as it has enough data, it will make the processes smoother and faster.
Solution: Encourage your employees to enter all the needed data immediately until it becomes habitual. Use any preset directories and data importing features your solution offers to make their life a bit easier. E.g., in RemOnline, there are ready-made product and asset directories and document templates for different business types.
Too Complicated
Let's face it, not everyone likes working with software, and not everybody can. Sometimes, it's just a lack of skills hidden behind the comment "it's too complicated."
Solution: Besides the manuals and tutorials vendors provide, create your own guidelines for all roles on how to work with the new system.
Focus on the essential functionality your employees will use to get the work done and carefully set up access rights to avoid misunderstandings or errors.
Final Thoughts
Deciding on what small business administration software to choose is only half the battle, the rest will come when you start implementing it in your company. Don't expect everyone to welcome a new tool with excitement but be ready to deal with rejections and overcome any adverse reaction instead. Focus on your primary goal, engage employees, and be consistent. You will soon notice all the positive impact digitalization has on your business success.
comments powered by

Disqus