From Passion to Profit: How to Start a Boutique
A complete guide on opening a successful clothing store business and finding your niche in the competitive market.
Table of Contents
When Is the Best Time to Start a Boutique?
How to Choose Which Type of Clothing Boutiques to Open?
Which Business Model is Best for a Clothing Store?
What to Know About Business Structure and Taxes When Starting a Boutique?
7 Steps to Opening a Clothing Boutique
Final Thoughts
When Is the Best Time to Start a Boutique?
Over the last thirty years, clothing boutiques have shown great sales numbers with a tendency for constant growth. As the statistics below show, after the decline caused by the COVID-19 pandemic accessories and clothing store sales are rising now, overcoming the pre-pandemic metrics: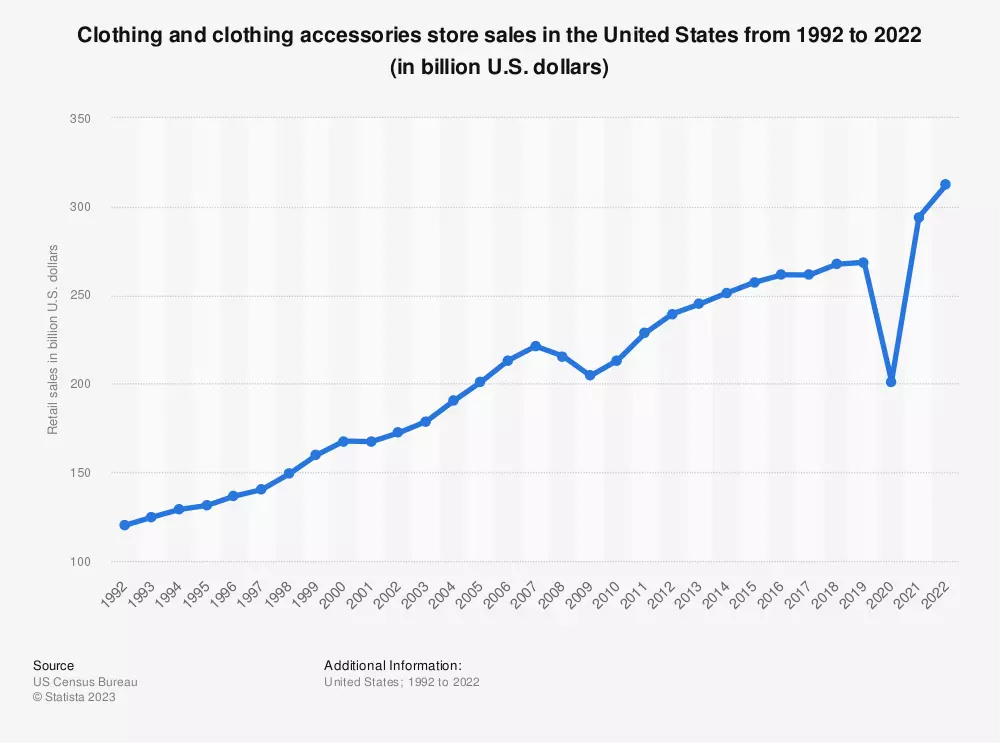 Starting a clothing store business during economic stability and growth can increase the chances of success—so do not postpone your life-changing decisions for later because the best time is now.
There are other timing factors you should consider before starting this business type:
Seasonality and trends

.

Launching clothing stores before a popular shopping season or when a particular fashion trend is in high demand can help attract customers and generate sales.
Favorable market conditions. When there is a demand for fashionable clothing and market gaps that you can fill.
When the groundwork is done

.

Like starting every new venture, the best time for future business owners is when everything is thoroughly planned and prepared for the launch.
How to Choose Which Type of Clothing Boutiques to Open?
Before diving into the world of retail business, let's look at the most popular types of boutiques:
Women's boutiques are the most common and offer a wide range of clothing options for women of all ages and styles.
Men's clothing stores cater specifically to men's fashion needs, offering a curated selection of clothing and accessories.
Children's boutiques focus on clothing products for babies, toddlers, and children, providing stylish and age-appropriate options.
Specialty boutiques offer unique and specialized clothing and niche products for customers with specific tastes or needs.
After you've decided on the fashion boutique type, you should identify the target markets and determine the specific niche or segment within the clothing industry you want to cater to. This could be anything from sustainable clothing, luxury designer brands, vintage, or athleisure wear. Consider the niche market's demographics, purchasing power, and preferences. It is also crucial to prioritize your own interests, expertise, and passion for the particular type of clothing boutique. Choosing the right type ultimately involves balancing market demand, competition, and personal interest.
Which Business Model is Best for a Clothing Store?
According to a recent study, 22% of U.S. consumers (35-54 y.o.) buy their clothes primarily online, with physical stores taking second place. That is why the best option for a new business would be a combination of both online and brick-and-mortar sales. Having an online presence allows your boutique to reach a broader customer base and take advantage of the convenience of online shopping. It also provides the opportunity to showcase the boutique's inventory and attract customers who cannot visit your store. However, a physical store is still necessary as it allows visitors to have a tactile experience with the products, try on a clothing item, and receive personalized assistance from sales associates. By combining brick-and-mortar and online clothing boutiques, you can maximize your business' reach and provide a seamless shopping experience for customers.
Alternatively to creating a web store, you can sell products online on e-commerce platforms like Amazon or Shopify. When using RemOnline, it is possible to connect your clothing inventory to any popular platform which supports importing products via an XLS or CSV file upload. This way, you will manage in-store and online sales, customer base, and inventory with single software.
What to Know About Business Structure and Taxes When Starting a Boutique?
Being passionate about fashion isn't enough to launch a profitable business. Before you start your entrepreneurial journey, it is essential to clearly understand legal requirements and tax obligations.
Determine your boutique's most suitable legal structure, such as a sole proprietorship, partnership, or limited liability company (LLC). Each structure has advantages and disadvantages regarding liability, taxes, and management.
Obtain the business licenses and permits your local government requires to operate a boutique.
Understanding the tax obligations is crucial as well. You should know sales tax requirements, income tax obligations, and other applicable business taxes specific to your location. It is advisable to consult with a tax professional or accountant to ensure compliance with all tax regulations and to optimize your tax strategy. And RemOnline will help you automate sales tax calculations in your store, taking out the burden of conducting manual computing.
Educating yourself about business structures and taxes will help you establish a solid foundation for your clothing boutique and avoid potential legal or financial issues.
7 Steps to Opening a Clothing Boutique
Step 1. Create a Boutique Business Plan
A well-thought-out business plan is crucial for the success of any venture. Outline your boutique's mission, vision, and goals. Conduct market research to identify your competitors, target customers, assess product demand, and determine your unique selling proposition. Include a comprehensive financial plan that covers startup costs like business credit and location rentals, inventory expenses, marketing strategies, and projected revenue.
Step 2. Set Realistic Goals
Once you have a clear vision, you can start setting business goals. They should be specific, measurable, attainable, relevant, and time-bound (SMART). E.g., you might set a goal to achieve a certain level of monthly revenue within the first year of operation. It is also crucial to regularly review and adjust your goals as needed to stay on track and adapt to market changes.
Step 3. Choose a Location
The physical location of your clothing boutique can significantly impact its success. Look for a high-traffic area with a target market that aligns with your niche. Consider factors such as foot traffic, parking availability, and neighboring businesses. To sell online, ensure a user-friendly and visually appealing e-commerce website.
Step 4. Source products and Establish Relationships with Suppliers
Finding reliable suppliers and building a diverse inventory is crucial to offering a unique and appealing collection. Attend trade shows, connect with designers, and research wholesale suppliers to find quality clothing at competitive prices. Consider factors such as seasonality, current fashion trends, and the preferences of your target audience when selecting inventory.
Once you find potential suppliers, assess their reliability, product costs, and quality—don't just read product descriptions but request samples, check customer reviews, and negotiate favorable terms. Remember that regular communication, timely payments, and loyalty can help foster strong relationships with suppliers which is vital to maintaining a steady supply of inventory. You should also review and evaluate the performance of suppliers regularly to ensure they continue to meet your boutique's needs and standards.
Step 5. Set Up Your Boutique and Train Employees
Create an inviting and visually appealing space that reflects your brand identity. Invest in attractive displays, racks, and shelving to showcase your merchandise effectively. Ensure your boutique has ample lighting, comfortable seating, and fitting rooms for customers to try on clothes.
In the competitive world of retail, incredible customer service can set your boutique apart. Train your staff to provide personalized assistance, offer styling tips, and go the extra mile to ensure customer trust and satisfaction. Build long-lasting customer relationships by offering loyalty programs, personalized recommendations, and a seamless shopping experience.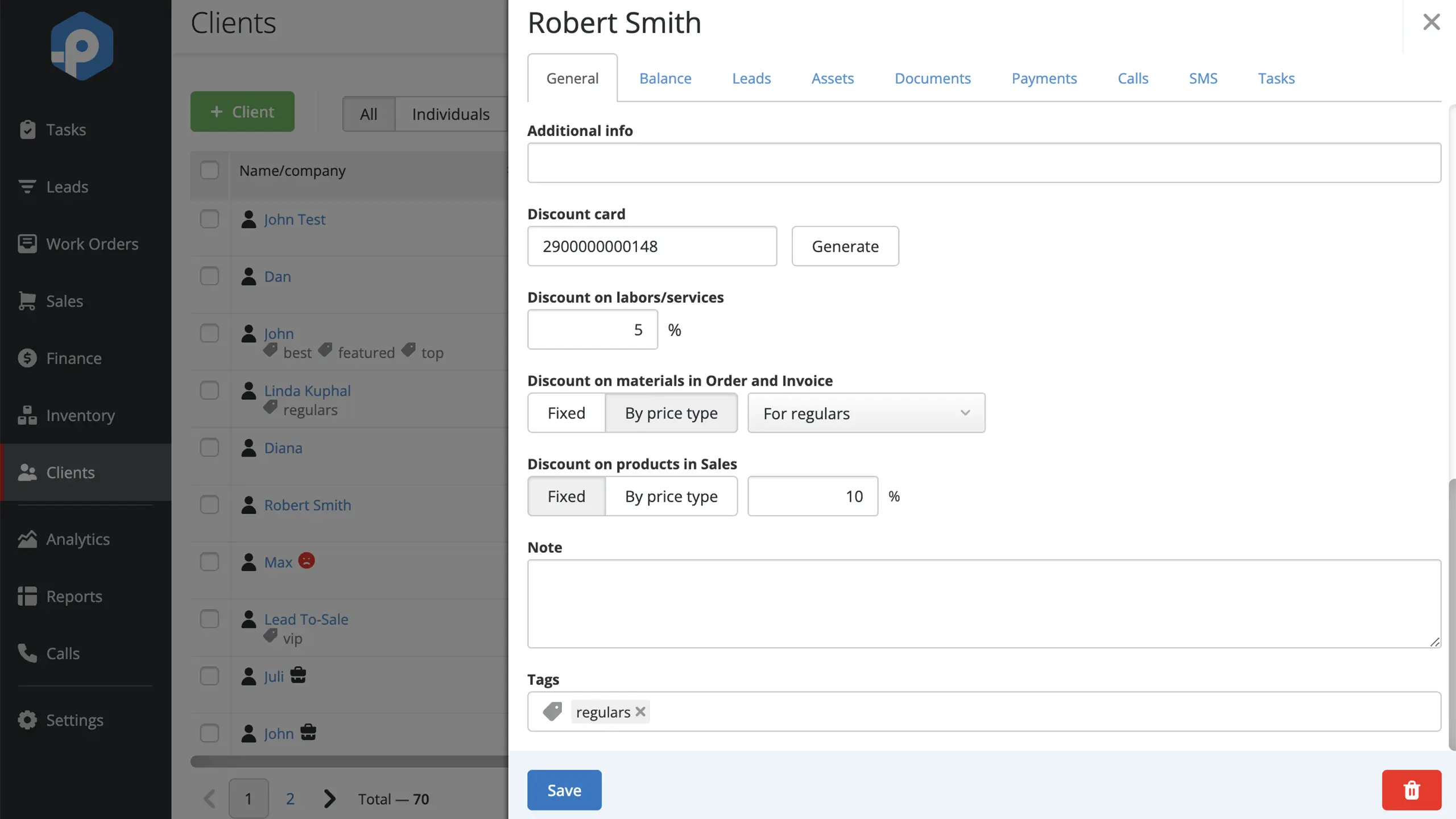 Configuring personal discounts in the customer profile in RemOnline
Step 6. Test Various Marketing Methods
You need a solid marketing plan to attract potential customers to your boutique, outlining available methods and strategies.
One basic marketing method is through traditional advertising channels such as television, radio, and print media. This allows your store to reach a broad audience and increase brand awareness. Another effective method is through social media marketing, where the store can create engaging content and interact with customers on social media platforms such as Instagram, Facebook, and Twitter. Hosting in-store events with live streaming or partnering with influencers and fashion bloggers will support you in generating buzz around your brand. You should also send regular email marketing campaigns to retain customers and inform them about hot promotions and sales.
Content marketing is also a highly effective strategy for promoting a clothing boutique. But to make it work for your business, you should regularly create high-quality, engaging content relevant to the target audience. This could include blog posts, social media posts, and videos that showcase the latest fashion trends, provide styling tips, or highlight new arrivals in your boutique. It is also essential to optimize this content for search engines, using keywords related to the clothing boutique and its offerings. And don't forget to consistently share and promote this content across various channels, such as the boutique's website, social media, and email newsletters, to ensure maximum visibility and engagement.



Step 7. Organize Shipping
If you combine offline and online sales, you should be able to quickly process online orders and deliver products to customers. Organizing smooth and reliable shipping involves several stages:
Research the available shipping deals for small businesses and choose a reliable carrier—compare prices and read reviews to ensure timely and efficient delivery.
Develop clear shipping policies and communicate them to customers. This includes providing information on shipping costs, delivery times, and any applicable return or exchange policies.
Implement a streamlined order fulfillment process—automate warehouse operations, ensure accurate product labeling and packaging, and establish efficient communication channels with the shipping carrier.
Regularly track shipments and provide customers with tracking information to ensure they never have a bad shipping experience.
Final Thoughts
Starting a clothing boutique requires hard work, dedication, and a strong understanding of the fashion industry. Before entering this business, you must do your homework—conduct market research, identify your target audience, define your unique selling proposition, and develop a clear brand identity for your retail boutique. If done correctly, you will turn your passion for fashion into a thriving business. Good luck!
comments powered by

Disqus