Allowed Cashbox and Warehouse Actions
Automation of company processes is crucial if you want to save time and grow your business. It also eliminates the risk of human errors and makes your business processes transparent and more controllable.
This is exactly what today's update of RemOnline is aimed at. So, ladies and gentlemen, meet our new settings for allowed actions in warehouses and cashboxes!
Now, you can:
set up employee access more accurately
better tailor RemOnline to your business processes
eliminate human error risk
see a more realistic picture of your cash flow and moving goods
Let's dive deeper into detail.
Allowed Cashbox Actions
Previously, you could grant an employee access to cashboxes and set up the rights that apply to all those cashboxes at once. With the new release, it's possible to configure the allowed actions and operations on two levels: the cashbox and for each employee individually.
To do this, we have divided the checkbox setting dialog into 2 tabs: "General" and "Access". In the general settings, you can configure allowed actions and operations for the checkbox:
viewing the cash flow and the money balance in the cashbox
receiving and transferring money to the cashbox
spending and transferring money from the cashbox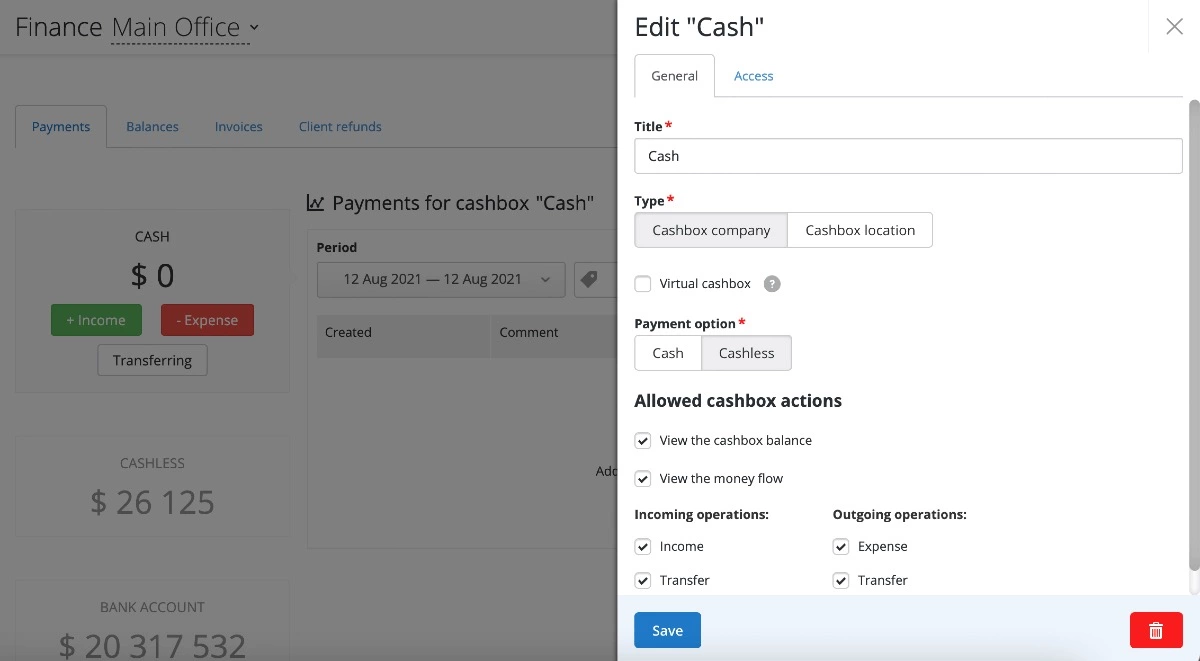 And on the "Access" tab, you can expand or limit the access rights for each employee specifically by double-clicking on it. In the pop-up that opens, all actions that are allowed for the checkbox will be allowed by default for the employee. You can also configure personal access settings or allow all actions and operations, even if they are disabled in the general settings of the checkbox.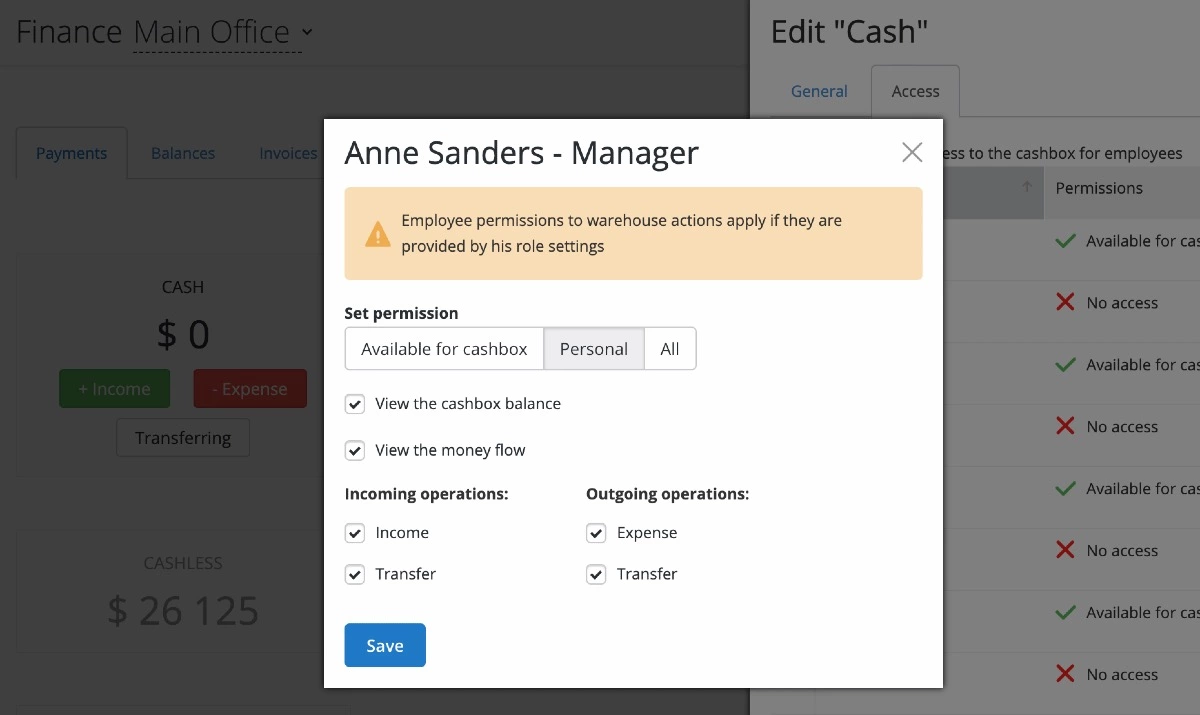 Let's have a look at some use cases.
For example, setting up a cashbox for accepting bank cards. Since there is no cash in such a cashbox, the average employee does not need to know how much money is there in the current account. So you can turn off displaying the balance in the general settings of the cashbox. At the same time, an executive or an owner of the company or location can have this access. Just enable it for a particular employee on the "Access" tab.
To prevent employees from spending money from the current account, you can disable "Expense" for outgoing transactions in the general settings of the cashbox.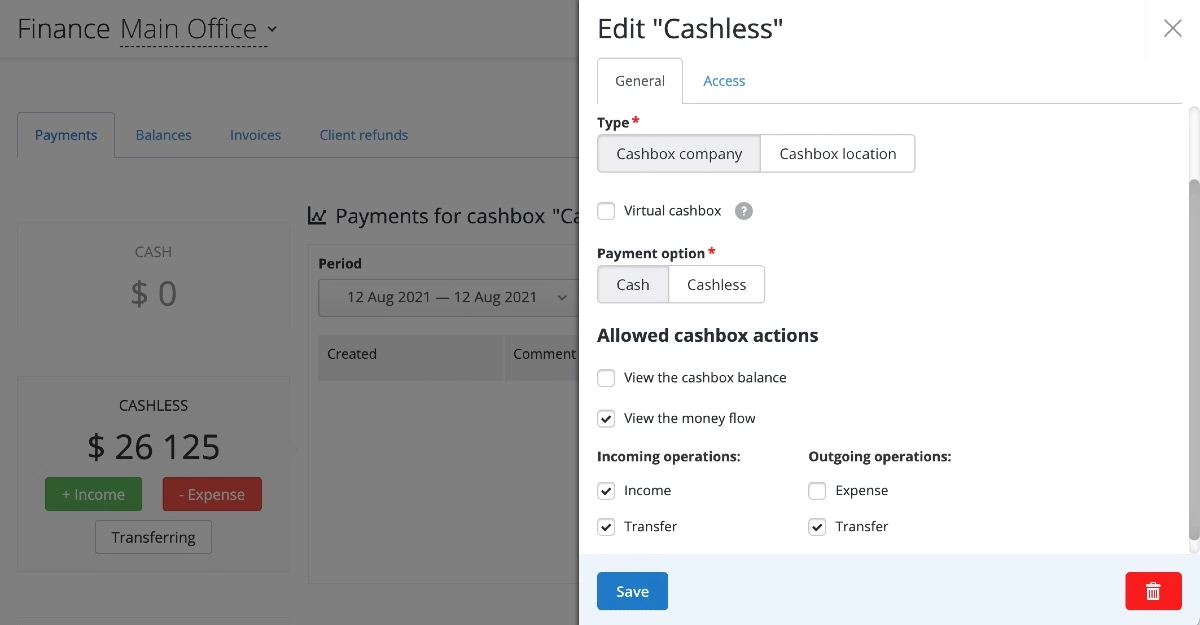 For example, you can set up access in the way that all managers can deposit money in the cashbox, but only the senior manager can spend it.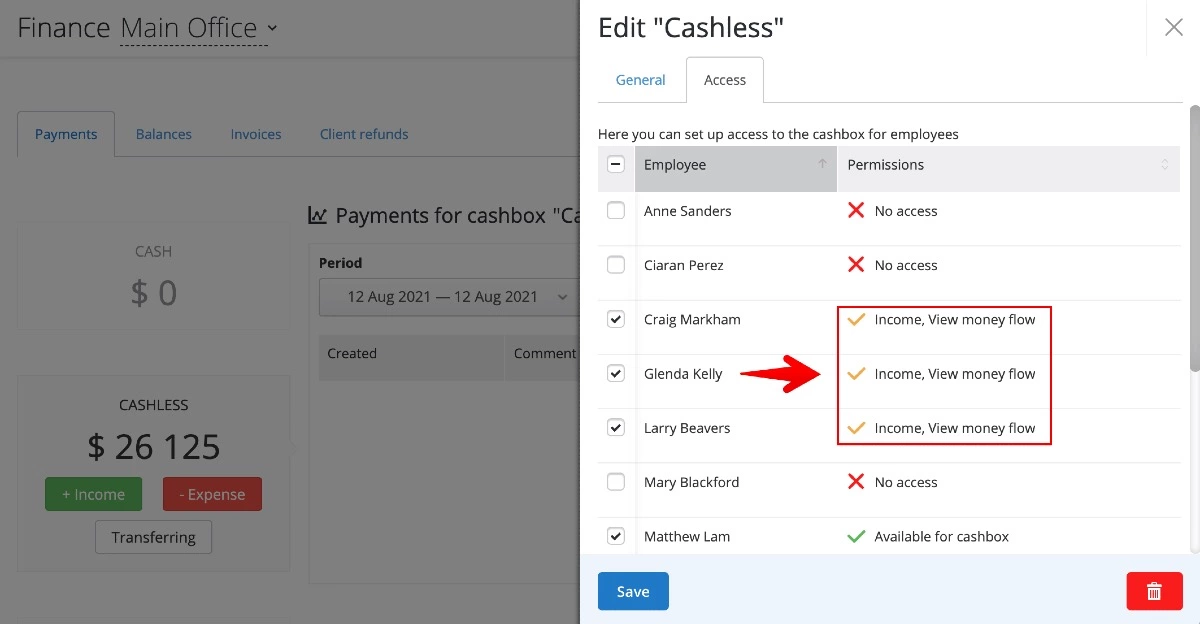 Allowed Actions In Warehouses
The advanced warehouse access settings help you not only to better control your employees but also to customize the available operations according to your real logistics processes. This feature in warehouses works in the same way as in cashboxes: here you can configure authorized actions and warehouse operations on two levels.
In the dialog box for creating or editing a warehouse on the General tab, you can configure all allowed actions and operations of the warehouse:
viewing the stock balances of the goods in the warehouse
posting, transferring or returning goods to the warehouse
writing off, adding to a work order or sale, returning the goods from the warehouse to the supplier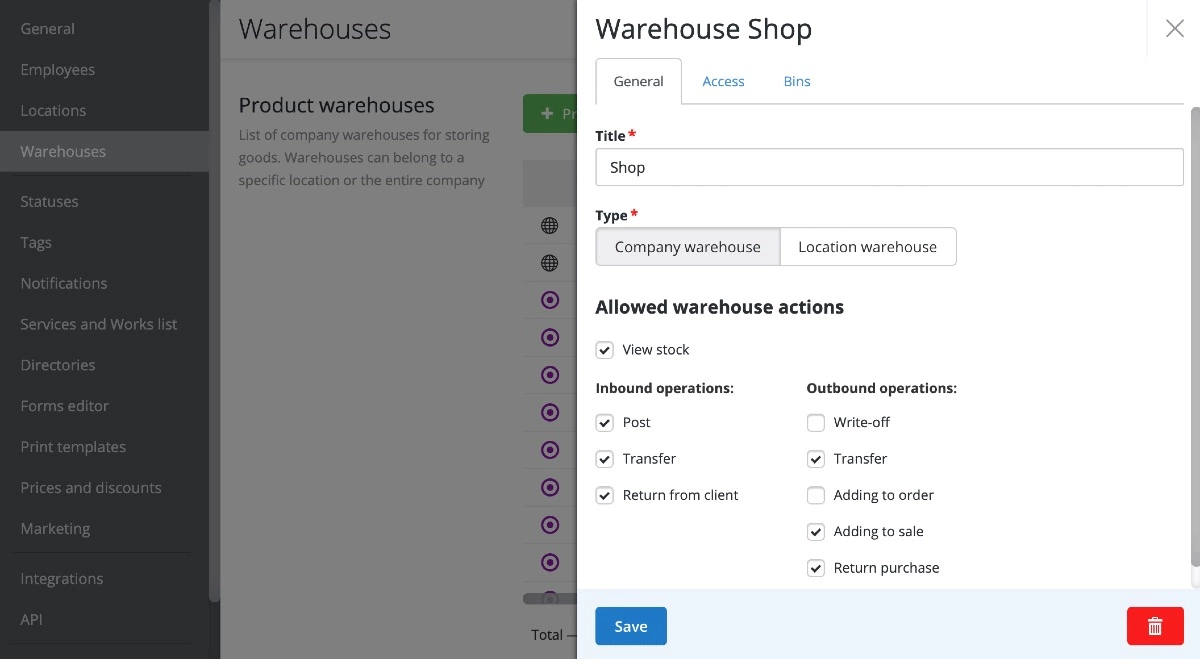 And on the tab "Access", you can limit or expand the access rights for each employee in the same way as you do in the cashboxes.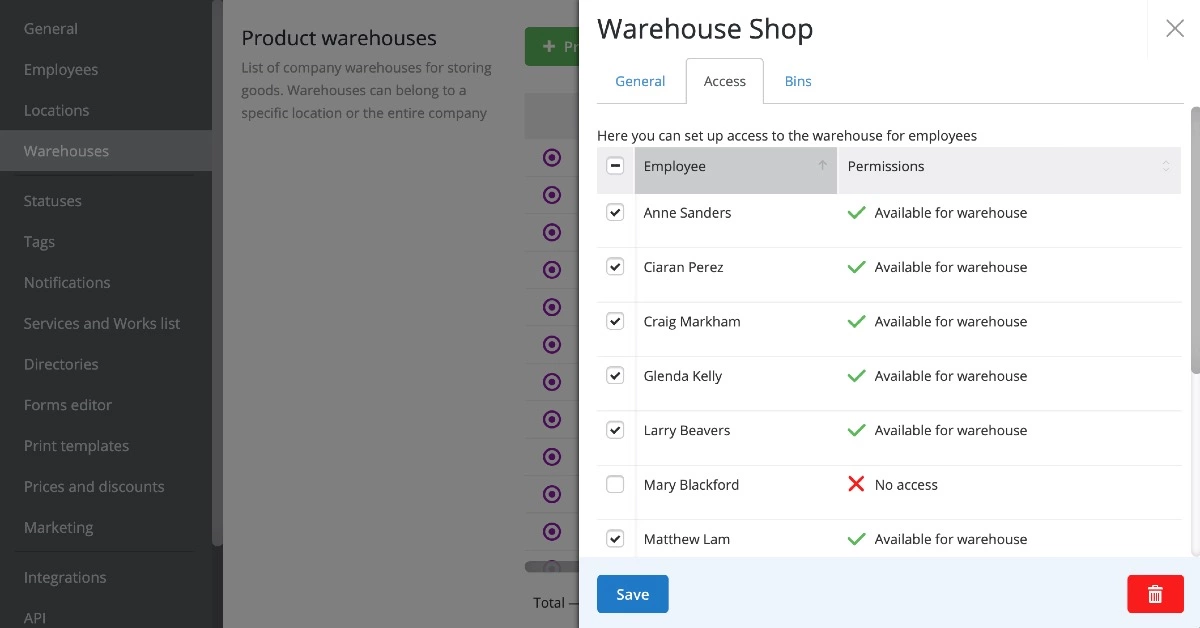 Use case 1. You are dividing a warehouse of spare parts used in work orders from a warehouse of goods for sale in the store. In this case, you need to allow adding goods to orders and prohibit adding them to sales in the settings of the spare parts warehouse, and do the vice versa for the store's warehouse.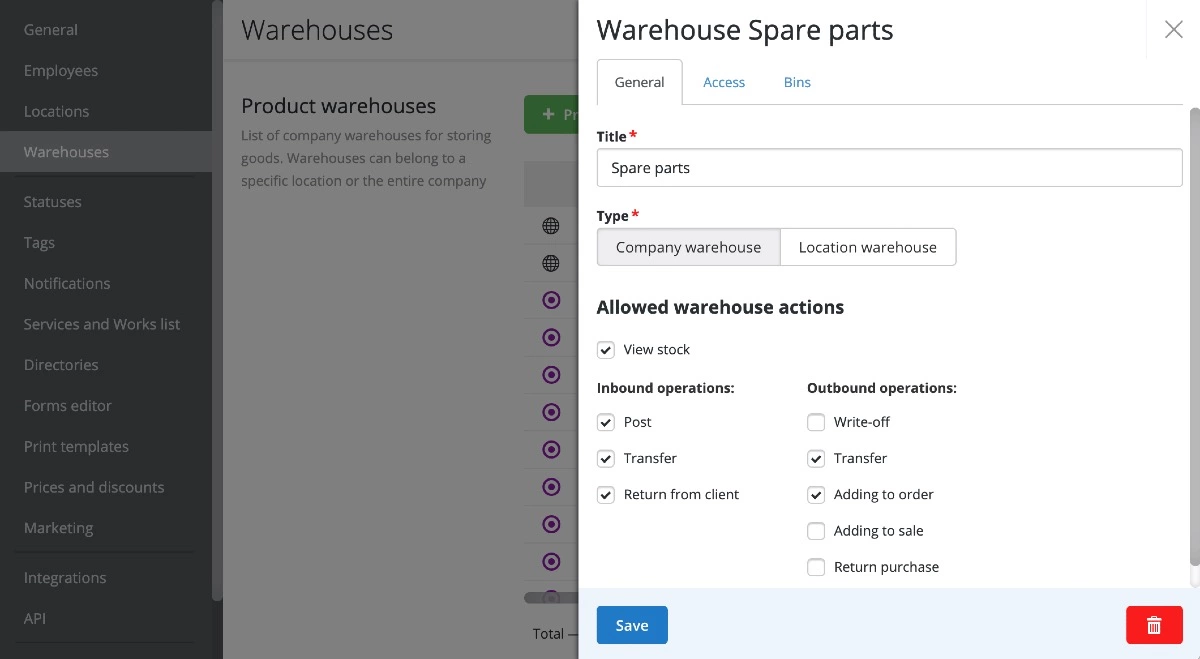 According to these settings, in the order and sale dialog windows, employees can select only those warehouses for which they have the appropriate rights.
Use case 2. You have a specific warehouse for defective goods. In this case, you can allow transfer and customer return in incoming operations as well as write-off, return to the supplier, and transfer (in case the goods were not defective or the defect was repaired) in outgoing operations. And in other warehouses, you should disable write-off and return of goods.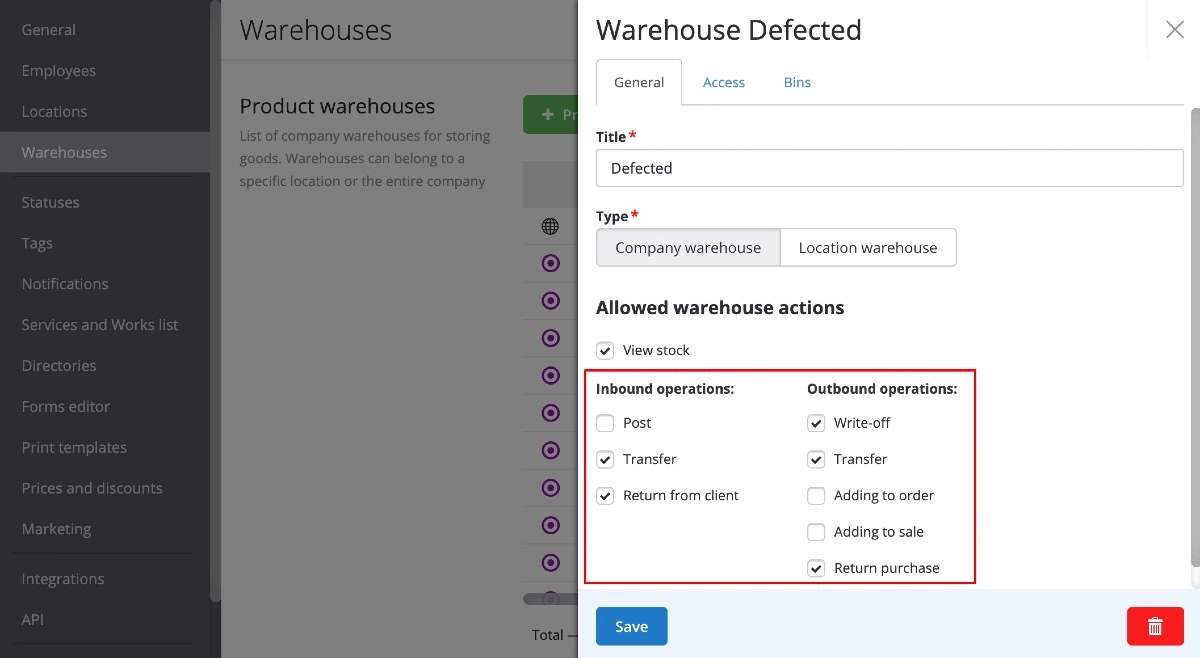 Under these settings, posting to the warehouse for defective goods will not be available, but you'll be able to return to the supplier or write-off goods from there.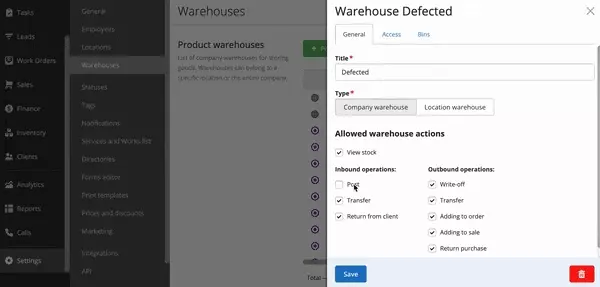 Use case 3. You want the employees of one location to be able to see the stock in another location. But they should not be able to change the state of that warehouse in any way because it's another employee's responsibility.
In this case, you just need to grant the "View only" access to those employees. They will be able to see the stock without transfer options. To get the goods they will need to contact the employee in charge of the warehouse at another location.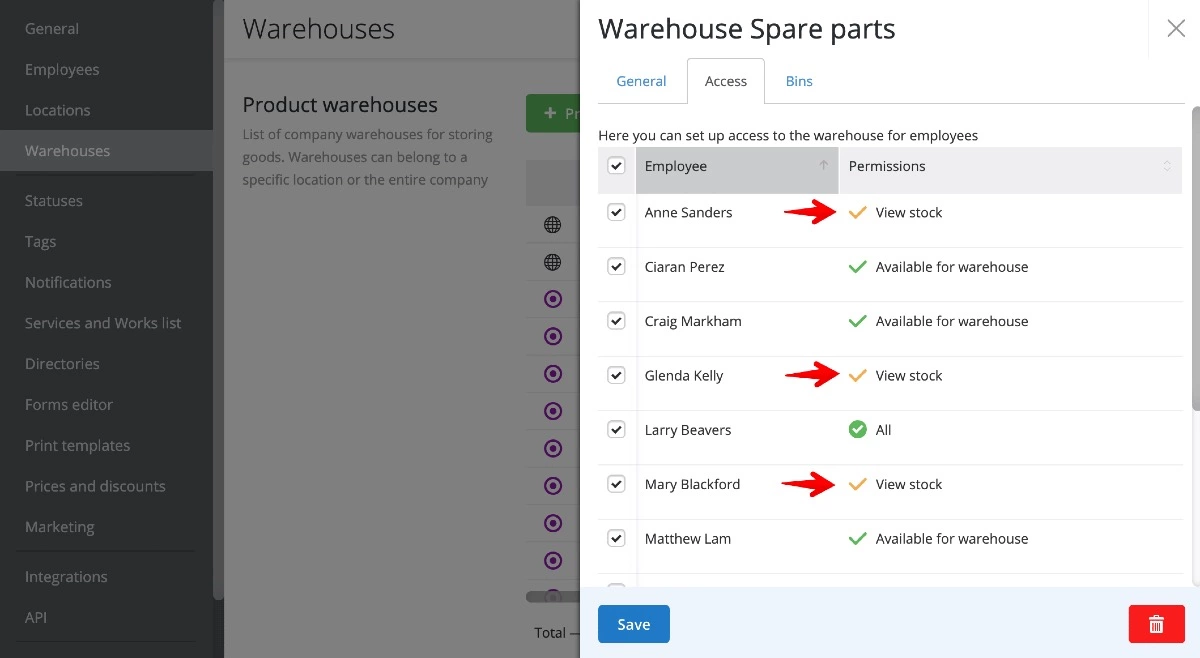 With this configuration, you can ensure the correct process of product transfer and then see the real picture of its movement.
There are many more such use cases to be listed.
Subscription Plans With the New Features
Extended settings of allowed actions in warehouses and cashboxes will be included in Business and Maximum plans. But now, they are available in all subscriptions until October 1st and all RemOnline users can "play around" with the new settings to see how they work.
Service Categories
Depending on the size and specialization of your business, the list of company services may include hundreds or thousands of titles. And working with a single list, in this case, is far from being convenient. Therefore, we've added the ability to categorize all services in the similar way you do with goods in the warehouse. Categories are also specified in the export/import file.
You can already organize your List of Works and Services so that it will be easier to work with it in the future, for example, by product brand or type of service. But keep in mind that in one of the next updates you will get the opportunity to set tax exemptions — individual application of taxes to certain goods and services and their categories.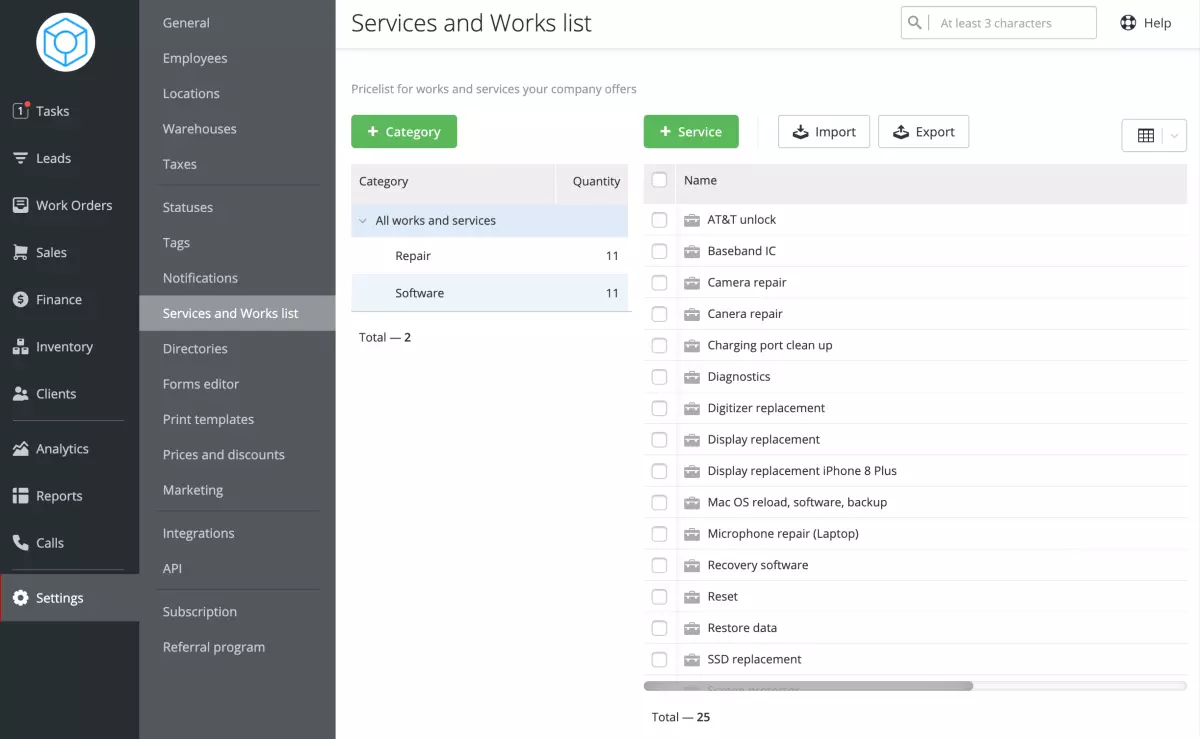 A couple of examples of how you can apply this feature:
Depending on your tax system, you may have services and works that are not taxed at all or taxed with different tax rates. So with exceptions, you can also specify in RemOnline which goods in work orders and sales should or should not be taxed and in what amounts.
If you sell goods and provide services under different taxation systems, this too can be implemented through tax exemptions. You will be able to set the application of different tax rates for goods and services.
Therefore, we advise you to implement a categorization system for services, taking into account your system of taxation. In some cases, it is easier to set an individual method of applying taxes to one product or service, and in other cases, it is better to work with entire categories.
To categorize services and works, select them in the list and use the "Change Category" group action. You can also export the list of services, specify their categories in the Category column of the export file, and import it back.
Combining Duplicate Assets
Duplicates can appear for a variety of reasons, among them when you switched to using Assets in RemOnline. They could get duplicated because previously employees made typos in brand or model names, or simply listed assets in work orders in different ways.
But the most important thing is that you can now get rid of duplicates with a group merge and all the history of orders and transfers will be saved in one document.
To do this, tick the checkboxes on the "Inventory > Assets" page, click "Merge" in "More actions", and select one asset to which all duplicates will be overwritten.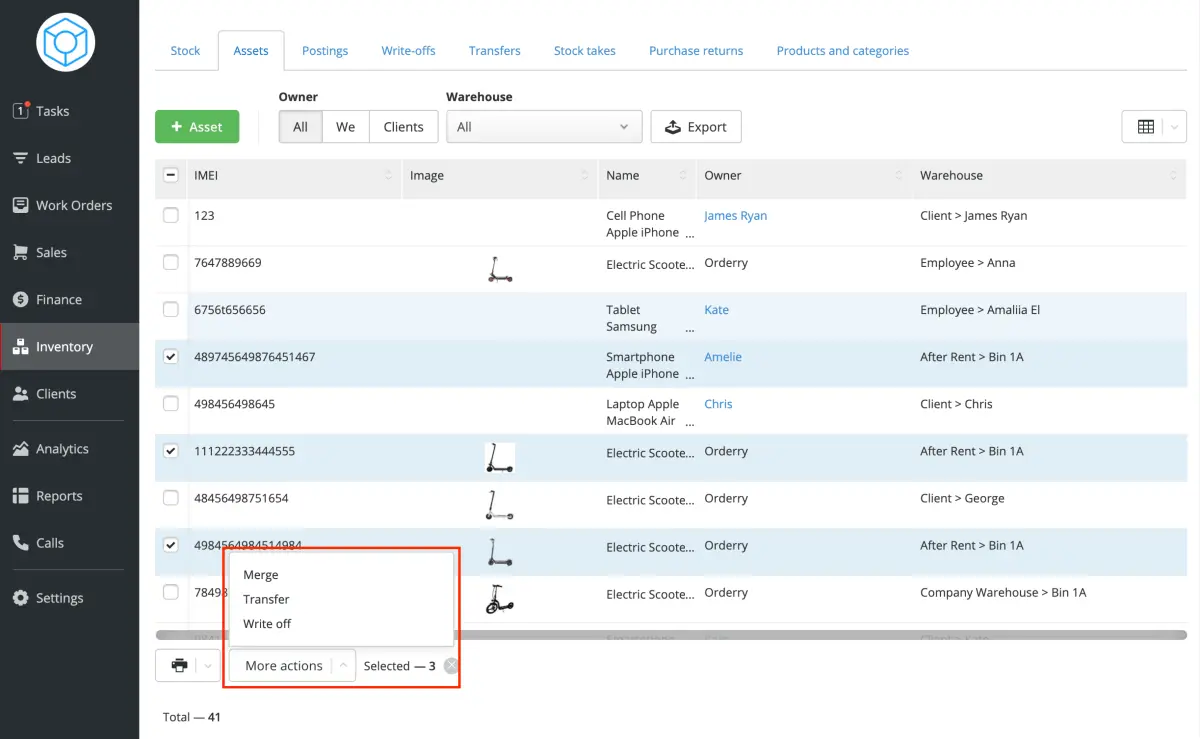 This way you can maintain a well-organized warehouse of assets and keep track of the complete history of servicing and transfers of each asset.
Changing Column Widths In All Report Tables
While releasing new functionalities, we do not forget about the interface improvements. Now, you can change the column widths in all reports except the Payroll report. Just drag the border of a column header and adjust its width as you like.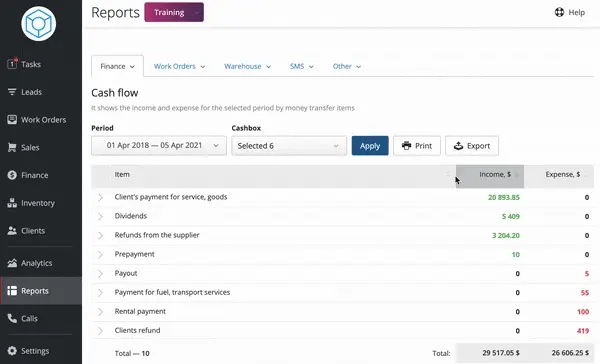 In addition to all of the above, we have also fixed:
displaying of recent work orders for an asset when adding its serial number to a new order
transferring of product pictures via API
That's all for now. Explore the new features to improve the internal processes of your companies and leave your feedback in the comments below or our support chat.
comments powered by

Disqus