Software For Auto Repair: Answering Frequently Asked Questions
When your auto repair business needs a productivity boost, it's time to get a well-rounded management tool to will help you get more done in the garage. In this blog post, you'll learn how to find the best fit for your business among all the solutions on the market.
Table of Contents
What Kind of Software do Automotive Repair Shops Use?
What to Consider Before Implementing Repair Shop Management Software?
What are the Benefits of Streamlined Daily Operations?
What Features Should Auto Shop Owners Pay Attention to When Choosing Software Tools?
Final Thoughts
Business owners know that doing business well requires ongoing optimization of processes and workflows. If you pay more attention to this aspect, your auto repair shop will retain its position in a highly competitive market. It is impossible to think about company growth if you struggle with deadlines, routine tasks, and employee and customer management. But don't get discouraged immediately because there is an excellent way to overcome this challenge. In this article, you will find all the essential information about the automation tool that will be your helping hand when it comes to streamlining business processes.
What Kind of Software do Automotive Repair Shops Use?
This is auto repair software. It allows garage owners to automate processes in various areas of business activity (customer service, inventory, employees, financial management, logistics, and sales). There are specialized solutions designed to manage a single area of business, like inventory management or accounting, and there are complex ones that cover most business needs.
Auto repair shop management involves keeping track of different activities, analyzing their effectiveness, and identifying growth points. Simply put, to improve your company's performance, you need a solution that can not only automate routine operations but also help you analyze all business processes and find ways to improve them both as a whole and individually. That's why all-in-one software is the best choice for independent auto repair shops. You just implement one application and get all the business tools you need.
What to Consider Before Implementing Repair Shop Management Software?
An important point here is to choose between two types of software: cloud-based and on-premise. The first is hosted on the software provider's server so users can access the program via a browser or mobile application. The standalone solution is autonomous, so you must install and run it in-house and be in charge of system maintenance and updates. If you want to stay flexible and mobile, use applications that allow you and your team to process jobs while on the go and access data from any device.
To make sure you get the most out of your new solution, follow these simple steps before implementing it in your auto repair shop:
Map your company's business processes. This will help you understand where each process begins and ends, what data you need at each stage, and where the bottlenecks are hidden.
Make a list of tasks your employees should do in each workflow. To optimize processes, it is

crucial

to understand how many employees are involved and what tasks each process consists of.
Define your company's goals. Your new software should help you on the way to reaching your goals. Look for a scalable and flexible solution that will grow as your company grows.
Find more tips on implementing a new software solution here.
What are the Benefits of Streamlined Daily Operations?
Let's imagine you have already digitalized your auto repair shop. Here are the most significant improvements you would benefit from:

More time to focus on the actual job. Your techs and office staff don't have to waste time on routine tasks. Your auto repair shop software independently performs calculations, generates reports, and automatically fills out forms and documents with customer and vehicle data.

Improved efficiency at the workplace. The program reduces the workload on employees and makes them more efficient and satisfied.

Optimized budgets. Thanks to financial reporting, your cash flow is now under complete control, so you can see where to reduce expenses and how to increase revenues.

Reduced human error risk. Forget about typos, failed calculations, accidentally deleted data, missed calls, and overdue work orders.
But, as they say, not all software solutions are equally good. Each tool has its advantages and disadvantages. To make it easier for you to make your choice, we have compiled a list of must-have features that will help you manage your auto repair business most effectively.
What Features Should Auto Shop Owners Pay Attention to When Choosing Software Tools?
Work order processing. Your new system should be capable of keeping records of repair and maintenance services, assigning technicians, monitoring deadlines, and notifying customers via email or SMS about status updates. Other vital features include sending estimates and invoices to customers, quick labor cost calculation, and automated writing-off of parts from stock. It will also benefit your mechanics if the software you choose offers a mobile application that allows them to access work orders and customer information, add spare parts, and share vehicle photos from their smartphones.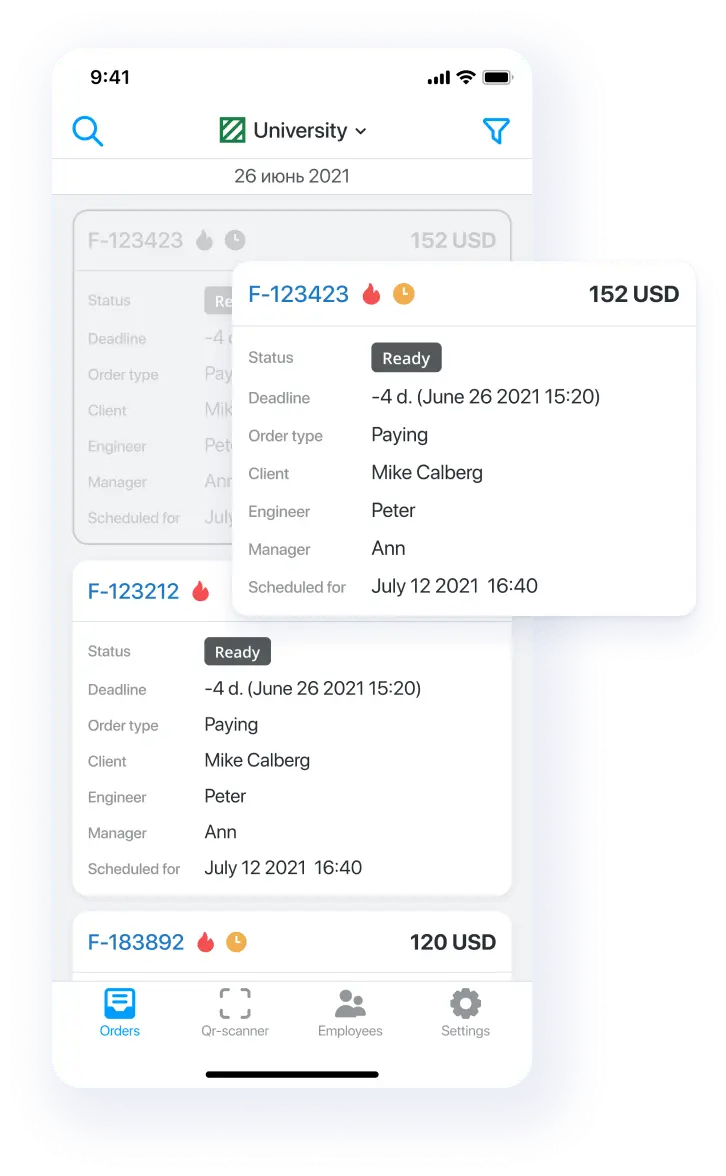 Processing jobs in the RemOnline Work Orders app


Customer relationship management. As clients are crucial to any business, you must recognize the tools to manage their data most effectively. Look for functions like real-time-updated database, auto-filling of contact information in documents and forms, automated requests for customer reviews, and flexible discount setup. These features will help you increase loyalty and customer trust.
Inventory control. Theft and shortages of spare parts, equipment, and tools are common problems in automotive repair shops and auto parts stores. Functions such as inventory levels, trackable warehouse operations, and stocktaking will help you avoid them. And with serial accounting, your employees can quickly scan inventory and update your stock.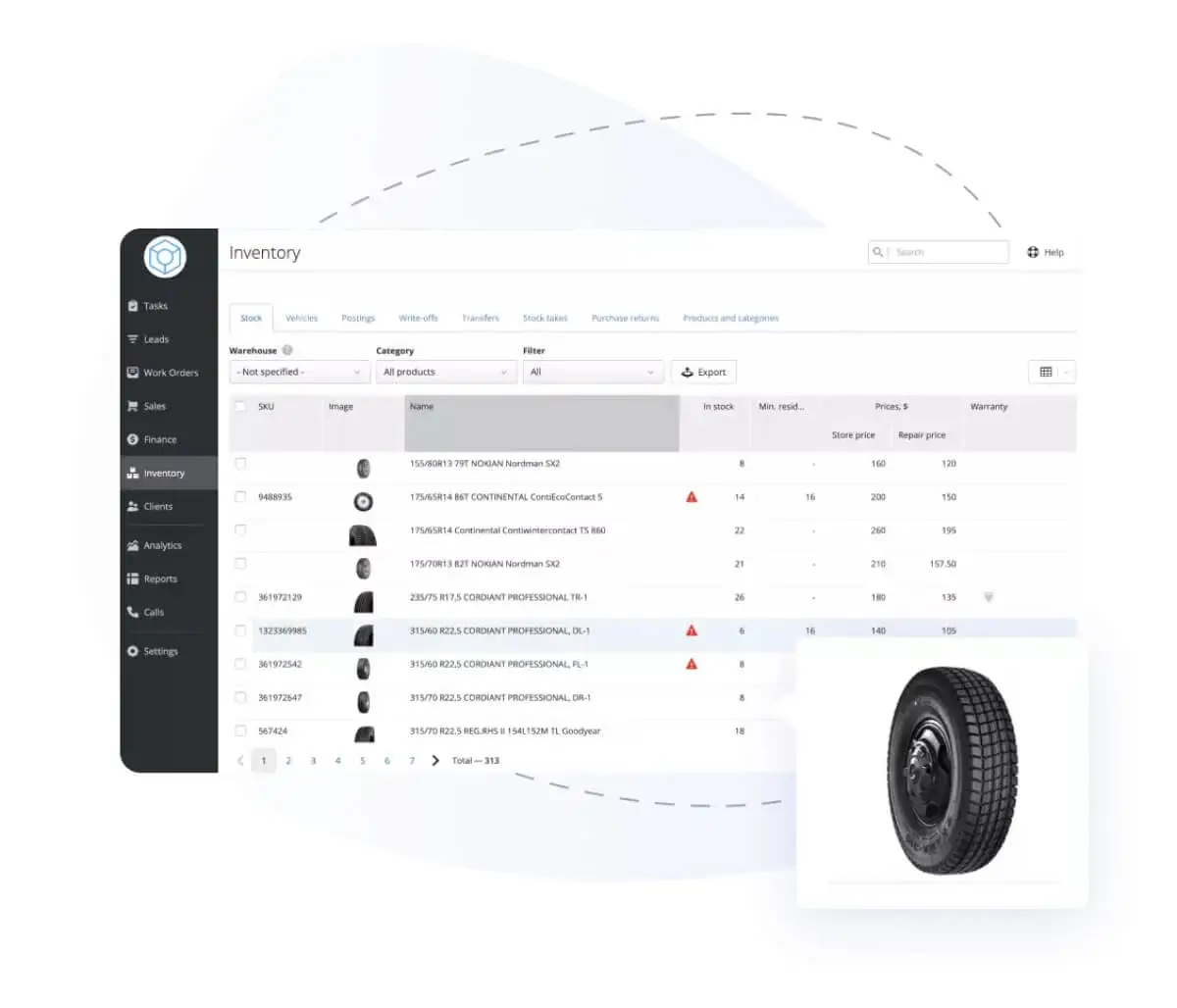 Inventory management tools in RemOnline


Payroll automation. Auto shop owners often spend a lot of time calculating employee wages, especially when they have a percentage-based incentive system. Automation of this process will reduce time and eliminate calculation errors.
Analytics and reporting tools. A good auto repair shop management program collects, organizes, and displays data conveniently, such as reports and charts. This will save you time when processing information and allow you to see a clear picture of your company's health and find growth opportunities.
When choosing software for auto repair shops, these are the main features worth paying attention to. RemOnline has all the above tools and mobile apps for managers and employees, asset tracking across locations, assortment analysis, flexible access settings for employees, and other valuable features that you can test for free during the trial period. Sign up here.
Final Thoughts
To run your auto repair shop efficiently, you need a tool to help you control employees and automate routine processes, so you have enough time and energy to focus on business growth. An up-to-date software solution is your life-saver here, as it will boost your employees' productivity, eliminate human error risk, and improve customer experience. In the long run, this will give you a significant advantage over your competitors.

comments powered by

Disqus