The Ultimate Guide To Starting A Phone Repair Business
Required skills, proven business models, income potential, and steps to start an exciting career as a cell phone repair business owner.
Table of Contents
Essential Skills Needed to Become a Cell Phone Repair Business Owner
How do Phone Repair Businesses Make Money?
Which Business Model to Choose When Starting a Phone Repair Business?
What Business Structure Will Best Suit Your New Business?
6 Steps to Get into Cell Phone Repair
How to Attract Potential Customers to Your Phone Repair Business
Final Thoughts
In today's digital age, almost everyone owns a smartphone. And with the growing usage of these devices and global trends for reducing e-waste, the demand for phone repair services has skyrocketed. If you are tech-savvy and looking to open your own business, starting a phone repair business might be your perfect fit. With the increasing demand for smartphone repairs forecasted for the coming decade and relatively low startup costs, this business idea has excellent potential for success.
Continue reading to learn more about the specifics of this business type, what challenges to expect on your entrepreneurial journey, and how to succeed in the highly competitive yet profitable industry.
Essential Skills Needed to Become a Cell Phone Repair Business Owner
You don't need a college degree or complete various certification programs to start offering cell phone repairs in your community. However, success in this field requires combining technical, social, and business skills. Here are some essentials:
Knowledge and expertise in repairing various types of phones and their components. This includes being able to troubleshoot issues, replace parts, and test the functionality of the phone. You can master this skill by watching YouTube videos, enrolling in online courses, or attending repair schools.
Strong customer service skills, as you will interact with hundreds of clients. You should be able to communicate clearly and effectively, manage customer expectations, and provide solutions to their problems.
Primary business and organizational skills like marketing, accounting, and inventory management. You should be able to create a marketing plan, manage your finances, and keep track of your inventory to ensure that you have the necessary parts and tools to repair phones.
How do Phone Repair Businesses Make Money?
Repair shops typically charge a fee for diagnosing the problem and repairing clients' devices. The cost of the repair depends on the extent of the damage and the type of phone being repaired. Some phone repair businesses also offer additional services, such as screen protectors and phone cases, which generate additional revenue. Moreover, you can offer warranties or insurance plans for repaired phones to generate ongoing income.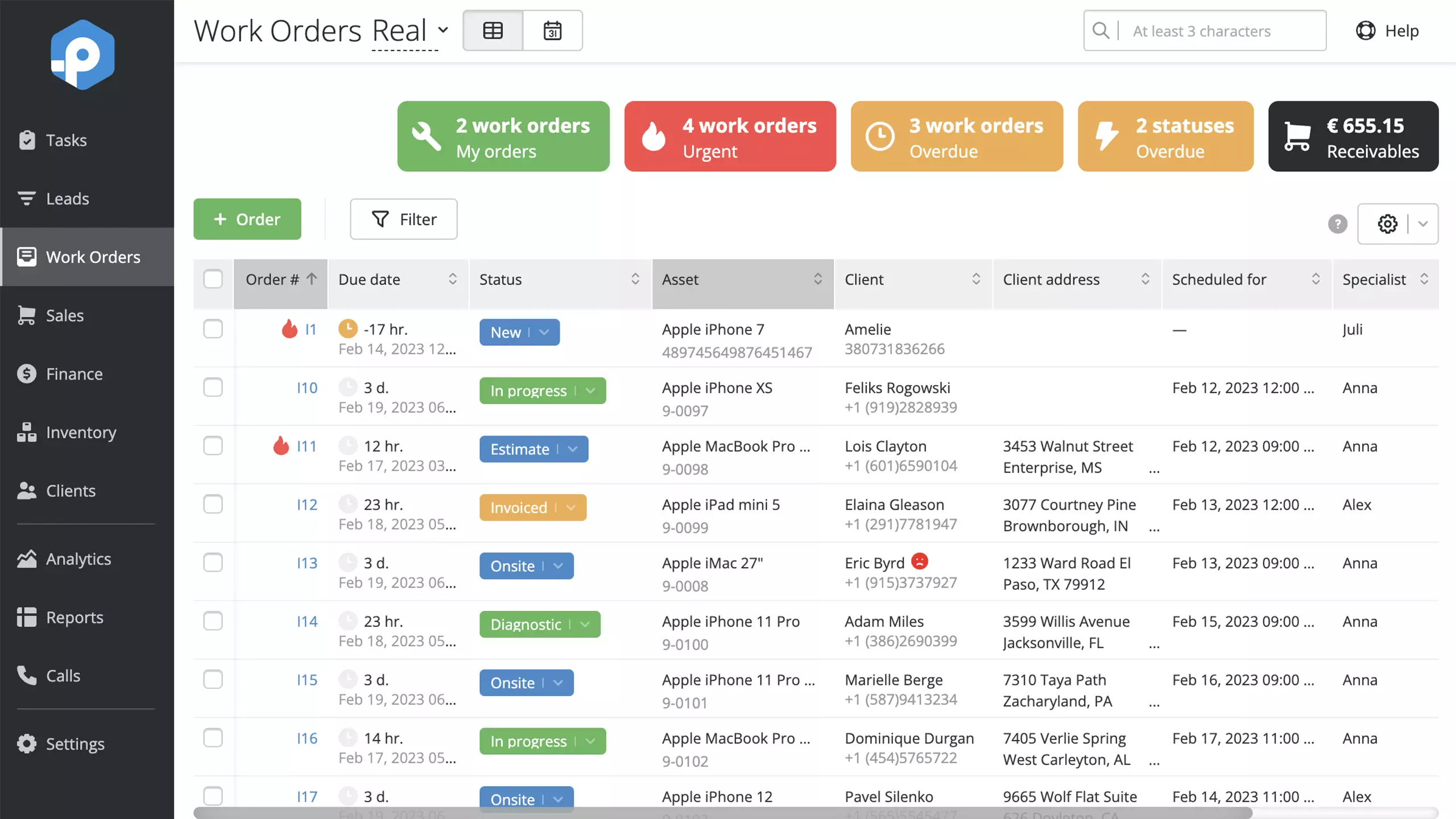 Managing phone repair jobs in RemOnline
Profitability Potential
The profitability of phone repair shops depends on location, customer demand, competition, and pricing strategy. A good location with high foot traffic is crucial because this type of business relies on a steady flow of customers to make a profit. With the increasing popularity of smartphones, the demand for repair services remains high. However, the competition in the cell phone repair industry is also impressive, with many established players and new entrants. To succeed, your cell phone repair shop must offer quality services, competitive pricing, and excellent customer service.
Additional Revenue Streams
Potential revenue opportunities for repair shops are offering value-added services such as selling phone cases, chargers, and other accessories. You can also offer trade-in programs for customers looking to upgrade their devices or sell refurbished phones. Another source of income could be providing repair services for other electronic devices such as laptops, tablets, and gaming consoles. Additionally, you can offer maintenance packages and extended warranties to provide ongoing support to loyal customers.
Learn how to build efficient workflows and automate routine tasks in your phone repair shop right from the start
Which Business Model to Choose When Starting a Phone Repair Business?
The choice of business model will depend on factors such as target market, available resources, and personal preferences.
One option is to operate as a brick-and-mortar store, offering repairs in a physical location. These shops specialize in screen repair, battery replacement or charging port repair, water damage repair, camera repairs, speaker or microphone replacements, and software or operating system troubleshooting. Some businesses also offer phone unlocking, data recovery, and phone customization services. This model requires a significant investment in rent, utilities, and equipment but may attract more clients who prefer the convenience of dropping off their cell phones for repair.
Another option is to operate as a mobile repair business, traveling to customers' locations to perform repairs. Mobile phone repair businesses typically offer a wide range of standard services. They may also sell accessories and offer device maintenance tips to help customers keep their devices in good working order. This model requires less overhead and may appeal to customers who value the convenience of having their devices repaired at their homes or office.
A third option is to operate an online repair service, accepting devices by mail and returning them after repair. This model requires less overhead and may appeal to customers who prefer the convenience of shipping their devices for repair.
What Business Structure Will Best Suit Your New Business?
When opening your own shop, a few legal structures are available, including sole proprietorship, partnership, limited liability company (LLC), and corporation. Your choice will depend on your new business's specific needs and goals.
A sole proprietorship is the simplest and most common structure, with the owner's personal liability for all business debts and obligations.
A partnership is similar to a sole proprietorship but with multiple owners who share profits and liabilities.
An LLC provides limited liability protection for owners, meaning they are not personally responsible for business debts and obligations.
A corporation is a separate legal entity that provides the most liability protection for owners but requires more formalities and paperwork.
6 Steps to Get into Cell Phone Repair
Research the Market and Competition. Before starting any business, it's essential to research the market and competition. Look for areas with a high demand for phone repairs and see what services your competitors offer. This will help you determine what services you should provide and how to differentiate yourself from the other shops.
Develop a Business Plan. Creating such a plan is crucial to the success of your phone repair business. It will help you determine your target market, pricing strategy, marketing activities, and financial projections. Your business plan should also include the equipment and supplies needed to get started.
Obtain the Necessary Licenses and Permits. Depending on where you live, you may need to obtain specific licenses and permits to operate your phone repair business. Check with your local government to see what requirements you need to meet.
Find a Location. You'll need a physical location to operate your phone repair business. Look for a location that is easily accessible and has a lot of foot traffic. Consider setting up an online presence to reach a wider audience.
Purchase Equipment and Supplies. You'll need specific equipment and tools to repair phones, such as screwdrivers, tweezers, replacement screens, and adhesives. And don't forget about digital tools like cloud-based phone repair shop software and accounting platforms. Look for high-quality equipment, supplies, and software providers to ensure you can offer your customers the best service possible.
Hire Employees. As your business grows, you may need a team of employees to help with repairs and customer service. Look for individuals who are experienced in phone repairs and have excellent customer service skills.

Pro Tip: to maintain a result-oriented environment with employees, you should develop an attractive incentive program in your company. To boost the motivation of employees, encourage them with commissions from performing the most profitable repairs and selling products with higher margins.

When managing your business in RemOnline, you can easily set up an automatic calculation of commissions and bonuses for sales and work orders so that your employees feel valued and you don't worry about manual calculations.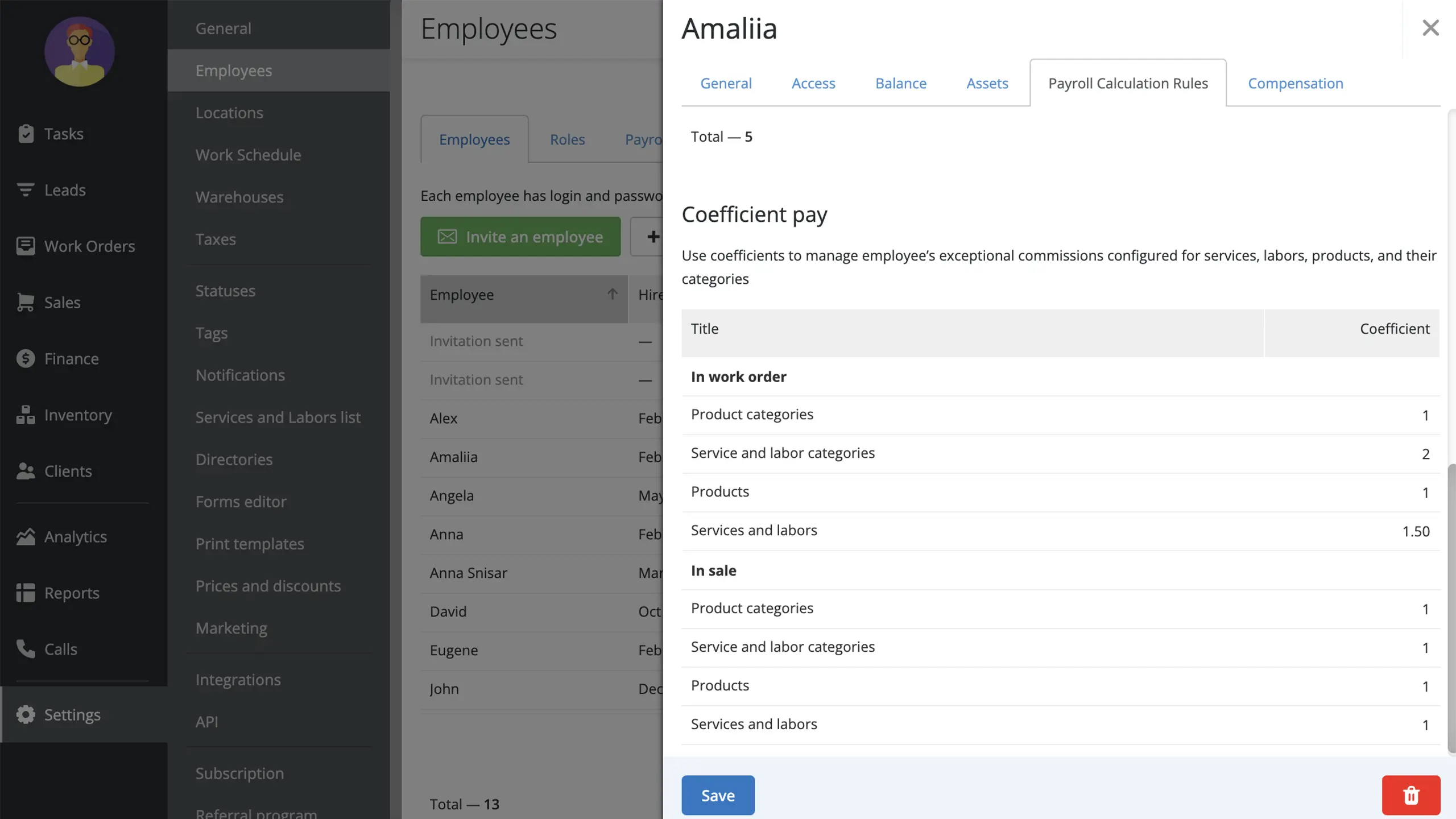 Payroll setup in RemOnline
How to Attract Potential Customers to Your Phone Repair Business
You'll need to market your services to get customers to your phone repair business. Consider running social media ads, offering referral discounts, and partnering with local businesses to increase your visibility in the community. Here is what else you can do:
Website Optimization for Local SEO
Local SEO helps your website to rank higher in local search results. When someone searches for phone repair services in your area, your website should appear on the first page of search results. To optimize your website for local SEO, include your business's name, address, and phone number on every page. You can also create a Google My Business profile and get listed in local directories.
Discounts and Promotions
Offer first-time customers discounts, bundle deals, or a loyalty program. Ensure you promote your discounts and promotions on your website, social media, and in-store.
Social Media Presence
Social media is a powerful tool for attracting potential customers to your business. You can use social media platforms like Facebook, Instagram, and Twitter to showcase your services, share customer reviews, and offer promotions. Post regularly and engage with your followers to build a solid online presence.
Partnerships with Other Local Businesses
Finding partners among other local businesses is an excellent way to grow your customer base. You can partner with smartphone retailers, mobile carriers, or other businesses that offer complementary services. Make sure to promote your partnership on your website and social media.
Excellent Customer Service
High-level customer service increases customer retention rates and helps you get new customers without spending too much on marketing. Ensure your employees greet customers with a smile, listen to their concerns, and provide timely and quality repairs. Encourage satisfied customers to write reviews and share their experiences on social media and review sites.
Final Thoughts
With the rise of smartphones and the increasing dependence on mobile devices, the demand for cell phone repair services has grown exponentially. If you are into opening your own business in the cell phone repair industry, it's a good time to start. This business idea doesn't require an enormous startup budget or long-term education. You can operate from home, visit customers' offices or homes, or rent a location. Besides offering standard phone repair services, you can diversify your revenue streams by selling accessories, software updates, and other related services. This business type is flexible, easy to start, and adds to reducing e-waste globally.


comments powered by

Disqus