Lead Routing in RemOnline
When a user is showing interest in your company, your sale is already halfway done. At the same time, however, even a skilled manager must be quick to get everything in place right before the user loses interest. Meaning… you just need the right tool that will help you guide potential clients through every stage of their marketing journey, up to converting them into the actual ones.
Until this day, there was no convenient solution available in RemOnline to deal with leads as they need to. But now you can finally have a new functionality named Leads, providing you with several new-brand opportunities:
record all applications, both from existing and potential clients
create an independent status chain for leads
send notifications to managers and clients
convert applications into successful orders and sales.
So make yourself comfortable, as below we're going to deep delve into details together?
Leads Page
If you already use RemOnline for order processing, then you must have no problems with the new Leads page. The table here provides different columns showing the number of leads, location, status, status deadline, creator's name, manager, client, comment, and result. In addition to the table, there are colored badges and filters. You can also turn on / off the columns, swap them, or adjust their width for your convenience.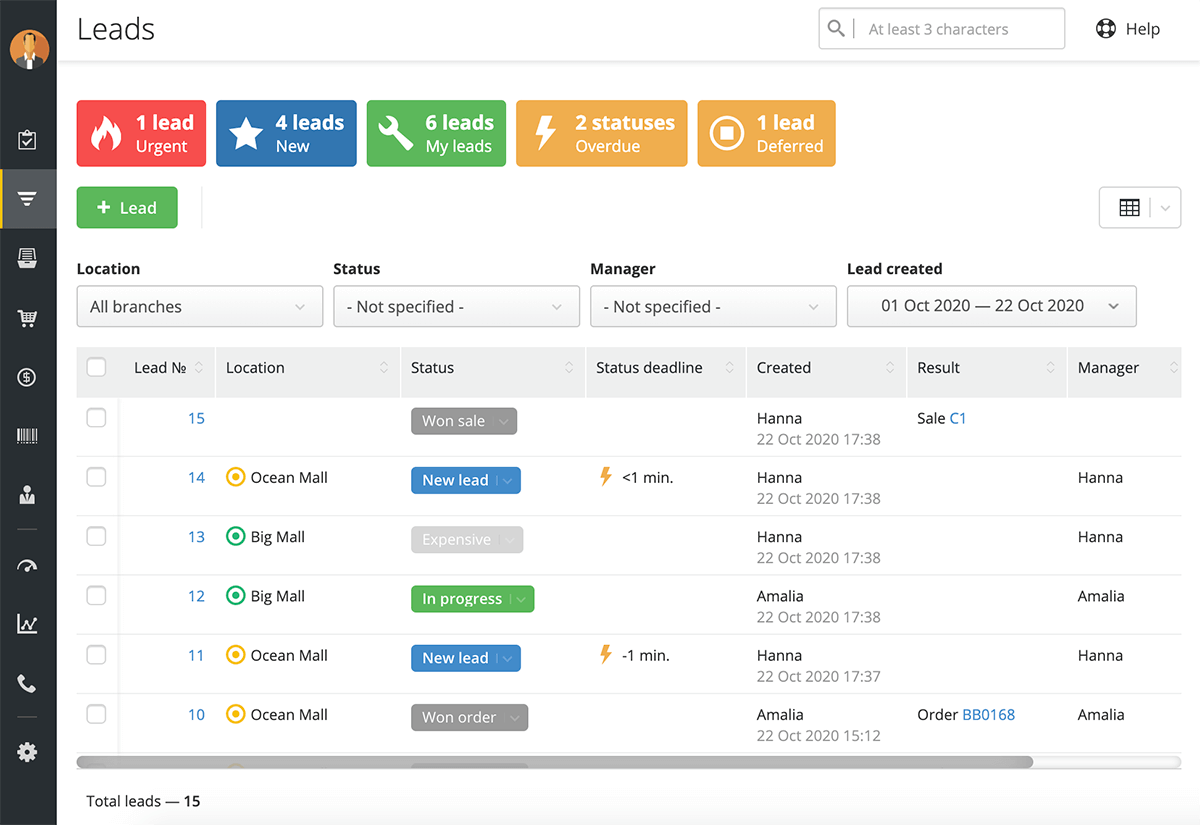 You can filter the leads table by location, status, manager, and creation date.
Use these badges not only to filter the table but also to quickly understand which leads got higher priority. There can be 5 types of badges in total:
urgent – just like with orders, this includes the leads marked with Urgent checkbox, if they are in statuses from

the following groups "New", "In Progress", or "Deferred"

new –

must be self-explanatory, as the leads here contain statuses from the "New" group

my leads – are those where you are appointed as a manager
deferred – all leads in statuses from the Deferred group
overdue –

all leads bearing the overdue status

.

If any of them is not displayed, then you simply don't have leads that match its criteria.
Ways to create leads
Right now, you have 4 ways to create a lead. The first and most obvious is to create a lead manually on the Leads page, just like with your Orders, Sales, etc.
If you have configured integration with IP telephony, then you can also create leads from a pop-up client card upon an incoming call. You just need to click the "+ Lead" button.

Understanding that your managers do not work around the clock or may simply have no time to receive a call while serving a client on the spot, here is another 3rd way to configure the automatic creation of calls from a missed call on the "Settings > General" page. You can also immediately assign a manager responsible for handling missed calls.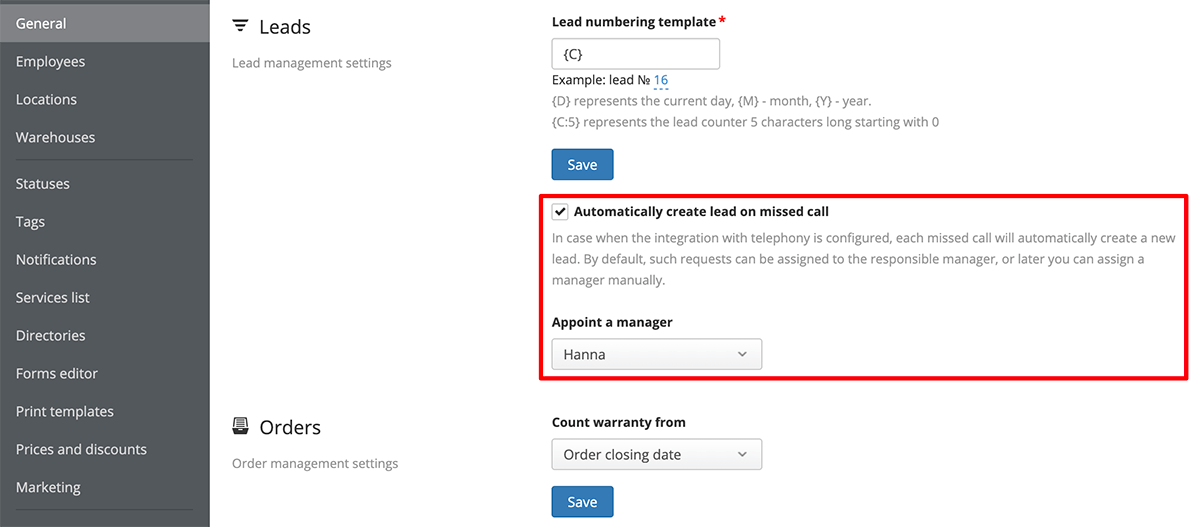 If you accept leads from the site or other resources, then you can use the 4th method – configure the creation, editing, changing statuses, and receiving a list of leads via API. You will find a description of methods and examples of requests in the documentation.
Dialogue Window for Lead Creation
In the lead creation dialog, you can select a status, indicate the name and phone number of a potential client, an ad campaign, a comment, location, and the appointed manager.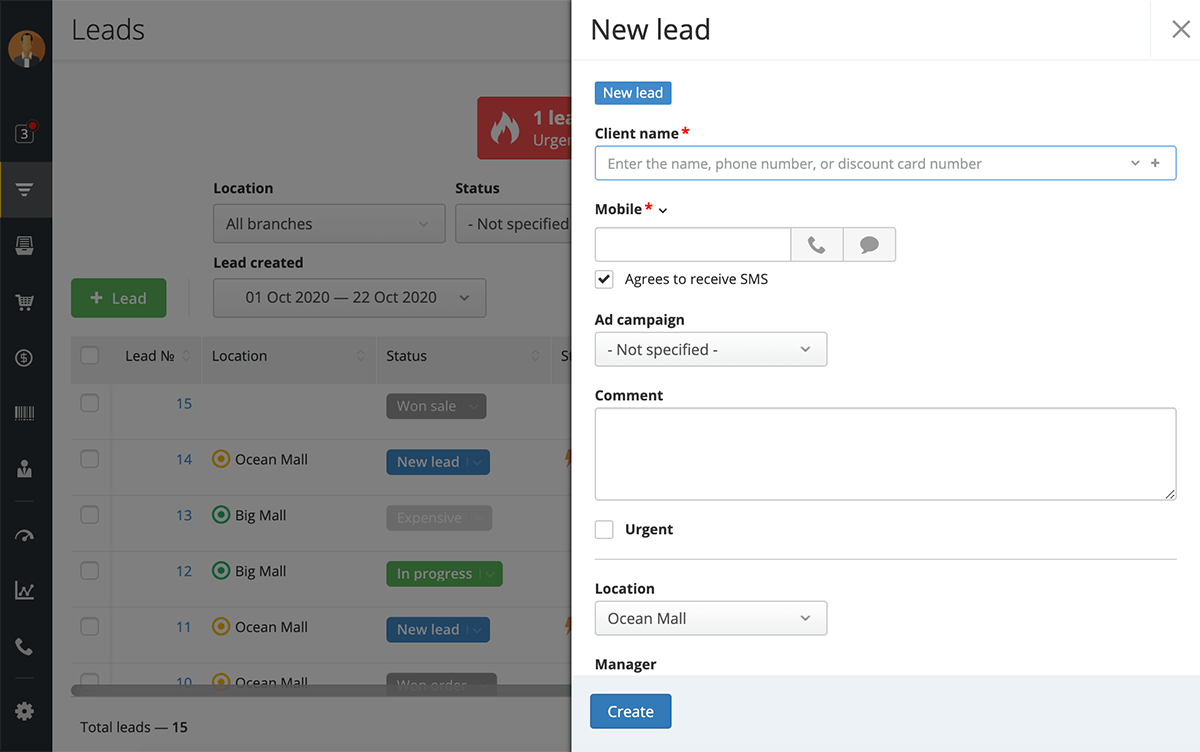 Much like with orders and sales, your leads are shown in the "Ad Campaigns" report. That's why we recommend that you to track their sources to understand how many leads each advertising campaign gives you and what their conversion rates are.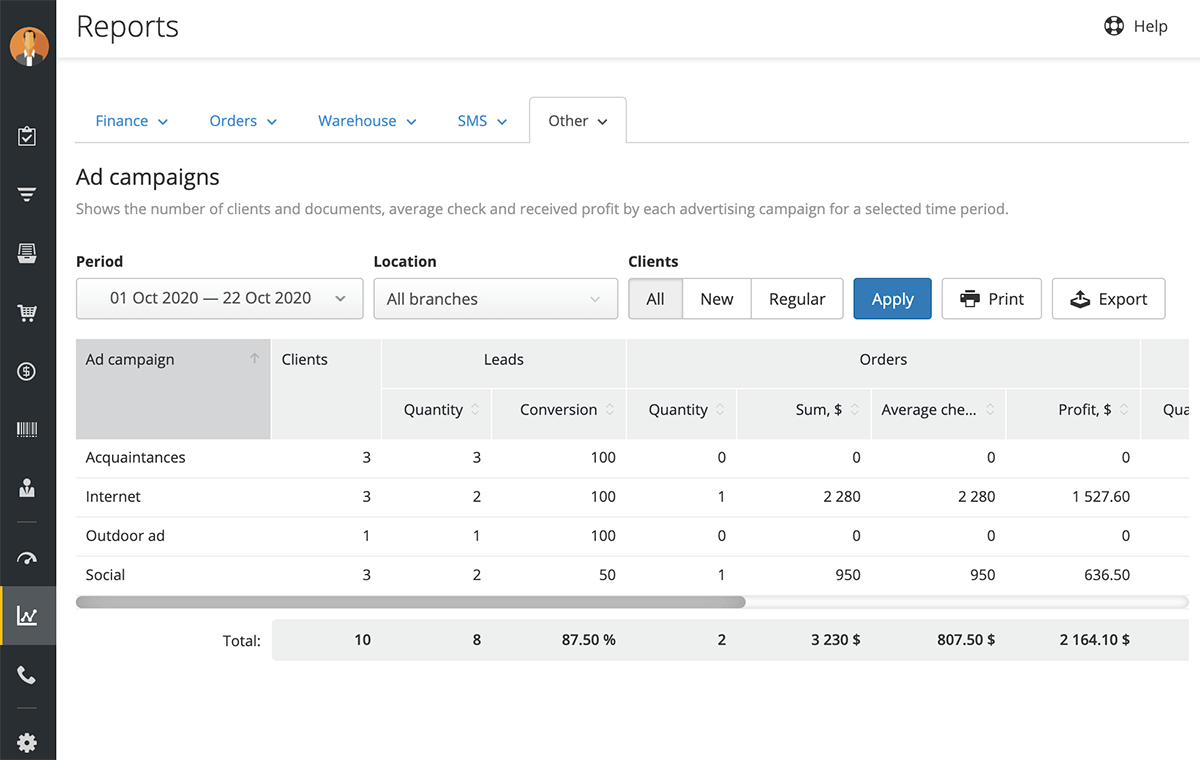 Please note❗
A lead can be created without necessarily having a location. For example, if this is an automatic application from the website or the one from a missed call to a general line, then the manager can indicate the location once he contacts the client and clarifies all the details.
If you want to create a new client from a lead, be sure to click the "+ Add customer" button. Otherwise, it will be saved as a contact in the lead dialog, but will not be added to the table on the Clients page.

It's necessary to keep your client base clear, but you can still add a client when creating an order or sale.
If you entered a phone number that completely coincides with the number matching the number of an already existing client, RemOnline would offer to link the lead to him.
Orders/Sales Resulting from Leads
The main goal of Lead Routing is to convert them into an order or a sale. How to make it in RemOnline?
By setting a status that has a requirement to create an order or a sale. Then RemOnline will open the order or sale creation dialog, which will already be associated with the case.
Manually link an order or sale to a lead. As soon as you indicate in the order or sale a client who has unclosed leads, RemOnline will show their list and offer to link them. You can link an order or sale with only one lead.
For related to lead order or sale, the Result column will contain the number of the corresponding document.

Lead Permissions
On the "Settings > Employees" page, you can enable or disable access to leads for certain employees. Just double-click on the employee's role and find the Leads block, which includes the ability to see, create, edit, and delete leads.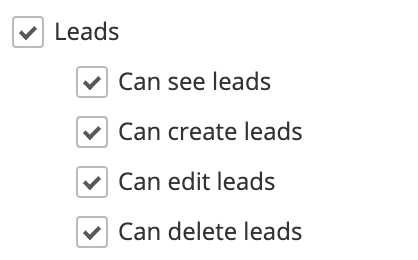 Here you can also specify whether the employee will see all requests or only his own, as well as access to individual statuses.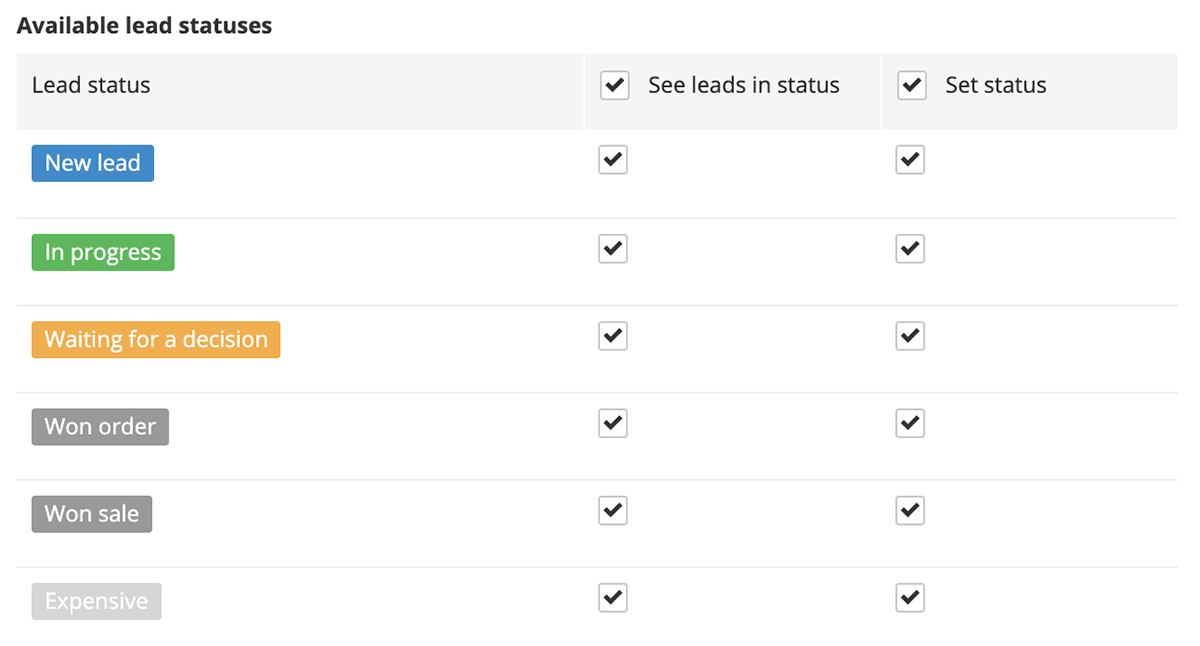 Lead Status
This feature makes it possible for you to describe in RemOnline all the stages of your leads passing through the company. And by setting the rules for transferring from one status to another, you can create different lead funnels.
Unlike orders, leads do not have a due date. Therefore, the already familiar and understandable status time limit will allow you to control the timing of lead routing.
And if won orders are determined by created payment, then for leads the final stage is creating an order or a sale. So you can set a request to create an order or a sale for final statuses. It's already done by default for the "Won Order" and "Won Sale" statuses.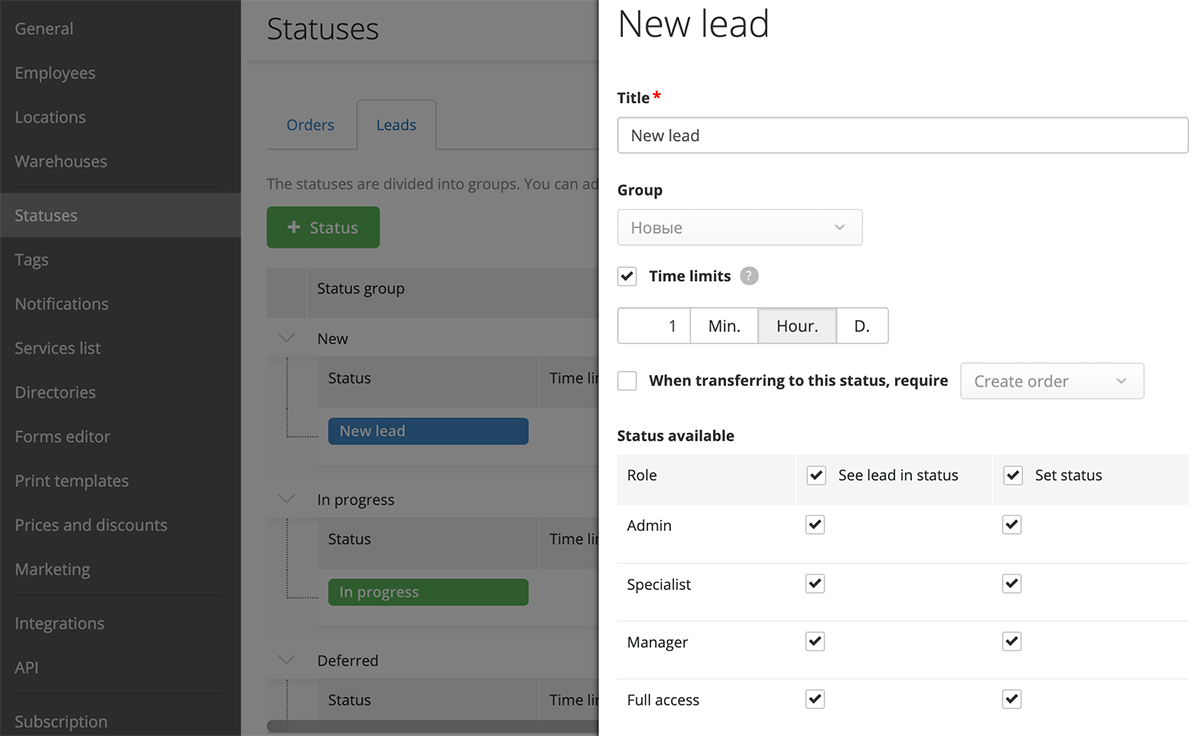 Experienced users already know that the lead statuses are not only stages of the funnel, but also events for sending notifications, so let's move on to them ?
Automatic notifications for leads
The most important thing in lead processing is to act quickly before the potential client loses interest in your product or leaves for competitors. Therefore, use automatic notifications for managers on the "Settings > Notifications > Leads"page so that they will not miss anything important and contact the client as soon as possible.
You can send a notification to the manager via SMS, Email, or Telegram when creating a new lead, changing its status or assigning a manager to be responsible for it.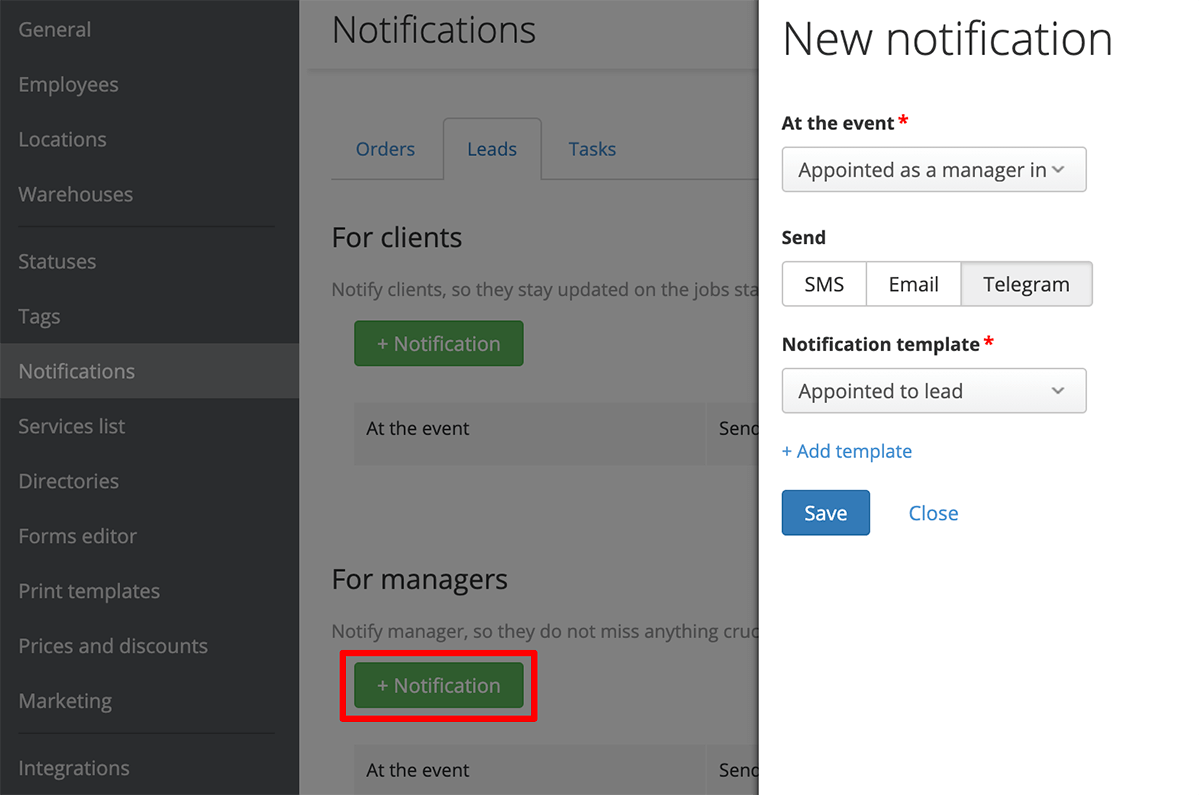 Using notifications, you can inform your clients that the application has been accepted and is already being processed. And use delayed notifications, for example, when the manager has not reached the client.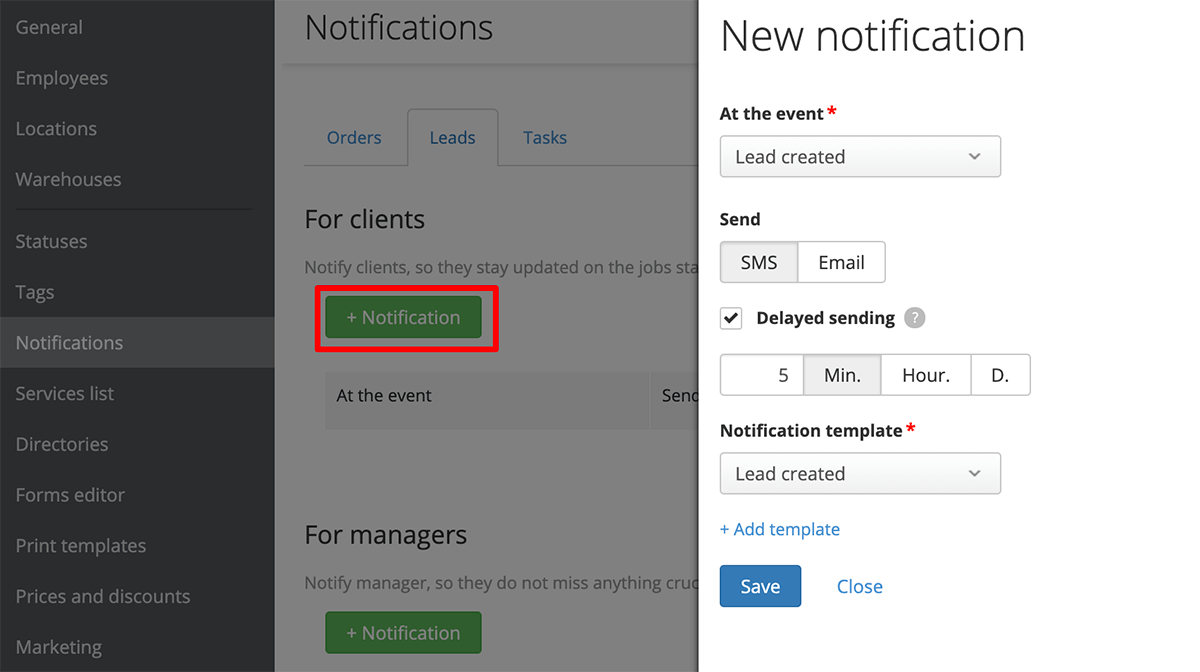 What's Next?
With the current set of functions, you can already safely work with leads in RemOnline, but we know that we have a lot to develop. What we plan to please you in the future:
Contact form widget, which will be ready with one of the following updates. It will allow you to collect leads from your sites without involving programmers and integration via API.


A stream of events in Lead. We know how our users are used to controlling all actions in the Order Event Feed, so we plan to add it to requests in the near future.


Integration with socials. We are going to develop direct integrations so you'll be able to collect leads from Facebook and other socials.
Improvement of the Order status widget
In the meantime, the form for collecting leads is still in development, we managed to improve our Order Status widget. We understand that in addition to it, you may have installed a chat on your website. We want to keep your interface friendly for users, so now you do not need to place our widget in the corner of the page, you can embed it in any button anywhere on the site.
To do this, in the widget settings dialog select the Build-in button type and follow the instructions.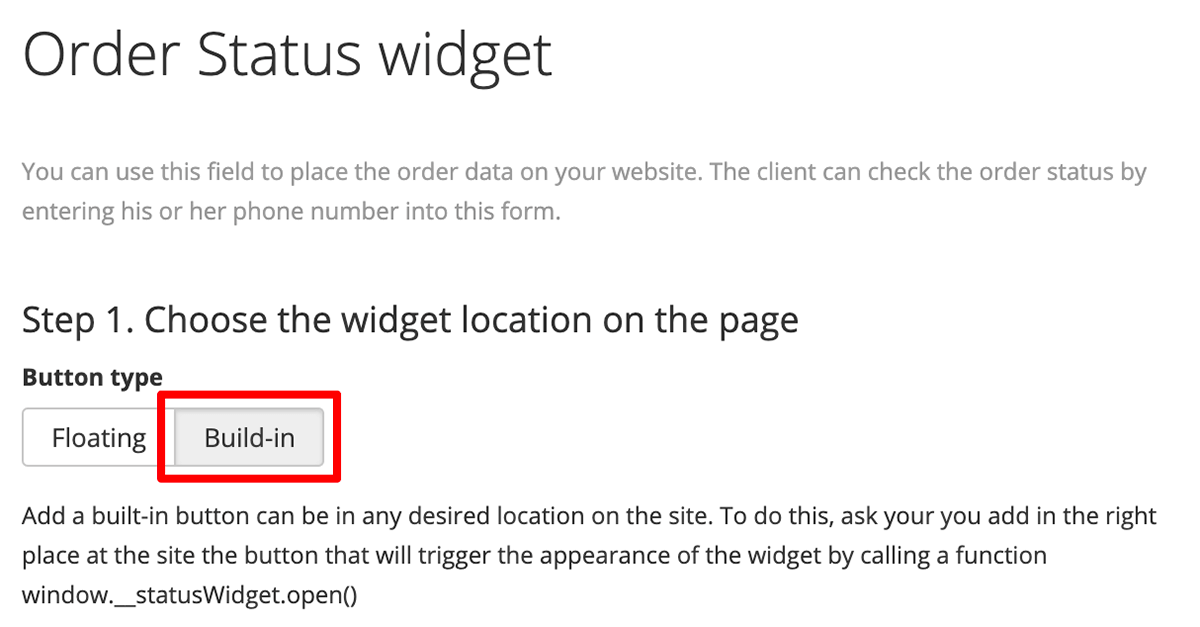 Do not forget that if you have any questions about using RemOnline, you can find the answers yourself in the Knowledge Base or contact us via support chat. Your feedback helps us make RemOnline better, so we look forward to your comments.
comments powered by

Disqus